Breeders who race the majority of the horses which they breed can find that the youngsters which they sell are shunned by the marketplace, on the basis that 'if he was any good, they'd be keeping him to race for themselves' writes John Berry in Thoroughbred Internet. From a financial point of view, therefore, it is good for such breeders if they are seen not to be selling just the duds, and if some of the horses which they choose to sell go on to win good races.
Sheikh Mohammed's Darley breeding operation, therefore, has had some great results recently. Obviously the majority of the horses which Darley breeds are raced by the Sheikh or by one of his relatives, but the achievements in recent months of the top-class Darley-breds Dream Ahead and Lucky Nine (hk) – Luck Or Desing (sold as yearlings for US$11,000 and 9,000 euros respectively) will have made it much easier for Darley to sell its surplus youngsters in the future. However, arguably the biggest advertisement for Darley as a vendor is provided by Australia's champion two-year-old Pierro, who has now followed up his Golden Slipper victory by backing up successfully in the Sires' Produce Stakes at Randwick. Sold as a weanling for AUS$115,000, Pierro is now looking a terrific bargain. The further bonus for his breeder, though, is that his ongoing success is not merely a great boost to Darley's status as a vendor: it boosts the credentials of several of the horses which Darley still owns, most obviously his sire Lonhro and his dam Miss Right Note (aus) – Right Note. Lonhro, Australia's reigning champion sire, is currently at Darley's American division on a reverse shuttling mission, and the emergence of Pierro as a champion must be a source of delight to the Sheikh and his staff. Lonhro, though, did not race for Sheikh Mohammed, only coming into his possession in May 2008 when he bought Woodlands Stud. Whatever pleasure the Sheikh is getting from Lonhro's success, therefore, one can assume that he will be even more delighted at the reflected glory which Pierro is giving to his maternal grandsire Daylami, a magnificent grey horse whose place in Sheikh Mohammed's heart must be secure, thanks to the tremendous victories which he achieved for Godolphin in his racing days.
In any history of Godolphin, which is the part of Sheikh Mohammed's racing empire closest to the proprietor's heart, Dubai Millennium will always hold centre stage. Sheikh Mohammed's love of, and respect for, the 2000 Dubai World Cup winner was clear for all to see, and it is unlikely that any horse will ever replace the magnificent but ill-fated champion as the Sheikh's all-time favourite. Aside from Dubai Millennium, though, Daylami is perhaps the horse most synonymous with the glory days of Godolphin: he was a true international champion, whose outstanding accomplishments epitomised the excellence which Godolphin was set up to try to attain.
Godolphin, of course, is nowadays very far from the elite corps of high-class gallopers which its founder intended. It has gone from consisting of a handful of star horses to containing literally hundreds of animals, the vast majority of whom are, inevitably, ordinary. Whether it will ever regain its elite status is uncertain – but what is certain is that in the final years of the last century Godolphin came very close to achieving its founder's aim. Its concentration on quality rather than quantity was diametrically opposed to its current policy, and its success was dazzling. And at Godolphin's peak, Daylami was its principal standard-bearer.
Daylami was not bred by Sheikh Mohammed. Instead, he hails from one of the world's other great breeding operations, being an Aga Khan-bred through and through. His sire Doyoun, a son of the great 1971 Derby winner Mill Reef, was bred and raced by the Aga Khan, for whom he won the 2,000 Guineas in 1988. Daylami's dam Daltawa was also bred and raced by the Aga, and she too showed a lot of ability. A daughter of Miswaki (who in time would become the broodmare sire of many excellent stallions including Galileo) from the Crystal Palace mare Damana, Daltawa was trained by Alain de Royer-Dupre, from whose stable she won over 2000m as a two-year-old in 1991 before winning a Listed race over 2100m at Saint-Cloud the following year. She retired to stud in 1993, at which time Doyoun was an obvious mate for her: although time would tell that Doyoun was overall a very disappointing sire (with the obvious exception of siring Daylami) at the start of 1993 he had only been represented by one crop of two-year-olds, so it was not yet clear that he did not deserve to be receiving a large batch of the Aga's good mares every year.
While many of the Aga Khan's best horses even to this day (such as the 2008 Prix de l'Arc de Triomphe winner Zarkava) descend from mares which his grandfather had bought many decades previously, Daltawa's family had only come into the Aga's possession in the late '70s. Prior to that, the family had been owned by the late Marcel Boussac, for which it had churned out many top horses including Crepellana, the 1969 Prix de Diane winner who was a half-sister to Daltawa's third dam Rose Ness. As Rose Ness had visited Crepellana's Derby-winning sire Crepello to produce Daltawa's second dam Denia, Daltawa was clearly one of the Aga Khan's most promising young mares at the outset of her breeding career. The family had already produced several decent horses for the Aga, including Raykour (a son of Rose Ness who was born when his dam was 20, and who finished second in 1988 in both the St. James's Palace Stakes at Royal Ascot and the Hollywood Derby at Hollywood Park) and Behera (a grand-daughter of Rose Ness' Ribot half-sister Valdavia, and runner-up in the Prix de l'Arc de Triomphe in 1989). The best turn which the family would do for the Aga was to come later when Daylami's half-brother Dalakhani enjoyed a terrific three-year-old campaign in 2003, winning several Group races including the Prix du Jockey-Club and Prix de l'Arc de Triomphe – but even several years before Dalakhani's birth, Daylami could have been identified as a very well-bred youngster.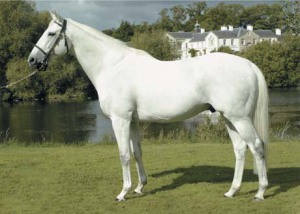 Daylami spent his first two seasons racing for his breeder. He was a good two-year-old in 1996, winning his first two starts (including the Listed Prix Herod over 1600m at Evry) before finishing second to Shaka in heavy ground over 2000m in the Group One Criterium de Saint-Cloud at the end of the year. Daylami's three-year-old season also commenced with two victories, in the Group Three Prix de Fontainebleu and the Group One Poule d'Essai des Poulains, both races seeing him beating Loup Sauvage by two lengths over 1600m at Longchamp. Frustratingly for his connections, however, he failed to win for the remainder of the season, although admittedly he did only run three times and admittedly these three runs were all good: he finished third in the St. James's Palace Stakes (behind Starborough) before being placed behind Spinning World in both the Prix Jacques le Marois and the Prix du Moulin.
At the end of the year, Daylami changed hands, the subject of a private deal between the Aga Khan and Sheikh Mohammed. Godolphin, established earlier in the '90s, was at the height of its powers. A small, select team of horses, stabled during the winter in Dubai and during the European spring, summer and autumn in Moulton Paddocks on the far eastern edge of Newmarket Heath, Godolphin was the Sheikh's elite squad, consisting largely of horses who had begun their racing days in the Sheikh's ownership (such as the multiple Group One winners Halling and Mark Of Esteem, who had started out trained for the Sheikh by John Gosden and Henry Cecil respectively before starring for Godolphin in the 1995 and '96 seasons) but with a smattering of proven performers purchased from other teams. Balanchine, winner in 1994 of the Oaks and Irish Derby, had been a classic example of a successful purchase, having been bought from Robert Sangster at the end of her two-year-old season, during which she had been the easy winner of both her races when trained at Manton by Peter Chapple-Hyam. Daylami was bought during November 1997 in the hope that he, too, could develop into a star for Godolphin and that he could be one of the stable's main hopes for Europe's principal weight-for-age races the following season. The next two years proved his recruitment to have been an inspired choice.
In retrospect, it is hard to understand why Daylami had never been asked to tackle a race longer than 1600m as a three-year-old. After all, he had never raced at any shorter than that at two, during which year he was Group One-placed over 2000m. After joining Godolphin, he never raced at less than 2000m, and he was clearly very well suited by middle distances. Furthermore, he was a very strong, tough horse, physically and mentally, and a sound one too, so he thrived on his racing. Consequently, he went from strength to strength as a four-year-old before continuing to progress further aged five.
Daylami's four-year-old season in 1998 began with an easy win over ten furlongs in the Tattersalls Gold Cup, which was run that year as a Group Two race for the last time. He was arguably unlucky to be beaten two necks by Faithful Son and Chester House in the Prince of Wales's Stakes at Royal Ascot (another race which has been upgraded from Group Two to Group One since then). The following month he turned the tables on Faithful Son in the Group One Eclipse Stakes at Sandown before being asked to tackle 12 furlongs for the first time, lining up as Godolphin's second string in the King George VI and Queen Elizabeth Diamond Stakes at Royal Ascot, partnered by Mick Kinane while Frankie Dettori rode Swain, a horse who had begun his racing days trained for Sheikh Mohammed by Andre Fabre. Swain duly won a terrific race, beating the Derby winner High-rise and the previously-unbeaten Royal Anthem, with Daylami an honourable fourth. Daylami then ended an excellent season by crossing the Atlantic to take the Grade One Man O'War Stakes over 11 furlongs on the turf in New York, before returning to Europe to finish third behind Alborada in the Champion Stakes at Newmarket.
Having won two Group/Grade One races as a four-year-old, Daylami did even better at five, winning four such contests. He kicked off with an outing in Dubai before his first run of 1999 in Europe saw him tackle the Tattersalls Gold Cup again, which had been upgraded to Group One status since his win in it the previous year. He was beaten that day (by Shiva) but went on to win his next three races, all Group Ones. He showed that, in maturity, he was now perfectly suited by a mile and a half by winning the Coronation Cup at Epsom's Derby Meeting. That performance was very good, but his win in the King George VI and Queen Elizabeth Diamond Stakes was even better: he bolted up by five lengths. This winning margin, though, was exceeded on his next run: he won the Irish Champion Stakes by nine lengths. Heavy ground proved his undoing in the Prix de l'Arc de Triomphe, in which he trailed home well adrift of Montjeu and El Condor Pasa, but back on a sound surface he ended his career in a blaze of glory at Gulfstream Park in Florida, beating Royal Anthem by two and a half lengths to take the Breeders' Cup Turf over 12 furlongs.
Daylami duly retired to stud in advance of the 2000 breeding season, his speed, stamina, class, toughness, durability and courage all proven. He retired sound at the end of a four-year, 21-race career in which he had only thrice finished out of the first three and in which seven of his 11 victories had come in Group/Grade One races. In his final year of racing, he had secured top honours in both Europe and America: he was voted both Cartier Horse of the Year in Europe and Outstanding Male Turf Horse in the Eclipse Awards in the States. The International Classifications had him sharing the honour with Montjeu of being the best horse in the world. He seemed truly the perfect stallion prospect.
Although Sheikh Mohammed's breeding operation at Dalham Hall Stud was in full flow by this time, Daylami retired not there but to the Aga Khan's Gilltown Stud in Ireland, as had been agreed by the terms of the horse's purchase. With his credentials and backed by patronage from both Sheikh Mohammed and the Aga Khan, it was no surprise that Daylami got off to an excellent start as a stallion. He had several good two-year-olds in his first crop, including Grey Swallow (a Group Three winner in Ireland), Day Or Night (a Group One place-getter in France) and Birthday Suit (a Group Two place-getter in England) while he had a two-year-old Listed winner at Royal Ascot in his second crop (Whazzat). One of the good two-year-olds from his first crop (Grey Swallow) went on to win the Irish Derby as a three-year-old and the Tattersalls Gold Cup at four – and so Daylami should, one would have thought, have become truly established as a sire. However, surprisingly, this proved not to be the case. For whatever reason, Daylami, while siring some very nice horses and having proved himself capable of siring a top-class one, did not churn out good winners as regularly as had been hoped. Consequently, in the cut-throat sink-or-swim modern-day stallion market, it did not take long for him to become marginalised. As his first crop turned five in 2006, he was moved to the Aga Khan's French stud, Haras de Bonneval; and by the time that his fourth-crop son Voila Ici won the Group One Premio Roma over 2000m in Italy in November 2009, he was midway through his third season in South Africa, having been sold to Riethuiskrael Stud.
Happily, Daylami returned to Ireland in 2010 – but sadly not as a player in breeding's premier league, but rather categorised as a National Hunt sire. He took his place in a good roster at Coolagown Stud, which also now includes the 2008 Irish Derby winner Frozen Fire and another son of the recently-deceased Montjeu in Papal Bull. He still comes up with good winners on the Flat – the eight-year-old English-trained galloper Indian Days, conceived in 2004 at Gilltown Stud, has won the past two runnings of the very valuable Group Two Bosphorus Cup over 2400m in Turkey, while the Irish-bred seven-year-old Electrolyser is a 14-furlong Listed winner in England this year – but increasingly his stock's best wins come under National Hunt rules. An Aga Khan-bred member of his first crop, Ebaziyan, really got his jumps ball rolling by winning the Grade One Supreme Novices' Hurdle at the Cheltenham Festival as a six-year-old in 2007, during which year his second-crop son Royal Mougins recorded the first of his six Grade One jumps race victories in Italy. Another Aga Khan protege, Zaynar, tasted Cheltenham Festival Grade One glory in 2009, landing the Triumph Hurdle.
It seems a fair bet that, now that he is covering a good supply of National Hunt mares in Ireland, Daylami's flow of high-class jumpers will become a torrent, while his supply of good horses on the Flat might dry up. However, many of Daylami's well-bred daughters from the early days will surely continue to throw good winners. Pierro's dam (Miss) Right Note is clearly the most distinguished of these to date, but the Aga Khan-bred Daylami mares Kerania, Kerasha and Tariysha have also thrown stakes winners, of which Tariysha's Group One-winning son Arcano is the best. Daylami's first-crop daughter Tamarillo has proved herself a good mare for Darley in Europe (breeding the Group Three winner Summer Fete).
Daylami will clearly never be as distinguished at stud as he was on the racecourse, but that is no disgrace; and his remains a name which will continue to appear in and enhance good horses' pedigrees.
extracted from Thoroughbred Internet