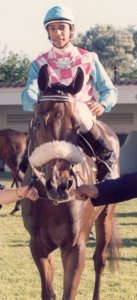 Sadness tinged the Greyville night meeting on Tuesday 24 April with the news of the sad passing of former jockey Hadley Augustus.  In a fitting tribute, jockey Chris Taylor rode an outstanding finish to win the seventh race on outsider Dadewethu.
Taylor, who was informed of Augustus' passing by Assistant Trainer Duncan Mckenzie after his ride in the fourth race, dedicated the win to Augustus who had worked as his Agent.
Known as Jack to many of his colleagues and friends, Augustus was forced to stop riding some two decades ago as a result of kidney disease. He was originally placed on a transplant list but had been on dialysis  for the past sixteen years.
He rode as back-up jockey behind Robbie Fradd for the Clodagh Shaw yard in the 1990's. He graduated from the SA Jockey Academy in 1991 with amongst others, Fransie Naude, Jason Jago, Frikkie Greyling, Trevor Brown and Steven Swanepoel.
At the time of his passing he was employed by the IT Department of the University of KwaZulu-Natal in Pietermaritzburg.
According to reports Augustus had experienced complications earlier this month. His left arm, where the dialysis connects, went cold and he was admitted to St Anne's Hospital in Pietermaritzburg for an emergency operation to insert a new line into his leg. Complications arose and his heart stopped. He was placed on life support, His family spent most of Monday and Tuesday with him and went home for supper, scheduled to return at 7pm, when they were informed that he had passed away.
Augustus maintained his interest in racing as a Jockey Agent to Donovan Yeo and Chris Taylor and had also become involved as an owner with the Wendy Whitehead yard. An emotional Chris Taylor said that he had gotten to know Augustus through fellow jockeys Alec Forbes and Paul Devlin.
"He was a very good man who loved his family and doing good things. He was a church volunteer and a youth soccer coach. He had only been my agent for six months but did a great job and he helped me a lot," said Taylor.
Hadley Augustus is survived by his wife and his two grown-up children.
Taylor's winning ride in the seventh race on the 33-1 shot Dadewethu for Adam Kethro was the riding highlight of a sad evening.  A filly running against the colts, she looked up against it. But the plan worked. Taylor had suggested fitting cheek pieces, to get her to settle and run past horses.
He placed the Silvano filly in midfield, and produced her late to storm through a tight gap for an impressive win.
She has won two from twenty starts and is bred by the Kethros. She is out of the three-time winning Alami mare Jolly Hockey Stix, who raced for Mike Pappas in her track career and was ridden by the late Peter Dillon.
In the post-race interview, a visibly emotional Taylor said 'this one's for Jack. My friend passed away just a few hours ago.'