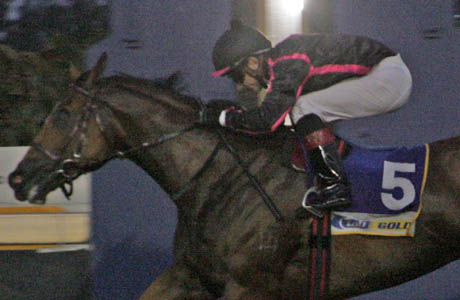 The absence of collateral form and the unknown factor of natural improvement complicates the issue for punters. A  very competitive field of two year olds go to post for the R200 000 Gr2 Umkhomazi Stakes to be run over 1200m at Scottsville on the Worker's Day Public Holiday.
Depending where one's loyalties lie and based on pure gut feel built on years of learning the hard way, a case could  realistically be made for practically every one of the eight juveniles participating in this feature event.
With the Summerveld yard of Dennis Drier in top form and seemingly doing all the right things wherever they compete, we are leaning towards their Australian-bred Lionize to stake his claim for better things to come.
Right Royal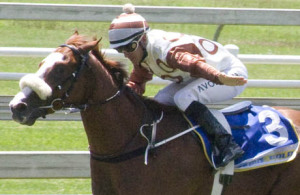 Lionize bumped the talented Reign As Kings on his debut at the ill-fated subsequently abandoned Clairwood meeting on 26 January. He had no chance with the winner finishing six lengths off in obviously need of the experience. He then had the misfortune of facing another De Kock bomb on 16 March at Greyville when staying on to finish 3,75 lengths off Istiqraar over 1200m.
He set the record straight three weeks later over 200m further at Greyville  when he drew clear to beat Storm Crossing easing up.  How strong were those behind him? We don't exactly know. But the win was a clinical professional performance shouting of much better things in the pipeline. And Mr Drier looked very pleased.
Lionize is a classy looking son of Redoute's Choice stallion Not A Single Doubt and hails from a yard that shrewdly programme their promising horses with carefully planned baby steps. He drops down 200m and has his first run at Scottsville, but trainer Dennis Drier will be looking for him to frank the signs and his potential and beat this lot.
Eye Candy
Ivan Moore has accepted with two runners for Singapore-based owner Fred Crabbia and My Jelly Bean could well pose the biggest danger to Lionize. The Announce  gelding is the most experienced athlete in the race and won his maiden hard ridden over the Scottsville 1000m at his third start when pipping the short-priced and very promising Reign Of Kings in something of a freak result.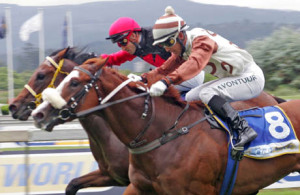 The De Kock horse then comfortably turned the tables on My Jelly Bean in the Sentinel Stakes over 1000m at Clairwood  and we can accept with fair accuracy that My Jelly Bean will not finish ahead of Reign As Kings again in his career.
Ottimo and Go Again are the only two runners to have run over the course and distance of this race.
Ottimo gets the services of owner Fred Crabbia's 'Rocket Man' Felix Coetzee and has done little wrong in two starts. He  finished 2,75 lengths behind Indaba My Children on debut over 1000m at Greyville.  It should be noted that Indaba My Children then ran the promising Twitter to 1,75 lengths in the Godolphin Barb Stakes at his next start.
Herman Brown and Frank Robinson's Muhtafal colt Go Again has run both his races over the course and distance and won his second start. He technically cannot beat Ottimo here, but he was running on at both his starts and that could count in his favour when the rest are coming up for air in the final 100m.
Riding Rules
The Australian-bred Ottimo came out to beat subsequent winners Go Again and Night Club over Tuesday's course and distance. He started at 7-10 and won easing up on the slightly soft going.
He is coupled with My Jelly Bean and we can go hypothesising about jockey arrangements to determine the stable preference. Corne Orffer has ridden both horses in all their previous starts and he rides My Jelly Bean on Tuesday. Did he get the choice of rides ahead of Felix Coetzee who rides the big Crabbia horse, Rocket Man? One wouldn't think so.
Anton Marcus and Charles Laird team up with the Var colt Contador, who won a tight finish to register his maiden victory over 1000m at his second outing three weeks ago. He beat the only other horse with a run under his belt in Midnight Run (why repeat names of great campaigners of the past?) and a bunch of unknown first-timers. The jockey-trainer combination has always got to be considered though and Contador could be just about anything.
Breathless
The Dominic Zaki yard are in prime form and he and Gavin Lerena take their chances with impressive recent Vaal maiden winner Jade Bay. While the Jallad colt won in fast time, he beat a weak looking field.  A red light for prospective backers will also be the respiratory noises he has made at both his starts. That's a sign that all is not right and a horse won't get away with that at Grade 2 level.
Justin Snaith send s out the only filly in the race,  opting to take on the boys with the speedy Coniston Gold. The daughter of Lake Coniston  has been a model of consistency with two wins and two seconds in her four career starts.  She had no chance with the outstanding Valdivia in the Strelitzia Stakes at her last outing, but did get closest to the Var flyer when finishing 5,5 lengths adrift.
She made her debut in December and has raced in three provinces over five months. If that has not taken too much out of her, she could run into the money. One can only speculate why her trainer opted to take on the boys rather than the girls.
King Of The Beasts
Mike Miller's Albert started his career in dazzling fashion with a 6,75 length win over the Scottsville 800m but has lacked a finishing effort in his subsequent three starts. He cannot realistically beat My Jelly Bean on his Sentinel Stakes run and he looks stretched here.
We expect Lionize to take the next step up the ladder and confirm his promise. Ivan Moore's pair of My Jelly Bean and Ottimo could provide the major opposition. Not an easy race.