Comparisons to world-class champions tempt ridicule and fate. That said, Avontuur stallion Var looks to have produced the next generation speed sensation judging by what we have seen of Vaughan Marshall's two year old Valdivia in her three racecourse outings.
The tail-grabbers were out in full force at Scottsville on Wednesday when Terry Lin's chestnut went to post for her third start in the Juvenile Plate for fillies run over 1200m. This was Valdivia's first attempt beyond 1000m and there were experts that said that she wouldn't stay the extra 200m and that she would battle to get the better of Mike De Kock's Lily Of St Pierre and the Charles Laird-trained Yellow Card.
They were wrong. Valdivia did her talking on the track and gave her five opponents a red card. She went off at prohibitive odds of 1-6 and won by 4,5 lengths in a time 0,75 seconds faster than the boys in the previous race.  This run must have been something of a novelty for her as it was the first time she had raced with horses in front of her. Whether by choice or not, she was slightly slow out, and settled smartly in third as she tracked her two supposed threats, Yellow Card and Lily Of St Piere. She strode away to win impressively. She has won R175 000 in stakes and looks wonderful value for her R100 000 National Sale price tag.
Her winning time of 70,05 secs pales somewhat when compared to Val De Ra's 69,17 secs in winning the 2011 SA Fillies Sprint also on good going at the same track in the month of May. But this was a Plate race, that was a Gr1 race. Valdivia is a baby, Val De Ra was four years old at the time. Valdivia was having her third start, Val De Ra was having her tenth. And Valdivia was not at full stretch.
After winning her first start over 1000m at Kenilworth in February by 6 lengths, Valdivia doddled home in the Gr3 Strelitzia Stakes over 1000m at Clairwood six weeks later in a time of 58,55 secs. She has thus won her first three starts by an aggregate of 15 lengths and entirely unextended at three different racecourses.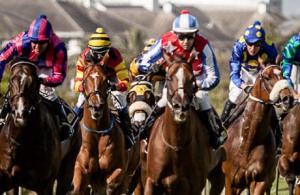 Val De Ra won her first three by 11,75 lengths in total, but had already been pushed to 1300m at her second start. Winning margins are all relative and serve more promotional purpose than anything else-just look at the legend Pocket Power. Val De Ra was never raced beyond 1200m again in her career.
Comparisons with the form of Scottsville's Wednesday Juvenile males first race may also prove worthwhile reflecting on. Dennis Drier's National Emblem colt Potent Power narrowly downed the 1-6 favourite Indaba My Children in that event. This favourite had beaten subsequent Gr2 Umkhomazi Stakes winner Ottimo on debut by an easy 2,75 lengths and then ran a smart second to Vadivia's stablemate Twitter in the Listed Godolphin Barb Stakes.  That's quite strong on paper.
Valdivia now surely goes into the Gr1 Allan Robertson Championship on 26 May as a red-hot favourite. Who can beat her?
Probably nobody. Only a disappointing thirteen fillies have been nominated, probably scared off by the hotshots.
The Cape sensation Hammie's Hooker, has been nominated but we hear that she may not be making the trip. The Trippi boomer Franny is still smarting from her hiding in the Gr2 SA Nursery at Turffontein on Champions Day. Coerie Lensley may be tempted to have a shot with the shock winner of that race, King's Temptress. But the Kimberley Kid is probably still on cloud nine and the Gauteng form is proving quite soft and dicey at times.
Victory Moon sired last year's Allan Robertson winner, Princess Victoria, and he has another potential strong hand this year in the Corne Spies-trained Straight Set, who downed another Marshall flyer in the Captain Al filly All Is Secret, in the Gr2 The Debutante on Worker's Day. Spies is that family's hoodoo somehow! All Is Secret's dam Secret Of Victoria ran a close second in the 2005 Allan Robertson Championship to, you guessed it,  the Spies' brilliant filly Rock Opera who campaigned with success in the Linnington purple and white silks. This was Rock Opera's fourth successive win before she left to pursue her career in Dubai.
Vaughan Marshall looks to hold all the Allan Robertson aces. And let's leave our Val De Ra comparisons on ice for now.
Entries:SCOTTSVILLE 26 MAY 2012 
R 500,000    1200m     
ALLAN ROBERTSON CHAMPIONSHIP  (Gr 1)
For 2 year-old Fillies 
12 $ AL KINDI         (2F) 58.0   0   Mike de Kock       
11 ALL IS SECRET      (2F) 58.0   0   Vaughan Marshall   
 2 COUNTER RIDGE      (2F) 58.0   0   Herman Brown/Frank 
 5 FRANNY             (2F) 58.0   0   Gavin van Zyl      
 8 HAMMIE'S HOOKER    (2F) 58.0   0   Mike Bass          
13 KING'S TEMPTRESS   (2F) 58.0   0   Kumaran Naidoo     
 9 $ LIZZY GREY       (2F) 58.0   0   Gavin van Zyl      
 3 LONSOME DOVE       (2F) 58.0   0   Mike de Kock       
 4 REBEL QUEEN        (2F) 58.0   0   Corne Spies        
 7 SEA SHADOW         (2F) 58.0   0   Dominic Zaki       
10 STRAIGHT SET       (2F) 58.0   0   Corne Spies        
 6 TRIP TO EDEN       (2F) 58.0   0   Corne Spies        
 1 VALDIVIA           (2F) 58.0   0   Vaughan Marshall   
 $ Denotes Supplementary Entries
 Please Note:Declarations close: 11:00 Thursday 17 May 2012