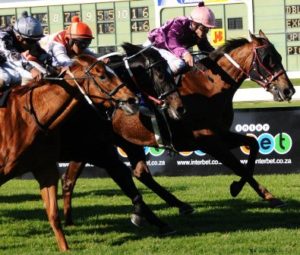 It is not often that we witness a horse hitting the front and then falling away late in the race, only to come back from the arms of defeat to get up and win. Jockey Richard Fourie produced the stroke of genius when winning on Sally Jourdan's Adobe Pink in the sixth race at Kenilworth this afternoon.
Four of the Cape's best jockeys each rode a double on a day when riding honours were evenly spread. Besides Fourie, Karl Neisius, Bernard Fayd'herbe and Aldo Domeyer each took home two winning commission cheques.
We can quite understand Fourie's motivation. He and his wife Tatum Lea Fourie(nee Puller) celebrated the arrival of a baby girl on Monday evening at 23h32. Christened Bella Tayla Fourie, the little bundle of happiness weighed in at 3.5kgs. That makes Lauren Puller one of the youngest double Grannies in horseracing too.We must all be getting old!
We wish the young parents well on the new baby sister for Mia and they will know that the real fun starts now.
Fourie also won the opening race of the day and very appropriately too. Given his personal domestic bliss, the winner was named Solid Sister. And this lovely daughter of Jet Master built on her surprising odds-on debut defeat, to win the Maiden Juvenile Plate over 1200m going away.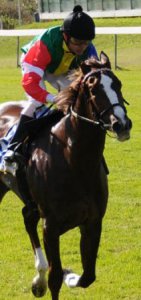 After the enormous successes of the top-class Captain's Lover, it is no wonder that Team Valor International have taken to the Willempie Engelbrecht bred fillies, and this two year old was a R1 million sales graduate out of the moderately successful Flaming Rock mare Dame Kiri, who raced in the Engelbrecht interests.
She is held in high esteem by trainer Justin Snaith and can only improve further from here. She won in the familiar Valor silks, who race her in partnership with Anant and Vanashree Singh.
But it was Fourie's winning ride on Adobe Pink for trainer Neil Bruss that really called on the young jockey's talent and skill. The sixth race was a minefield of an MR 70 Fillies and Mares Handicap and a case could be made for practically all of the thirteen moderate sorts that went to post.
Jayson Smitsdorff took the Paddy Kruyer-trained Jazelle, who started a weak tote favourite out to lead, and she was going strong until challenged and passed by Adobe Pink at the 400m marker. Fourie looked to have done enough until Karis Teetan took over on Mirabile wide out. In a three corned drive to the winning line, Fourie somehow managed to get Adobe Pink to rally near the rail and she came back to grab a tight decision from Jazelle who tried her heart out. Mirabile stayed on a further short-head back in third.
Owner Sally Jourdan works for Lammerskraal Stud and this Go Deputy filly is out of the top Pas De Quoi mare Nacarat, who produced the Graded performers Nania and Target Acquired.
Adobe Pink has won two of her nine starts and could continue to earn in the weaker winter months down in Cape Town.
Richard Fourie's father-in-law Glen Puller, who become a grandfather again on Monday evening, also celebrated the occasion of the new addition to the family when he sent Stunning Tiger  out in fighting trim after a four month break to win the jackpot opener.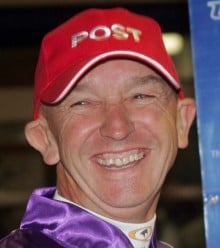 We saw some vintage Karl Neisius stuff in the MR 87 Handicap run over a mile and he allowed the normally enthusiastic front-running Stunning Tiger to watch on from midfield as Great Kalli and Spy Glass cut each other's throats out front. Spy Glass skipped at the 300m marker but Neisius was allowing none of it and he produced the Puller gelding under a driving ride down the rail to win well.
Bred by Boland Stud, Stunning Tiger is by the deceased former Vodacom Durban July winner Eyeofthetiger, out of the Northern Guest mare Stunning Kitten. He runs in his trainer's silks and has now won three of his eight starts for R127 000 in stakes. One would have thought that he was an ideal Winter Series type horse but the second leg, the Winter Classic is run next Saturday,and he looks unlikely to go for the Winter Derby.
Aldo Domeyer rode a textbook determined race to win the seventh race, an MR 70 Handicap over 1400m on Ronnie Sheehan's Mogok filly, Lola Bud.
Lemon Meringue made most of the pace but fell away at the 300m as Karis Teetan looked to have sealed a match-winning run on Glen Kotzen's Silvano filly Wings Of Fortune. Teetan was already banking the cheque but had not reckoned on the Domeyer swoop and the gallant little fily swept past late to win readily. She had been backed by some shrewdies from 10-1 to 13-2.
Andries Steyn's Pasadera was at last given a decent ride, and she ran on well for third at 12-1.
Lola Bud is only three years old and has finally won her second race from 18 starts. She has run 8 places and has paid her way by earning R141 000. She only cost R40 000 off the National Two Year Old Sale. Bred by Hadlow Stud, she is out of the three-time winning Manshood mare, Florist Gump.
Domeyer recorded his double in the very next race when winning the Maiden Plate(F&M) on the long overdue Princess Jacqueline. The daughter of Surging River relished her first bash at 2000m and has been a model of consistency with eight places from her sixteen starts. She was bred by Zandvliet Stud.
With the shadows lengthening over Kenilworth, the curtain was brought down on the day with a favourable result for punters in the Maiden Plate over 1200m.
Jamie Lee Jet cut out the early fractions and led for most of the trip. But Grant Van Niekerk was sitting with a double handful on the 22-10 favourite Roaring Wind, and he pressed the button as the impressive chestnut gelded son of Deep Sleep strode away to win well. This was the Riverworld Stud bred Roaring Wind's fourth start. He was yet another trainer-owned horse to win on the day and runs in the Glen Kotzen silks. Kotzen also trained his three-time winning mom, Shelela, by Baroon.
The Bass' De La Rey grabbed his customary second place cheque and his connections cannot complain about a horse that looks likely to never win a race, but has earned all of R80 000 for his fifteen racecourse apperances to date. Jamie Lee Jet stayed on well enough for third place.
The Mike Robinson first-timer Waterfront Moon appeared to break down at about the 450m marker and some intrepid finger trouble by the on-course producer broadcast an awful side on shot of this regrettable incident to the entire world. Full credit to the Tellytrack Rivonia crew for their proactive issuance of an immediate apology on behalf of the Kenilworth crew.
In fact it was not a red-letter day for Cape racing and very justifiably, Tellytrack also landed up questioning the decision to reschedule the start of the Kenilworth  fifth race to clash head-on with the opener from York.  Such basic errors. Or maybe they haven't heard of York?