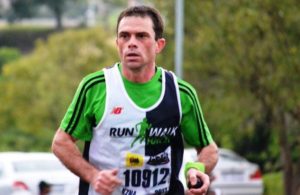 No regrets! That's the word from leading jockey Chris 'Chippy' Taylor as he counts the days down to his groundbreaking fundraising run in the Comrades Marathon down-run on 3 June.
Jockeys are generally not sportsmen known for an innate generosity and as fundraisers or campaigners for causes,and Taylor's brave quest to raise funds for the Coastal Horse Care Unit is being hailed on all fronts as a commendable first in South African horseracing.
As usual, champion Jockey Anton Marcus is setting the example to his colleagues and will be presenting Taylor with a donation at Saturday's Golden Horse Casino Sprint Raceday at Scottsville. Adam Kethro Racing,for whom Taylor rides regularly, have also made generous donations.
Taylor, always something of a fitness fanatic, is living proof that physical well-being is a major asset to any professional jockey.
He has been riding regular winners from some rather ordinary opportunities, and grabbed the bone thrown to him by the Sham family, by booting home last Friday's  Arlington 1400 winner, Tic Tak Toe. It was a particularly brave and judicious ride in less than satisfactory and dangerous underfoot conditions
In an interview today, Taylor told us that he was looking forward to the challenge that lay ahead and was hoping to boost the sum raised for the excellent cause of the Coastal Horse Care Unit to R20 000. R10 000 had already been pledged.
Taylor confirms that he has had a 'great prep' and had  been fortunate as he had experienced no serious setbacks:
" Apart from a bout of flu, I have been fine. Unfortunately the KZN Racing programme has prevented me from running in more races as they are normally held on Sundays. And I would've enjoyed more race experience. But hey, this is not meant to be a cakewalk, is it?" he joked.
Interestingly, Taylor will race- ride up to 24 hours prior to the Comrades gun. He is aiming for a ten-hour finish, but feels he is capable of achieving eight hours if things go well and he runs consistently.
To provide some insight into the hard-work and sacrifices, we asked him to provide us with a diary of his final seven-day countdown:
Sun 27th    May: Drive the race route
Mon 28th  May: Race-ride in PE. Run the track for 3kms. Sauna
Tues 29th  May: Race-ride in KZN. Ride work, gym and sauna
Wed 30th  May: Ride work. Run 7kms to gym and back.
Thurs 31st May : Ride work.
Fri 1 June : Race -ride in PE. Run 3km on track. Sauna
Sat 2 June: Race -ride in KZN. Ride work. Sauna. Treat -pizza after races!
Sun 3 June: Comrades Raceday! Awake at 2am and drive to Pietermaritzburg.
He is unbelievably scheduled to be back in the saddle, just  72 hours after completing the ultra-marathon, as he rides in KZN on the following Wednesday.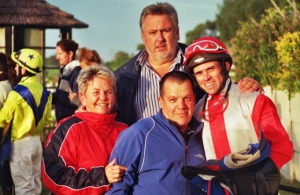 Taylor said he was grateful for the support and encouragement that he had experienced generally from within and outside the industry:
"If I raise a reasonable amount and pull up well, I would like to run a race in each of the provinces every year for each unit. Horse- care is a cause with major needs in all corners of South Africa. And let's face it, without these great animals, we'd all be doing  something  else  for our passion and  a living."
For those keen to aid this excellent cause, Chris's details are posted on Facebook, Twitter (@chippy7) and the African Betting Clan Forum. The ABC forum started the ball rolling with a donation of R500. You can find more details for the Coastal Horse Care unit on Facebook and the web.
Taylor's race-number has been confirmed as 30702 . Supporters can SMS 38132 to follow his progress throughout the race. Banking details for any donations as follows: (please provide a reference)
C.Taylor CHCU/Comrades : First National Bank  - Account number: 62350119303 - Branch: 221-526 - Branch name: Kloof - Sort/Swift Code FIRNZAJJ
Taylor closed by saying that it was also about creating an awareness amongst the public and horseracing needed to send a positive public message. He suggested that if any friends and supporters saw him on the road, that they give the Coastal Horse Care Unit a big  'SHOUT OUT'.