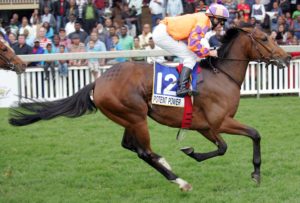 Shades of 2006. Potent Power's impressive 40-1 win in the R500 000 Gr1 Tsogo Sun Medallion echoed the  Zeeno shock six years ago in a race that has generally produced predictable results over the years.
It is quite unbelievably six years ago that Duncan Howells trained the Count Dubois colt Zeeno who left South Africa to pursue an international career shortly after his Gr1 win and one hopes, selfishly maybe, that the obviously smart Potent Power won't follow the same route.
Punters may have overlooked the fact that Potent Power had made the cut for the Drier Cape raiding party in the recent Sizzling Summer Season. He came out firing first time and recorded a smooth win over 1000m at Kenilworth. His next two runs were at feature level back in his home province over 1000m and while he finished on the fringes both times, he required a minor tweak which had been picked up as necessary by the shrewd Drier. That was the fitting of a tongue-tie, which prevented him choking up.
The resultant turnaround has been phenomenal, and the signs were there when Potent Power accounted for the highly-rated subsequent emphatic winner Indaba My Children three weeks ago.
The race panned out well for the Drier yard with Potent Power's stablemate Blizzard Of Ozz being voted best turned-out horse in the preliminaries.
The fancied Fly Me Over and Gauteng debut winner Danesco were slow away as Straight Set, My Jelly Bean, Ziparana and Contador  grappled for the early dominance. At this point Shea had parked Potent Power some six lengths off the duelling pacemakers.
Going  through the 600m Contador and My Jelly Bean were still going well with Joburg challenger Ziparana also looking dangerous.
At the 300m marker Corne Orffer decided to make his move and he sent My Jelly Bean ahead. But the orange silks of Potent Power had been stalking with the vigour of a famished leopard and he pounced with authority. He went on to beat the only filly Straight Set while My Jelly Bean hung in for third.
Shea rode a shrewd race sitting in behind, and about two or three horse-widths off the chopped up inner track and waiting patiently for the leaders to come back to him. He picked them off as they fell in a hole.
It was a rare Drier feature win for Kevin Shea, who was at pains to point out that he had ridden the colt in work, after being asked by Deez Dyanand whether it was the first time he had sat on the colt. "He is a lovely horse who was putting in phenomenal work," said Shea.
That just goes to show that the racing bush telegraph doesn't always work as well as some of the more advanced social media. Despite that observation from the vastly experienced jockey, the horse was allowed to drift from 33-1 to 40-1 on the off.
It was also yet another feature win for trainer Dennis Drier, who had earlier this week won the Betting World 1900 with the smart Vodacom Durban July candidate Beach Beauty.
Potent Power's winning time of 70.95 secs was all of 0,69 secs slower than the fillies' equivalent earlier in the day.
Corne Spies' The Debutante winner Straight Set was the only rose amongst the thorns and proved the frowning doubters wrong by running on gamely for second only 1,25 lengths behind the winner. My Jelly Bean stayed on after his prominent showing for third, while Twitter sneaked into fourth.
There were a couple of disappointments and these included  Fly Me Over, Reign As Kings and Cape Royal. The Glen Kotzen-trained Fly Me Over had run an impressively fast debut over the course and distance, but finished in sixth and 5,50 lengths off. The biggest downer was Reign As Kings, who came in to this race having won three of his first four starts. He plodded into seventh and 5,75 lengths adrift. Dean Kannemeyer's Cape Royal showed some toe, but appeared to battle with the adjustment from maiden level straight into Gr1 company. He finished tenth and 7,60 lengths away.
Potent Power was bred by Duncan Barrie's Riverton Stud in the magnificent Robertson Valley. This is the same farm that bred and raised recent Drill Hall Stakes winner Tales Of Bravery.
Potent Power is by National Emblem out of the lightly raced one-time winning Captain Al mare, Solar Galleon, who won over 1200m. Winning trainer Dennis Drier thanked the winning partnership in the post-race formalities as they had gone to 'extra money' to acquire him for R200 000 at the National Yearling Sale.That looks a great stretch right now!
Potent Power took his career earnings to R396 786 with his 3 wins from 5 starts.
His breeding coupled with the manner in which he runs on indicates that he may well enjoy a mile. That must be an exciting prospect for his connections who had the faith to dig deep when buying him on the advice of a man who doesn't talk telephone numbers.
Result:
Tsogo Sun Medallion (SAf-G1) (5/26)
Scottsville, South Africa, May 26, R500.000, 1200m, turf, good, 1.10.95 (CR
1.07.00).
POTENT POWER (SAF), 58.0, b c 2, National Emblem (SAF) – Solar Galleon (SAF)
by Captain Al (SAF). Owner E W Buhr, M A Currie, M Dally & BHF Syndicate;
breeder Riverton Stud (SAF); trainer DR Drier; jockey K Shea (R312.500)
Straight Set (SAF), 55.5, ch f 2, Victory Moon (SAF) – Sublime Surge (SAF)
by Elliodor (FR)
My Jelly Bean (SAF), 58.0, b g 2, Announce (SAF) – Jelly Baby (SAF) by
Jallad 
Margins: 1¼, ½, 2¼ 
Also ran: Twitter (SAF) 58.0, Ziparana (SAF) 58.0, Fly Me Over (SAF) 58.0,
Reign As Kings (SAF) 58.0, Ottimo (AUS) 58.0, Contador (SAF) 58.0, Cape
Royal (SAF) 58.0, Love Struck (SAF) 58.0, Blizzard Of Ozz (SAF) 58.0,
Peanuts (SAF) 58.0, Go Again (SAF) 58.0, Danesco (SAF) 58.0