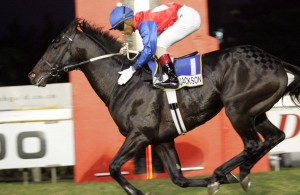 Mission accomplished and the Vodacom Durban July would now be a bonus. That just about sums up the buoyant mood from the winning team after the outstanding Jackson had toyed with his field to win the R1 million Gr1 Daily News 2000 at Greyville on Saturday. The Gauteng three year old form once again came out of this race looking rather red-faced.
Backed in at the exclusion of the rest to prohibitive odds of 3-10, the handsome looking Investec Cape Derby winner capped a victorious afternoon for his sire, Dynasty, who had won this prestigious race in 2003,and also sired the 2010 winner, Irish Flame. Dynasty also sired the winner of the Gr3 Lonsdale Stirrup Cup, Blake, as well as the winner of the ninth race, and MR86 Handicap, Marchant.
Trainer Brett Crawford may well have rattled the confidence of the ante-post market customers by suggesting afterwards that his charge was no 'definite starter' for the July. But win well is all the smart Dynasty could do. And that he certainly did.
Mike De Kock's staying type Vettel was taken up to lead the charge from the break by Anthony Delpech as this was probably the only realistic chance the son of Know Heights had of winning this event.  He led the field around the whole way round from a relaxed Jackson with Zambucca, Shogunnar and Master Plan, and with rest following. Strydom had Derby winner Pomodoro relaxed towards the rearguard in the company of Anton Marcus and Whiteline Fever.
Turning for home Delpech pressed the button and Vettel continued to gallop powerfully as Teetan switched Jackson out. In a matter of strides the Crawford colt came forward smoothly and took over to win well by 3,75 lengths in a time of 120,02 secs.
Vettel showed courage and stamina by staying on a half-length ahead of Gavin Van  Zyl's Shogunnar, who had only shed his maiden just over a month ago. He ran off a merit rating of 89 and would have had the Gauteng Handicapper jumping off the top floor of the National Horseracing  Authority office, based on those two MR 108's left trailing in his wake.
Whiteline Fever, who had been backed from 12-1 to 9-1, and Pomodoro, ran on steadily to finish just behind the first three. Pomodoro's fellow SA Derby dead-heater Royal Bencher never raised a challenge and finished nine lengths away.
The Gauteng form didn't pan out once again and it was left to a stayer, a one-time winner and a horse that could only finish ten lengths behind Slumdogmillionaire in the SA Classic at the end of March, to chase Jacskon home. But let's not detract from the win.
As already observed, Brett Crawford  confirmed that Jackson was not a 'definite starter' in the Vodacom Durban July next month, and he and owners Ian Longmore and Jack Mitchell are obviously watching to see how the final weights picture unfolds. With the big filly Ebony Flyer not turning up, his presence would certainly add much lustre and excitement to Africa's Greatest Horserace, and Gold Circle and Vodacom will be holding thumbs that the juicy first place cheque may persuade the Crawford team to take their chances.
Jackson stamped himself as a potential candidate for the Horse Of The Year title and the National Two Year Old Sale graduate is evidence that it does make sense at times to spend R1 million on a calculated dream. He has won 5 races and been placed once from his 7 starts for gross career earnings of R1 256 205.
Bred  by Highlands, who have such a top-class record in this race, he is out of the one-time winning Cozzene mare Moonlit Prairie, who also produced Jade Bay(Jallad) and Savona(Spectrum), neither of whom have set the world alight.
Win, lose or pass the July by, Jackson has done the job in more ways than one for his owners and trainer this season. As Brett Crawford quipped in the post-race interview: " Big horses are pressure. Every time I feel nervous, I just go and have a peek at him."
He sure as sin runs like he looks.
Results:
Daily News 2000 (SAf-G1) (6/2)
Greyville, South Africa, June 2, R1 million, 2000m, turf, good, 2.00.02 (CR
1.59.60).
JACKSON (SAF), 58.0, b c 3, Dynasty (SAF) – Moonlit Prairie by Cozzene.
Owner I W Longmore and W J C Mitchell; breeder Highlands Farm (SA); trainer
B J Crawford; jockey K Teetan (R625.000)
Vettel (ARG), 58.0, b c 3, Know Heights (GB) – Inner's Girl (BRZ) by Dodge 
Shogunnar (SAF), 58.0, b c 3, Solskjaer (IRE) – Surfers Eye (SAF) by
Elliodor (FR)
Margins: 3¾, ½, nk
Also ran: Whiteline Fever (SAF) 58.0, Pomodoro (SAF) 58.0, Master Plan (SAF)
58.0, Royal Bencher (SAF) 58.0, Baracah (SAF) 58.0, Zambucca (SAF) 58.0