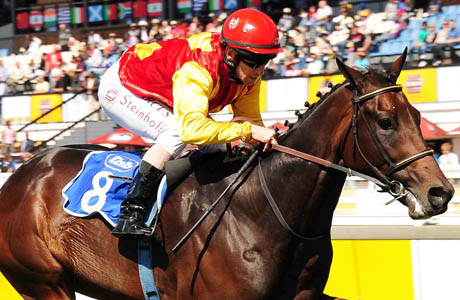 The upwardly mobile three year old Golden Crest makes his stakes race debut at Turffontein on Sunday when he takes on his elders in the Gr3 Jubilee Handicap over 1800m. The smart Silvano gelding looks all set to score his fourth successive win.
There is absolutely nothing wrong with avoiding the demanding rigours and stressful limelight of Champions Season and staying home while picking the smaller cherries in the course of maturing and learning the ropes. That is the story of the low-key developer Golden Crest who is taking his own time to establish himself as a force to be reckoned with.
Trainer Geoff Woodruff has seemingly always held the Meaker family bred and owned four-time winner in high regard and he now asks him the first serious question of his seven run career when he throws him in the lion's den of a rather motley crew of seasoned campaigners and an upcoming contemporary in the Betting World Jubilee Handicap.
Super
Anton Marcus has partnered Golden Crest to his last two wins and stays with him after winning his last start in a MR 90 Handicap under topweight. He beat Luminous Love more readily than the official 0,75 length margin would suggest then and comes in here under a competitive 55kgs. He took the step up the 1800m last time and hit the front a long way out in the manner of a good sort who stays every inch of the 1800m. He looks to have more scope and potential than anything else and should dispose of this lot.
That is suggested as no disrespect, and the best of the older gang may be Tyrone Zackey's five year old Galanthus who ran two gallant seconds at his last two outings.Those were two cracking seconds in the Gr2 Colorado King Stakes and then the Gr1 President's Champions Challenge. Brandon Lerena takes over from Piere Strydom in the saddle.
And it is naturally of some concern that Piere Strydom parts company with the consistent Galanthus after a partnership lasting seven runs. That probably says something about Strydom's new mount, Knock On Wood. The Ormonde Ferraris-trained son of Muhtafal is not a slouch and has run on well at his last two starts. His saddle slipped at his penultimate, but he made good late progress when 4,25 lengths behind Without Malice last time after losing ground at the start. That smacks of Strydom's game and watch this one.
Tough Warrior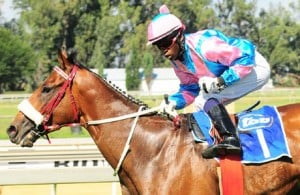 Galanthus' stablemate Smanjemanje is ranked 16th in the latest July log and this game gelding ran a hard-earned third place only a length behind Europa Point in the Presiden't's Champions Challenge after doing much of the hard graft up front. He will need to finish right on top of things here if he is to have any hope of travelling to Durban and Grant Van Niekerk, who won the London News Stakes on him, partners him again.
SA Derby winner Seal is another July hopeful, and he holds the ranking just above Smanjemanje. . He won the Listed Wolf Power in February over a mile and has run two fair fifth places in the Gr2 Colorado King Stakes and the Gr1 President's Champions Challenge at his last two starts. The pacy son of Silvano appears to have soundness issues, but would not be winning this out of turn.
Gavin Van Zyl has another string to his bow and he throws the Miesque's Approval gelding Eton Square into the deep end after just three racecourse appearances.After shedding his maiden over 1200m at Turffontein at his second start, he was stepped straight up to a mile and acquitted himself with honour when chasing the seven-time winning George Scott-trained Jet Master filly Without Malice home. The powerful front running filly is always a tough nut to crack, but Eton Square showed great fight to get within two lengths of her- albeit in receipt of 7kgs. Robbie Fradd now rides and the three year old and gives Without Malice 6,5kgs. A tall order.
Magic Mike
The Mike De Kock pair of Meadow Magic and Safwan are both worthy of consideration .
Meadow Magic a versatile fellow on both turf and sand, beat Extra Cover by a length when giving away 5kgs in an MR 96 Handicap over 1450m at their last meeting. They are closer together here with 4,5kgs separating them at the weights but with the extra 350m likely to be a greater leveller in favour of Meadow Magic.
The Australian-bred Safwan is another who is regaining his better earlier form and he ran a fair third and only 0,75 lengths off Flirtation in the Colorado King Stakes. His subsequent effort when only 2,50 lengths behind stablemate Europa Point in the President's Champions Challenge was a fair run. His last win was when dead-heating with Golden Chariot in the Gr2 Betting World 1900 a year ago.
The only other runner worthy of consideration is Without Malice who has won 7 of her 23 starts and always gives of her best. She was scratched two weeks ago when apparently off her feed and that is a worrying factor. She will be likely to at least share some of the pacemaking responsibilities and won't stop readily.
With all of Smanjemanje, Seal and Without Malice likely to make the pace, the result may be in doubt right until the final few metres. This should give Anton Marcus plenty of chance to settle Golden Crest and we expect him to win his first feature at the expense of Knock On Wood and Galanthus.