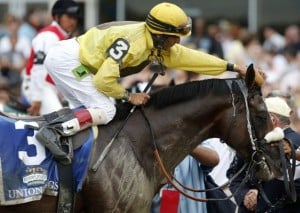 The shock late withdrawal of Triple Crown pretender I'll Have Another, took some of the sparkle out of the 2012 Belmont Stakes run at Belmont Park in New York last Saturday. Union Rags finally got lucky after some hard-luck stories and grabbed the limelight with a smooth win under Johnny Velazquez in his hometown.
It was almost third time unlucky for Union Rags, after his interrupted passages in the Florida Derby and the Kentucky Derby at his last two starts, and he found himself all dressed up with nowhere to go again on Saturday as the bunch turned for home. The gap came on the rail, courtesy of jockey Mike Smith on the free-running Paynter, in the run to the line and Union Rags ran on well to win by a head.
In fact Smith probably cost himself and a philosophically dejected trainer Bob Baffert a win as Union Rags would have really have had nowhere to go.  Paynter lost a shoe towards the end and also suffered a cut on his near-hind, just to add to the sorry tale.
But that's racing and Baffert laid claim to the dubious honour of three second places in the Triple Crown, after Bodemeister had run second in the Derby and The Preakness.
Paynter  led from the break and was still going strongly with 400m to run as Velazquez got to work on Union Rags who had moved up from midfield. He eventually squeezed through the rails gap and got to the leader to win an exciting race.
Fortunate and obviously thrilled  winning owner Phyllis Wyeth, who only owns Union Rags and half of a claimer,  paid tribute to winning trainer Michael Matz and her jockey Velazquez. Wyeth suggested in the post-race euphoria that no other jockey would have succeeded in getting her horse through the rails gap.
Wyeth's parents, Alice du Pont and James Mills, owned and bred horses. Union Rags' mother is Tempo, who is part of the bloodline of horses Wyeth's parents owned. Tempo had many offspring, but she nearly died after giving birth to one of her foals, going on to bear just one more following that incident. That "one more" was Union Rags.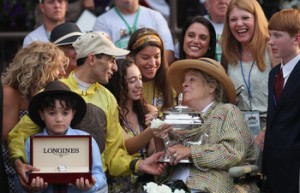 Despite this connection to her childhood, Wyeth was talked into selling the horse as a yearling in 2010 by her tax accountants . It was a decision she regretted, and she ended up buying the horse back at an auction in 2011, for over $200,000 more than she sold him for less than a year prior. She was almost instantly rewarded for her faith in the horse, though, and now the two have won the prestigious Belmont.
Union Rags is a son of Dixie Union out of Tempo, and there were doubts about his ability to stay a true-run 2400m. There is evidence of staying ability in his second and third dams, and the manner of his win on Saturday showed that he is a horse that was designed to win this race.
Trainer Michael Matz hinted that Union Rags was one of the best 3yo's of his year and said that it would have been 'fun' to have seen him up against I'll Have Another