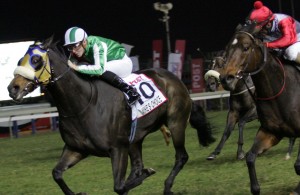 A thrilling finish to the R300 000 Gr2 Post Merchants, with just one length covering the first four horses home, produced a well-deserved winner for the original ambassador of SA horseracing, Michael Roberts. The appropriately named Mike's Choice turned on the jets very late in the home run to gain a narrow decision over a gallant Rebel Knight.
Everything happens for a good reason and Roberts' disappointment at Mike's Choice not making the cut for the Golden Horse Casino Sprint at the end of last month, was erased in the space of the 70,47secs that it took the Tamburlaine gelding to cover the Greyville 1200m.
Roberts admitted that he had five year old 'cherry ripe' for the big Gr1 sprint at Scottsville that he was eventually relegated to watch from the sidelines as a reserve runner. He also conceded that he had spent much thought mulling over the Post Merchants strategy in his mind and eventually decided on the talented youngster Keagan Latham as an able replacement for his indisposed regular rider, Brandon Lerena.
Roberts was spot-on. An eleven-time Champion jockey in South Africa and British Champion rider in 1992, a neck injury resulting from a fall in the UK in 2001 led the former legend of the saddle to retire from riding at the age of 48. He moved office from his farm in Karkloof a few years ago and is based these days at Summerveld, from where he has enjoyed far greater success on the racecourse.
On a windless Greyville  evening, the pace was predictably on from the jump with the strong galloping Bielorusso skating clear to lead the squadron under Nicky Roebuck, from Captain's Secret and the quick as silver, Tetelestai. The Shark had jumped a fraction slowly and was caught napping for early speed.
Turning for home Bielorusso continued to lead but came under serious pressure. Marcus, who had already ridden three winners on the evening's programme, was manouvering the well-supported Sports Coach though the middle-inside, while the lightly campaigned Sky Marshall moved up menacingly.
With Marcus creating havoc by drifting outwards on the Laird gelding and causing all kinds of reactions to his outside, Latham turned on the power and produced Mike's Choice with a dream safe passage to hold off the powerful dash down the outside rail of Rebel Knight. The winner started at 15-1, in an open betting race that looked a likely minefield from the outset.
Winning jockey Latham said that he had thankfully managed to avoid the trouble in a 'bargy, bumpy race' and said that his mount had quickened nicely and shown tremendous courage and the heart of a lion.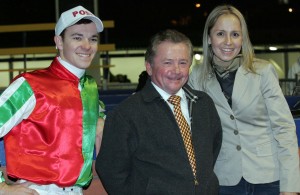 An ecstatic Roberts said afterwards that Mike's Choice was an easy horse to ride and confirmed that the gelding has an infatuation with the Greyville circuit, where he has won four of his five races to date.   Roberts paid tribute to his staff and particularly his Assistant, Shannon Hill, son of former jockey Robbie Hill.
Gary Alexander's Rebel Knight ran a top-class race under Robbie Fradd from the worst draw to storm home late for a 0,25 length second, while the 5-2 favourite Sports Coach stayed on just behind for third place, after causing interference.
The Kannemeyer pairing of Splash Gold and Depardieu were both unlucky and denied runs at crucial stages, which would have cost them dearly in a race where nobody hangs around to exchange pleasantries and swap recipes.
The winner is owned in partnership by Mike Dawson, Mike Proctor, Dr Brian Sarembock and Fieldspring Racing. Sadly none of the owners were on course to enjoy the consistent fellow's biggest payday by a country mile.
Vaughan Koster's  Cheveley Stud bred the winner from exported stallion Tamburlaine out of the one-time winning Shoe Danzig mare, Jukao. It is a quirk of life and marketing that the one way to get a stallion to produce winners, is to promote or downgrade him North to Zimbabwe!
Mike's Choice is now a winner of 5 races and has run 4 places from his 22 starts.  He has won R500 000, which still leaves his owners slightly short of the R550 000 investment that they made at the National Yearling Sale to acquire him. Which, in hindsight, seems like a lot of money to have paid for a Tamburlaine out of a one-time winner, at the time.
Racing is all about hindsight, and we are all so much wiser after the event, are we not?
Mike's Choice loves Greyville, but he is game and has enough pace to assert himself again in the remaining sprint features this season.
Result:
Post Merchants (SAf-G2) (6/15)
Greyville, South Africa, June 15, R300.000, 1200m, turf, good, 1.10.47 (CR
1.09.10).
MIKE'S CHOICE (SAF), 56.0, b g 5, Tamburlaine (IRE) – Jukao (SAF) by Shoe
Danzig. Owner M V Dawson, M J Procter, B D Sarembock & Fieldspring Racing;
breeder Cheveley Stud (SAF); trainer M L Roberts; jockey K Latham (R187.500)
Rebel Knight (SAF), 60.0, b g 5, Jet Master (SAF) – Darby Game (SAF) by
Elliodor (FR)
Sports Coach (SAF), 53.5, b g 4, Jet Master (SAF) – Sport's Chestnut (SAF)
by Sportsworld 
Margins: ¼, ½, ¼ 
Also ran: Copper Parade (SAF) 60.0, Monsieur Dupont (SAF) 55.0, Depardieu
(SAF) 60.0, Splash Gold (SAF) 60.0, Maliyakhe (SAF) 59.5, Shades Of Indigo
(SAF) 57.5, Tetelestai (SAF) 59.0, The Shark (ZIM) 57.0, Captain's Secret
(SAF) 59.5, Bielorruso (ARG) 55.0, Sky Marshal (SAF) 52.0