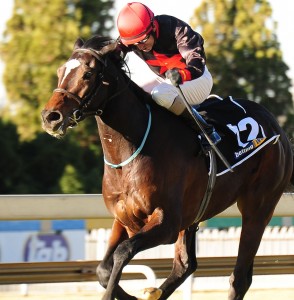 Lady Luck threw the cat amongst the pigeons at the draw for the R3 million Gr1 Vodacom Durban July when the majority of the fancied runners drew the rough end of the stick, landing up on the Marine Parade.
The biggest revelation has to be the new kid on the block, Eton Square. Gavin Van Zyl's son of Miesque's Approval, who has only run four times, winning the Gr3 Jubilee Handicap at his last start,  has drawn 6. Van Zyl also trains both reserve runners in Bulsara and the 2011 SA Derby winner, Seal.
The current favourite Jackson drew an awful 18 and the connections of the brilliant son of Dynasty may find some compensation in the knowledge that they have a horse who can be dropped out and turn on the acceleration when it counts. The Daily News winner will carry 57kgs, the maximum weight for a three year old.
The Gauteng legend Pierre Jourdan, who ran such a cracker two weeks ago when a nice third behind champion  Variety Club in the Gold Challenge, drew 15 and trainer Gary Alexander will not be thrilled at that challenge.
Stallion Dynasty won the race from a 20 draw under Robbie Fradd in 2003, and besides Jacskon's curved ball, his daughter Beach  Beauty drew 14.
Cape trainer Vaughan Marshall who has had such a terrific season, had no luck with the late Roy Ecksteen's two runners Tales Of Bravery and Top Seller  drawing 17 and 19 respectively.  The gods did not smile on champion trainer Mike De Kock either, as the Lammerskraal owned and bred Solo Traveller pulled 16 and the grey Wilgerbosdrift bomber Ilha Bela was cursed with a 21 draw.
Mike Bass was the last trainer to make his selection and he had mixed fortune with the enigmatic Castlethorpe getting 20, Jeff Lloyd's mount Chesalon drawing 12 and the stable dark horse, English Garden drawing 10. Bernard Fayd'herbe, who dead-heated in this race in 2008 on Pocket Power for the Bass yard, rides Lady Lilford's Camden Park gelding  and he will probably have to shed a kilo or two, as his mount carries 56,5kgs.
Sean Tarry, who was tasked with the taxi duty of getting his colleague Mike De Kock to the luncheon on time, had radically mixed fortunes too.
His three year old Pomodoro drew 22, while the other Tarry youngster Whiteline Fever drew pole position, next door the old soldier and his stablemate Gold Onyx.
The reserves drew 4 and 11, and they will be thrown in or out depending on any late withdrawals prior to Tuesday 26 June at 12 noon. The draws will then be condensed.
We look forward now to the public gallops on Thursday, 28 June 2012 at Greyville Racecourse.
The final field for Vodacom Durban July, with reserve runners and jockeys declared to date:
Horse
Mass  

MR

Dr

B

A

T

Jockey                  
Trainer
PIERRE JOURDAN
60.0

114

(114)

15

 

A

 

Robbie Fradd
Gary Alexander
TALES OF BRAVERY
59.5

113

(113)

17

B

A

 

Felix Coetzee
Vaughan Marshall
CASTLETHORPE
59.0

112

(112)

20

A

 

Karl Neisius
Mike Bass
BEACH BEAUTY
58.0

110

(110)

14

A

 

Sean Cormack
Dennis Drier
CHESALON
58.0

110

(110)

12

A

 

Jeff Lloyd
Mike Bass
JACKSON
57.0

116

(112)

18

A

 

Karis Teetan
Brett Crawford
POLAR BOUND
57.0

108

(108)

3

A

 

Stuart Randolph
Brett Crawford
SMANJEMANJE
57.0

108

(108)

13

S

 

Grant van Niekerk
Tyrone Zackey
ENGLISH GARDEN
56.5

107

(107)

10

A

 

Bernard  Fayd'Herbe
Mike Bass
TOP SELLER
56.5

107

(107)

19

B

A

 

M J Byleveld
Vaughan Marshall
SOLO TRAVELLER
56.0

106

(106)

16

B

A

Muzi Yeni
Mike de Kock
GOLD ONYX
56.0

106

(106)

2

A

T

Gavin Lerena
Sean Tarry
SAGE THRONE
55.5

105

(105)

5

A

T

Colin Scott
ROYAL BENCHER
55.0

108

(104)

8

A

Alec Laird
POMODORO
55.0

108

(104)

22

A

Piere Strydom
Sean Tarry
VETTEL
53.5

105

(101)

9

A

Anton Marcus
Mike de Kock
GORONGOSA
53.5

101

(101)

7

B

A

Kevin Shea
Mike de Kock
ILHA BELA
53.0

104

(100)

21

A

Anthony Delpech
Mike de Kock
WHITELINE FEVER
53.0

103

(99)

1

A

Sean Tarry
ETON SQUARE
53.0

101

(97)

6

A

Glen Hatt
Gavin van Zyl
Reserve Runners
BULSARA
55.5

105

(105)

11

B

A

Reserve 1
Gavin van Zyl
SEAL
57.5

109

(109)

4

B

A

Reserve 2              
Gavin van Zyl