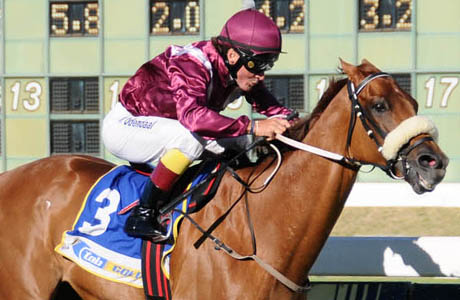 The chances of an upset result in the 2012 Gr2 Mango Gold Vase to be run over 3000m at Greyville on Saturday looks a real possibility. Piere Strydom and Sean Tarry may bring some sense to the calculations though with the Requiem gelding Kolkata, who looks just about ready to score his first stakes win.
Staying races are generally minefields with a lack of form and genuine class and ability the overriding factors, as opposed to dishing up a standout performer. That observation aside, we do have last year's Gr1 Canon Gold Cup winner and runner-up in this field, so it is not all doom and gloom.
Shadows
Kolkata has always been highly rated though, and while only a winner of three of his sixteen career outings, he has run enough good races in the shadows to suggest that a Gr2 win against a field like this is well within his compass.
He ran second in the 2011 Gold Cup to Aslan when beaten a half-length receiving 5kgs. He followed up with promising seconds in all of the Michaelmas, Java Handicap and Racing Association Stakes and ran on well when fifth and 4,25 lengths behind Lake Arthur in a far-too-short 1400m prep in May. His run over a mile at Clairwood last week, when he stayed on 3,35 lengths behind Mujaarib, spoke of a fit horse.
There is no Anton Marcus in this race, and Piere Strydom looks just the kind of jockey required to get the best out of Kolkata
Tarry holds a strong hand as he also sends out last year's Canon Gold Cup winner Aslan, who will be partnered by Gavin Lerena. This classy Silvano gelding has been edging back to form and ran on well for third behind Gorongosa at his last start over 2800m. He is the only Gr1 winner in this field, and by virtue of that fact alone, must have an outstanding winning chance if producing his best.
Deep South
Two South American imports could upset the apple-cart if they arrive in their best frame of mind. Dean Kannemeyer's In Writing and Mike De Kock's Ilsanpietro are the two who look most likely to spoil the Tarry celebrations.
In Writing found his best form with a top-class tactical win in the Gr3 Chairman's Handicap run over 3200m at Kenilworth in February. He then won his Champions Season opener in a Pinnacle Stakes over 2500m at Clairwood where he beat Aslan 0,75 lengths at level weights. Aslan gets a half kilo from him here, which won't make a huge difference.
Ilsanpietro won the Java Handicap in October 2011 with ease and then followed through with second places in the Victory Moon and the Summer Cup. The latter was a terrific run by a stayer over a Gr1 2000. He does frankly appear to be in his place in the handicap since, although he has dropped to a 109. He has battled to lift his game in his recent starts and, while he has won at Greyville, it is probably not his ideal racing venue.
Yogas Govender's Storm Sagaz would not ordinarily be labelled a stayer, but showed up well when trying ground for the first time at his last start, and staying on for second behind Gorongosa in a 2800m Pinnacle Plate at Clairwood. He had the likes of Aslan, Predestination, Sun City and Posh Boy well beaten that day. Promising apprentice Donovan Dillon claims his 2,5kgs which gives the son of Bernstein a paper-weight to lump and he could well surprise this lot on the day.
Rip-cord
The Mike Bass coupling of Thanks John and Golden Parachute will both see the trip out, but their recent form does not inspire much confidence.
Thanks John jumps from the 14 draw with Jeff Lloyd in the saddle, and this seven-time winner has shown a frustrating lack of enthusiasm recently, while not finishing far off the action. His run when staying on to finish a 6,75 lengths fourth to Ancestral Fore in the 2010 Canon Gold Cup inspires some level of confidence, but when one has to go back two years to find a positive, then maybe we are scraping the bottom of the barrel!
Golden Parachute has spent a period with trainer Gavin Smith in Port Elizabeth and he managed to boost his flagging confidence by winning two of his four starts down there. He ran a shocker when fading badly in the straight in the PE Gold Cup three weeks ago though and that is hardly an ideal prep run for a tough test here.
Gavin Van Zyl was hoping to get a July run with his SA Derby and Wolf Power Handicap winner Seal, and is now left with the option of this probably less than ideal race after being eliminated as a reserve runner from the big one. He tries the distance for the first time and his last four runs, all at feature level, have lacked fire while not being disgraceful efforts.
Traveller's Cheques
Seal in fact only weakened late in the President's Champions Challenge behind Europa Point and the Jubilee Handicap when running 6,5 lengths off Eton Square, and the pace here may suit him. He has a good draw of 3 and is a runner if he stays the trip.
Gauteng trainer Corne Spies is a traveller of note and he turns up with two hard-knocking tourists in Campo De Santana and the filly Heyouneverknow.
Campo De Santana beat his stablemate in a shock result to the recent 3600m Port Elizabeth Gold Cup, South Africa's longest race. He received 5,5kgs from her that day when winning by 2,25 lengths, and now receives 3kgs,which brings them closer together. He has the best draw and the services of Kevin Shea here, but his win was a rare peak on a mundane form graph, and it is difficult to see him following through on that.
One of only two fillies in this race, the Brazillian-bred Heyounever-know is in great form, having won two of her last 8 starts and earning place cheques in five others. It must be said though that she has had a tough programme travelling from the Vaal to Turffontein to Kimberley to Port Elizabeth, and her enthusiasm for racing must be taken on trust.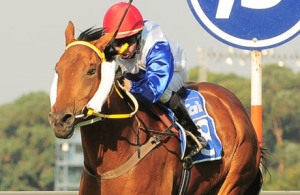 Sweet Thing
The other filly is St John Gray's Turkish Delight. The daughter of Sarge has won three of her last four starts and will get every inch of the 3000m trip. He run when fifth and only 1,55 lengths behind Gorongosa in the Spook Express was a fair effort, despite her receiving 8kgs from De Kock's outstanding mare.
Cape trainer Joey Ramsden is a master of the art of training stayers, but his six year old Predestination, has been something of an overall disappointment. A son of Dubai Destination, he has not won anything of note, although appears to stay well enough and did run a storming narrowly beaten second in this event last year behind Grey Cossack. He has the worst draw to contend with and will need some luck in running.
With his neighbour Carl Burger winning this race last year, Riaan Van Reenen has sent his two regulars up from Phillipi to be prepped by the underrated but very talented, Corinne Bestel. The two rather jaded stayers Sun City and Posh Boy have won 13 races from 104 outings between them and are always worth consideration from a quartet angle. Let's be direct and say that we certainly didn't give Grey Cossack any hope last year!
Two Star
The 2011 Settlers Trophy winner Sun City enjoys the cut in the ground and while drawn poorly at 15, he is a fellow who needs to be dropped out and brought into the action late. He ran a fair fifth when running on steadily behind the well-performed Gorongosa at Clairwood over 2800m at his last start. Posh Boy looks the lesser light and has lacked resolution of late when not finishing off his races. He has little chance on that score and it should be borne in mind that he has not won since January 2011.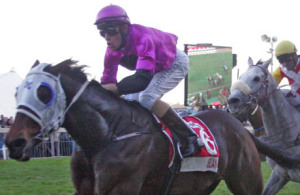 Michael Roberts sends out the four-time winner Badge Of Choice who is no star, but appears ideally bred for this far and carries a handy 52kg galloping weight. He enjoys running on from off the pace and could be a quartet kicker at best.Kom Naidoo's Dolomite is formless and would be a shock winner. He is surely just making up the numbers.
In an open race, we are suggesting that Kolkata is a progressive future top stayer and even a possible Ladbrokes Gold Cup winner at this early stage. He stands out in a race where anything could grab the place money. In Writing and Ilsanpietro look the two most likely to fight over the scraps, while Aslan has a touch of class and could feature.