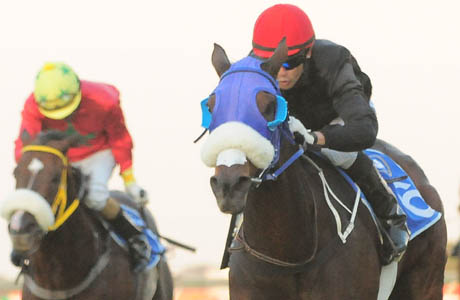 The R3 million Gr1 Vodacom Durban July has been variously described as lacking depth and overall class, but whatever the opinion, one thing is guaranteed. Africa's Greatest Horserace always provides thrills and entertainment out of the top drawer.
 We see Mike De Kock making it a historical hat-trick of wins, courtesy of the brilliant Montjeu mare Gorongosa.
Whether we are debating horses, wine or even the stock markets, the cyclical and sometimes unpredictable nature of achievement dictates that some vintages are just that much better than others. It probably boils down to a combination of perception, taste and practical issues, but there is little doubt that Saturday's big race is all set to provide a mouthwatering spectacle for the purists, regular punters and the casual flutterer.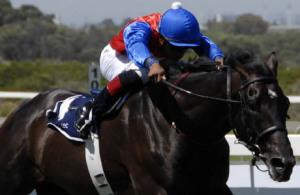 Deserving
Jackson is an obvious and deserving favourite and bids to make it back-to-back wins for three year olds. Brett Crawford's smashing son of Dynasty has done little wrong since beating Variety Club in the Investec Cape Derby and has had as close to a perfect preparation as his trainer could have hoped for.
The fact that Gary Alexander decided to run the five year old topweight Pierre Jourdan has had the added bonus of ensuring that Jackson is all of 2kgs better off than he would have been in a true handicap. The only thing that has gone awry is the draw, where Jackson jumps from a less than ideal 16 gate. But he has such terrific acceleration that he could realistically overcome this obstacle, despite the question marks against the BMT of young regular rider, Karis Teetan. He also put up an excellent final gallop last Thursday, and while this is no feelgood movie, he had the adrenaline rushing through the veins of many who watched him. He has matured and grown and is really a close-too-perfect specimen of a racehorse.
But the allure of horseracing is that he can be beaten and Mike De Kock could be the architecht of his demise. The champion conditioner sends out a quartet, headed, well we think so anyway, by the quite brilliant mare, Gorongosa. A winner of nine of her last ten starts, we saw her as more of a Gold Cup horse for most of 2012, but in the classical De Kock style, she has evolved into a serious runner for her owners, who have won just about everything else there is to win.
There are those that will say it is too short for her, but she has won twice over 1700m and comes in a well drawn, well-weighted, mature and fit mare, with everything in her favour – including Ipi Tombe's brilliant jockey Kevin Shea up.  And what a fitting tribute to Montjeu who died this year.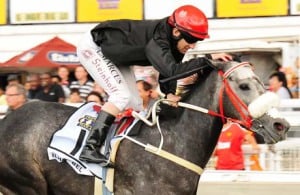 Stable jockey Anthony Delpech rides the other Wilgerbosdrift runner Ilha Bela.  She is shockingly drawn at 19 and will have to improve on her Woolavington 2000 defeat by Viva Maria. The betting public and Bookmakers rate her a lot higher than we are inclined to, but she has a galloping weight of 53kgs and could come into the reckoning with some luck in running.
The punting public were waiting with bated breath to see what Anton Marcus would ride and in the end it fizzled to a straight decision between Whiteline Fever and De Kock's Vettel. He opted for the latter and the Argentinian-bred son of Know Heights has 53,5kgs to carry from a fair 8 draw. He was soundly thumped by Jackson in the Daily News and has generally looked like a fellow who prefers another 400m to show his mettle. He is lightly raced and has won three from eight. The jockey-trainer combo suggests consideration more than anything else.
Solo Traveller winds up the De Kock fleet. Drawn at 14, Muzi Yeni rides the Lammerskraal bred. He is talented on his day, but is another one of those excuse merchants who always seems to have a reason why he didn't win. We don't see him toppling Jackson.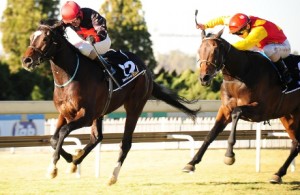 Root For Square
Gavin Van Zyl's Eton Square is one of  a rather impressive draft of seven three year olds running this year. The gelded son of Miesque's Approval was unheard of a month ago, but burgled a backdoor entry courtesy of a superb win in the Jubilee Handicap. What do we say about a horse that has only run four times and won twice, including once at Group level? He is a mile off Jackson on paper, but Glen Hatt rides him from a good draw and he looks worth every cent of the cash laid out by his connections to have him start in this big race.  Win or lose, it will not be his last appearance in the top level. And what a lovely story for KZN Champion Breeders, Scott Brothers.
The females are well represented in 2012 and Dennis Drier's Beach Beauty lines up next to Gorongosa and Ilha Bela for the fairer sex. The daughter of Dynasty won the Greyville 1900 is scintillating style and ran a pearler in the Poinsettia Stakes, when finishing with a rattle behind Princess Victoria over 1200m. She had no luck in the Met when finishing 1,85 lengths off Igugu, but has shown herself to be a different proposition on home turf.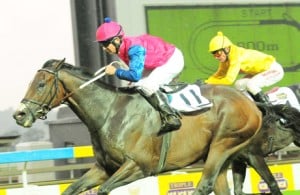 Bass Magic
Mike Bass has won this race three times this century and went third last year with English Garden, who takes his chances again this year. English Garden , a son of Camden Park, appears to be over his medical issues and the SA Classic winner looks to have had the perfect preparation. He is well drawn and Bernard Fayd'herbe who partners him, also won on Bass' last winner, Pocket Power.
Chesalon and Castlethorpe make up the Bass trio. The Gr2 Premier Trophy winner Chesalon bids to give Jeff Lloyd his first July winner and this capable son of Fort Wood ran a cracker in the Greyville 1900 when running on well to Beach Beauty, whom he meets on 1,5kg happier terms. He was withdrawn lame from the J&B Met, but appears to be over that and seems value 16-1.
Much has been said and written about the Australian-bred Castlethorpe, and besides two good sprint wins this year, he always seems to find a reason to lose. He did lift his game nicely when running a 1,25 length second to Variety Club in the Gold Challenge. He is very poorly drawn though and even if he enjoys a safer passage than he encountered last year, he looks best value for a place bet6 at 40-1.
Vaughan Marshall has had a glorious season and it is rather ironic to see that both of his runners are at generous double figure odds. Both Tales Of Bravery and the relatively lightly campaigned Top Seller are badly drawn to add to the puzzle.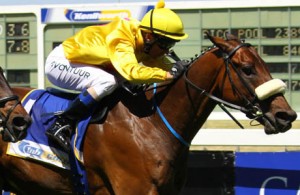 Sting In Tale
Felix Coetzee rides Tales Of Bravery whose popularity waned somewhat after a rather flat Gold Challenge run when he plodded into fourth and three lengths off Variety Club. That was after a scintillating win in the Drill Hall Stakes and it is probably fair to assume that this nine-time winning son of Kahal is at his best over 600m shorter than what he runs on Saturday. He has also remarkably never won a Gr1 race and looks unlikely to break his duck in one of the biggest of all.
The Al Mufti colt Top Seller is poorly drawn but well weighted. He, like his stablemate, also carries the bright yellow silks of the late Roy Eckstein but has not won a race since winning the Investec Cape Derby sixteen months ago. He has only had two runs this year so far and his fitness must be suspect.
Pierre Jourdan surprised more than a few onlookers with a cracking good effort in the Gold Challenge when running on well, and he showed with his second to Igugu last year that he has both the class and ability to win – even with a 13 draw. Robbie Fradd, who won on the brilliant Dynasty from a 20 draw, pilots him again.
Colin Scott has one of three Dynasty produce in Sage Throne, who came perilously close to nabbing the Lonsdale in the final strides. He was carried out late there , but only went down a neck in the end. He is well drawn and handily weighted with Richard Fourie up, and will be running on as he stays well. He may just lack five lengths when it counts though.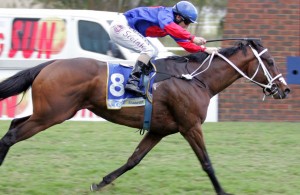 Tarry Factor
Sean Tarry is looking for a first July winner and he sends out the trio of Gold Onyx, Pomodoro and Whiteline Fever.
Tarry experienced the best and worst of the draw ceremony and the Right Approach gelding Whiteline Fever pulled the paint barrier gate, with Pomodoro out at 20.
Whiteline Fever ran a cracker when just 4,50 lengths off Jackson in the Daily News,a nd confirmed his well-being when winning a Gradutaion Plate over 1400m at his last prep outing. He may find this tough going on his exposed form.
Piere Strydom rides Pomodoro who finished just behind Whiteline Fever in the Daily News. He was probably lucky to share the spoils in the SA Derby and while he won the Tony Ruffel and ran daringly close behind Slumdogmillionaire in the SA Classic, he will have to bring his best game to Greyville – and have Lady Luck with him. Strydom is a genius though and is as cool as the coldest cucumber on the toughest of days.
Gold Onyx has come into his own as a late four year old and won the Cup Trial in most dramatic fashion, when collaring stablemate Buy And Sell in the final strides. He gets Gavin Lerena from a 2 draw, but may battle against some fair sorts. He does love Greyville though.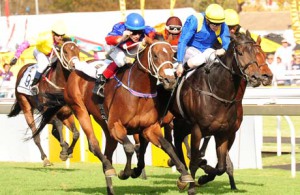 Bench Blues
Brandon Lerena rides Royal Bencher for Alec Laird. He dead-heated with Pomodoro in the SA Derby at then end of April, but ran a disappointing nine lengths off Jackson in the Daily News. He is another that will need to improve and while he has won over a mile, he may prefer further at this hallowed level.
Tyrone Zackey's Smanjemanje is the outsider of the party and this five year old Kahal gelding has not had the best of fortune when travelling outside of his home province. He ran top-class thirds in both the President's Champions Challenge and the Jubilee Handicap, and so is obviously fit and well. It really would be a momentous occasion were this underdog to win the big prize in steel shoes. But it looks most unlikely.
There is no obvious pacemaker in the race, and while the July is seldom a pedestrian affair, the lack of action up-front could compound the draw issue and work against many of the fancied lot.
Based on the betting and the talk around the watering holes, the race is all over bar the shouting for Jackson. He is a top young horse and could carry the day for his many supporters. But we have to be realistic and suggest that a tough campaigner like Gorongosa will stretch him all the way and pounce if he falters.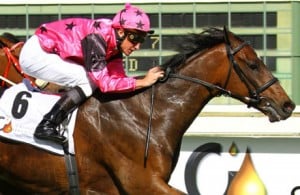 Then we have the likes of Beach Beauty and Chesalon, who won't be showing any respect for the favourite and the ample dreams of his connections.
We are going with Gorongosa to beat Jackson and Chesalon.  De Kock knows what is required.And he has the right jockey up. Exciting racing, whichever way one looks at it!
.
Click here to view the Gr1 Vodacom Durban July Racecard