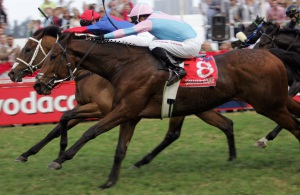 Shattered hopes and broken dreams littered the Greyville turf. Saturday's R3 million Gr1 Vodacom Durban July produced one of the best finishes seen in many years when the pure genius of leading  jockey Piere Strydom was seen at its supreme best.
The champion blonde horseman miraculously extracted a final surge of energy from out  of the blue from the outstanding Jet Master colt Pomodoro, to withstand a herculean effort by the unfancied Smanjemanje in the final thrilling strides. What a race!
Adjectives to fittingly describe the brilliance of Striker Strydom's ride to give trainer Sean Tarry and owner Chris Van Niekerk a memorable first July winner, are yet to be created. The colt, named after the Italian word for a tomato, recorded his third Gr1 win on Saturday in extraordinary fashion.
He got up on the line at 28-1 to collar the 55-1 Smanjemanje by a nose in 133,19secs in an unusual exacta clean-sweep for Gauteng.
The Jackson bad-draw detractors might have sat back in satisfaction after the event, but Strydom blew their position theory clean out of the water and showed what can be done from a 20 draw. Pomodoro was the third winner from this barrier position in 21 years, after Flaming Rock and Dynasty achieved the feat in 1991 and 2003 respectively.
The fight for the crucial early position was always going to be the key to the outcome.
Strydom showed his guile and race-riding brain from the jump by taking things easy wide out as Jackson and company scrambled for supremacy. Teetan had the favourite fairly well settled in third spot after an early fight as Top Seller led the free-striding Vettel.
In a show of tactical strategy and experience, Strydom then slotted Pomodoro on Jackson's outside as Top Seller continued to lead. Eton Square was also handy, together with Beach Beauty and Jackson's stablemate Polar Bound a lot keener than he would normally be.
Castlethorpe was held deep with Gold Onyx, Solo Traveller and Pierre Jourdan towards the rear.
The stampede and charge as they turned for home was intriguing as Strydom kept Jackson tight and forced Teetan to switch to the middle, while Chesalon loomed dangerously wide out. Smanjemanje was quickening as was Eton Square. At this point it was clear that Jackson would battle to find a place.
But in a driving and determined surge to the showed winning post, Strydom kept Pomodoro at it and took full advantage as young Grant Van Niekerk appeared to freeze in the biggest moment of his fledgeling career.
Despite the anxiety of having to wait for the photo-finish, owner Chris Van Niekerk looked as cool and composed as James Bond and was not surprisingly gushing in his praise of his trainer and jockey. In a reference to his passionate investment in the sport of kings, Van Niekerk jokingly quipped afterwards that 'I remain a fool and I will buy more!'  Nothing wrong, we suppose, if they all run like this!
With only 5,75 lengths covering the first ten horses to finish, it was a physical and exciting ending to a race that has fired the public imagination for the past two months.
The statistical analysis makes for interesting reading, but it is nothing to match a spellbinding spectacle of a thriller of a horserace.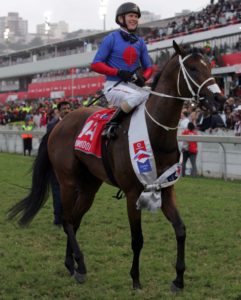 It was a first for Tarry and a first as owner and breeder for the long-suffering equine investor Chris Van Niekerk. This was Strydom's third July winner after London News in the 100th running in 1996 and then his last on Trademark for Mike Bass in 2001.
Former Durban-based jockey Jeff Lloyd who rode the chief Bass hope Chesalon into a gallant third position, recorded an amazing ninth third commission cheque in this race, and he must be wondering what he must do to win it. The 'Guv' can take some consolation from the fact that he was at least riding the right Bass horse. When he produced him wide out, the son of Fort Wood looked a likely winner. But he started to hang, no doubt from pure pressure and tiring limbs , and Lloyd then focussed on straightening him out. We will never know if this cost Chesalon the race.
And while one Van Niekerk was relishing the moment, another was no doubt agonising over what  could have been in his first ride in the big one. Young Cape jockey Grant Van Niekerk did everything but win on Tyrone Zackey's gallant Kahal Smanjemanje, who ran in steels and lifted his game out of his skin. If Pomodoro had us rattled at 28-1, Smanjemanje winning would have been earth shattering.
Gavin Van Zyl's exciting Miesque's Approval greenhorn Eton Square covered himself in glory at only his fifth appearance on a racecourse, when he belted through late for a top-class fourth and 1,10 lengths off the winner.  We will hear plenty of him yet, and hopefully he won't immediately follow the same international path as his former stablemate, The Apache.
The racing public will be looking for answers to the Jackson riddle.
And being the blame game that racing tends to be, there is likely to be finger-pointing and recriminations about the favourite's dismal performance for weeks yet.  Let's not blame Jockey Karis Teetan. The young Mauritian did nothing wrong and had to overcome that killer draw with a colt that fought him for the initial crucial stages. Then there have been suggestions that the handsome son of Dynasty was overcooked. Just maybe. He ran an absolute cracker to win the Daily News five weeks ago in sensational style by 3,75 lengths, and showed up smartly in his subsequent public gallop. But that means nothing, as we found out on Saturday. One thing is for sure. He is just too good not to be back.
Beyond the favourite, the inevitable list of additional disappointments (with lengths behind winner in brackets) is quite a lengthy one.
Heading these will be Mike De Kock's two Wilgerbosdrift females, Ilha Bela(6 lengths) and Gorongosa (10 lengths). It is a great game of hindsight, but Ilha Bela's solitary claim to fame of an easy win in the SA Oaks at Turffontein always looked a touch shallow. Then Gorongosa is a talented stayer who found this too quick, but who will hopefully take her place in the Gr1 Ladbroke's Gold Cup on Super Saturday. That is assuming she pulls up sound after this.
Vaughan Marshall's coupling of Top Seller (8,25 lengths) and Tales Of Bravery(9,25 lengths) both ran below hype and expectations. Top Seller obviously has soundness issues, while Tales Of Bravery is seemingly better over 600m shorter.
Greyville 1900 winner Beach Beauty(4,75 lengths) looked dangerous at the 400m marker, but her effort fizzled to nothing. Colin Scott's Sage Throne (6,50 lengths) ran worst of the three Dynasty progeny, and he showed again that he is not quite up to this class.
Mike Bass' Castlethorpe(19,25 lengths) disappointed once again and ran a trailed off and dismal last place. It may be time to stop forcing him to stay, and accept that he is really just a very capable sprinter in reality.
Pomodoro became the second son of ill-fated champion sire Jet Master, after Pocket Power, to win Africa's greatest horserace. He is out of the four-time winning Northern Guest mare Golden Apple, who raced for the trainer's well known breeding expert brother, Mark.
The colt has now earned R3 244 250 in his 6 wins and 3 places from 11 starts.
A superb team-effort all round.
Result:
Vodacom Durban July (SAf-G1) (7/7)
Greyville, South Africa, July 7, R3 million, 2200m, turf, good, 2.13.19 (CR
2.11.75).
POMODORO (SAF), 55.0, b c 3, Jet Master (SAF) – Golden Apple (SAF) by
Northern Guest. Owner & breeder C J H Van Niekerk (SAF); trainer S G Tarry;
jockey P Strydom (1.875.000)
Smanjemanje (SAF), 57.0, b g 5, Kahal (GB) – In Style (SAF) by Model Man
(SAF)
Chesalon (SAF), 58.0, b g 4, Fort Wood – Sarabande (SAF) by Goldmark (SAF)
Margins: nose, 1, nose
Also ran: Eton Square (SAF) 53.0, Solo Traveller (SAF) 56.0, Vettel (ARG)
53.5, Gold Onyx (NZ) 56.0, Whiteline Fever (SAF) 53.0, Beach Beauty (SAF)
58.0, English Garden (SAF) 56.5, Pierre Jourdan (SAF) 60.0, Royal Bencher
(SAF) 55.0, Ilha Bela (SAF) 53.0, Sage Throne (SAF) 55.5, Top Seller (SAF)
56.5, Tales Of Bravery (SAF) 59.5, Jackson (SAF) 57.0, Gorongosa (IRE) 53.5,
Polar Bound (SAF) 57.0, Castlethorpe (AUS) 59.0