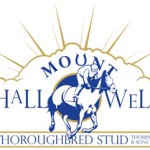 Western Australian thoroughbred horse stud seeks the services of  a qualified horse trainer.
Mount Hallowell Stud is a top end boutique thoroughbred horse stud situated on a picturesque property in Western Australia's south west town of Denmark.
Denmark is a rural town located 400km south of Perth and has a population of 5500.
Mount Hallowell Stud was established in 2008 when the 170 acre property was converted from a vineyard. Over the past 4 years the Stud has steadily grown and we now have an exceptional stock of horses with an equal emphasis on racing and breeding.
We currently have 30 horses in racing, 6 weanlings, 8 broodmares (which will increase to a maximum of 15 over the next few years) and 7 foals due this season. Our total of 44 horses is valued at approximately $3.8 million.
We now require the services of a qualified horse trainer to assist us with the next stage of our growth. The main tasks will be:
•  Pre-training city bound horses to the standard required by the city trainers
•  Training country based horses and running them at local race meets such as Mount Barker and Albany
As we are a boutique Stud your role will also require you to assist our Stud Manager with duties such as:
•  Coordinating external contractors including horse transporters, feed suppliers, nutritionist, farrier and veterinary personnel
•  Preparation of daily feed requirements for all horses
•  Basic treatment of injuries and minor ailments including administrating medication/injections
•  Paddock maintenance
•  General upkeep of property including plant equipment, fences, sheds etc
•  Other special duties as required
We emphasise this is a hands on role located in a rural area of south west Western Australia so it will suit a person from a country background who is prepared to work extended hours including weekends. The successful candidate must:
•  Hold a current South African training licence
•  Be able to demonstrate a good strike rate runners to winners
•  Have excellent communication skills and record management
•  Be prepared to work in all weather conditions
•  Hold a current driver's licence
An attractive salary package is provided as well as a generous profit share of prize winnings. The position will be subject to you being granted a 457 visa by the Australian Department of Immigration.
For a full Position Description please email
Emma D'Arcy-Burke at darcyburkee@hallowell.com.au
Confidential application (including resume, training licence, strike rate record)
must be submitted via email to the above email address.