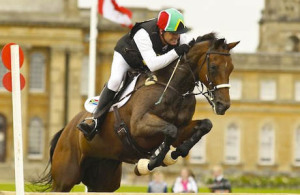 There is a little over a week to go to the London 2012 Olympics and the excitement and anticipation have been building for months.  SASCOC President Gideon Sam announced South Africa's elite list of Olympians at a glittering ceremony at the Olympic House headquarters back in June and confirmed that South Africa will be represented in a total of 16 sporting codes, ranging from archery to weightlifting.  Roughly somewhere in the middle of that list, competing as an individual under the heading "Equestrian", is the name Paul Hart, his coach Alison Abbey and his groom, Tamsyn Hutchins.  What the list doesn't mention is Paul's partner, a 15 YO bay gelding called Heartbreak Hill, or Harry for short.  A South African Thoroughbred.
South Africa has not had a representative in the equestrian discipline of three day eventing since David Rissik with his horse Schiroubles in 1992 at the Barcelona Games.  It is certainly the first time that a South African horse is taking part.  And most definitely the first South African bred thoroughbred to be competing under those famous five rings.
What Is Eventing?
Eventing, or more correctly Three Phase Eventing consists (as the name predicts) of three phases – dressage, cross-country and show-jumping and is described as an all-encompassing test of equestrian skill.  The dressage phase is contested in a 60x20m arena, scored by a panel of judges and is a test of a horse's level obedience, suppleness and athleticism.  The cross-country phase is one of the most exciting with competitors having to gallop a 4 mile course tackling a variety of 28 imposing cross-country obstacles along the way.  Show-jumping comprises the last phase.
Breeding
Heartbreak Hill is by Ivanhoe Stud's stallion Rocky Marriage out of one of The Alchemy's broodmare band – a Jungle Cove mare by the name of Boomy Hill.  The mating came about while Rocky Marriage was doing a stint down in the Cape at what was at the time John Koster's Angora Stud.
I had the great pleasure of chatting to both owner George Rowles and stud manager Brian Browning about Rocky Marriage, who spoke of the stallion in the warmest of terms.  Rocky Marriage was by Riva Ridge (who was Penny Chenery and The Meadow Farm's first champion, until their sensational chestnut Secretariat burst onto the scene).  It is said that despite Secretariat's phenomenal track exploits, Riva Ridge (who won the Kentucky Derby and the Belmont Stakes in 1972) remained Penny's favourite.
Although Rocky Marriage was bred in the US, he started his racing career as a 2YO in the UK where he won his maiden and followed up with a win in the Donnington Castle Stakes at Newbury.  He then transferred back to the US and into the care of the one and only Bobby Frankel (who the current galloping phenomenon is named after).  Here Rocky Marriage really hit his stride, winning stakes races by devastating margins, setting two race records and even creating a few new pages in racing folklore – jockey Angel Cordero claiming his whip was once lifted right out of his hands and 40 feet up into the air a sixteenth of a mile from home.  Despite the fact that the course records reflect no wind for that day….
After a total of 30 career starts, Rocky Marriage retired, still racing sound, for 12 wins (5 of which were stakes races) and 10 stakes places.  He completed one season at stud in the UK, before being acquired by George Rowles and making his way to South Africa in 1988.  Not only did he produce consistent racehorses, but he is making his mark as a broodmare sire and George tells me he has a particularly good Miesque's Approval filly from one of Rocky Marriage's best daughters on the forthcoming 2 YO sale.
Brian says his favourite party trick was to tell visiting trainers that he had a nice two year old to show them.  He would then produce Rocky Marriage, who was by all accounts quite the showman, would prance and jig and generally show off.  Although all the hype and puff looked impressive, Brian says a child could have handled him.  He was a real old school gentleman.
Rocky Marriage's failing fertility finally led to his retirement from stud duties at the age of 25, but George says "he did me so well that I made sure he had a good retirement."  Rocky Marriage lived out his days at Ivanhoe and died at the age of 30, a grand age for a grand horse.
Johan Loftus, who managed The Alchemy Stud at the time, remembers dam Boomy Hill, although he confirms she's sadly no longer around.  Boomy Hill was a daughter of Jungle Cove and an eight-time winner.  She also left a legacy in the paddock, producing eight runners and seven winners.
Racing Career
Heartbreak Hill started his racing career under the care of David Ferraris and then passed into the hands of the late Arthur Miller.  His stats read 29 runs for 2 wins and 11 places.  His total racing stakes tally was R81,123 by the time he retired.
Paul Hart
Kyalami-based Paul Hart started riding at the age of 6 and has been a fixture on the South African competitive scene for some time.  Local awards include SA Eventing Champion, KZN Eventing Champion, GHS Eventing Champion, he represented South Africa (on Heartbreak Hill) at the 2010 World Equestrian Games in Kentucky and is now heading to London 2012.  He is also among our top ranked show jumpers and a leading instructor in South Africa.
Paul had had his eye on the Rocky Marriages for some time.  "I actually taught a girl on a Rocky Marriage for years and I always said if I found one I would buy it because her horse was fantastic.  Gonda Beatrix was at a show in Cape Town and she saw him and said he looked very good and I must fly up that afternoon, as she didn't think he would stay around for too long.  So I flew up that afternoon and I tried the horse the next day – and when I tried him he actually stopped (at the jumps)!  We went back the next day and tried him again and he was better, and really light and moved really well with his hocks and that's how we got him, just a fluke find and so we bought him. We have had him for nine years now.  He is quite a big horse, he doesn't look it but he actually is almost 17 hands.  People are actually surprised when they stand next to him, because he doesn't look that big.  He has really excellent conformation, straight legs, short coupled, really strong back and he really is a beautiful horse and beautifully put together. He has really good big paces and he is fast, so it's a wonderful thing to have.  When we tried to find another one for eventing after buying Harry, we never managed. Every time I got there to see a horse, it was either gone or sold".
International Exploits
Paul and Harry were selected as part of the South African team for the 2010 World Equestrian Games in Kentucky and the pair's globetrotting had begun.  Harry and the team entered quarantine in January 2010.  "The quarantine was the hardest part for me and for the horse. They did a very good job, it is just harsh when they are locked up like that;  I think that was the hardest part of the horses' journey".
They left for France in March 2010.  "The journey was long and hard. The way they are loaded, they walked up this little ramp to the plane.  It was quite scary.  They didn't get hoisted into the plane, they actually walked up a narrow little ramp with flapping banners on the sides to keep them in.  They could have fallen off so easily, but it just shows how brave these horses are. They just walked up, and it's steep and they went in and loaded.  All of the horses that went were special and they learnt to take it in their stride."  Mist at the destination airport caused them to divert and by the end of it the horses spent 28 hours in the plane.  "They (the horses) took comfort from each other and they were quite friendly to each other, and I think that's how they got through it all."
But it was soon old hat and Paul and Harry probably have more airmiles than most self-respecting celebs !  After a disappointing fall and elimination in Kentucky, a sponsor and friend convinced him to set his sights on the Olympics. "After the Games I decided to keep Harry in England with Tamsyn Hutchins in Cornwall, which allowed me to ride and compete over there.  She is amazing and keeps him fit and rides him every day. He is in top form.  I decided to qualify for the Olympic Games early so we went to Portugal in February 2011 and qualified and then to Brahman and qualified again there," he said.  "So my qualification was done very early so that I didn't have the pressure at the last minute, so that I could back off and make sure that he stays sound for the Olympics. That's why I made sure I did it early last year, and I was lucky that it worked. Anything can go wrong around those tracks, so it is just fortunate that I have such a great horse."
What does it take to keep an Olympic horse fit?
"Every morning he goes on a horse-walker for an hour and then every day he works. We always do the horse-walker first because he is getting on, it warms him up and makes sure he is right for what he is going to do that day. Also with the weather, you can't guarantee what day they are going to gallop, but it has to be in that week so sometimes we have to move his routine around, so everyday it's a different discipline.  He does road-work which I was horrified about!  He goes out in knee boots and full leg boots to protect his legs, and they do lots of roadwork. The horses trot. They walk on the downhills and trot up the hills and they do that for about an hour. It is all a part of his regime and he has never been fitter and he has never been sounder, so there is a lot to be said for it. It is all very quiet work except for the galloping. He does 12.5 minutes of galloping easily. At Blenheim I could have gone on and done it even more. In France when he had his first vet check 5 minutes after finishing, his heart rate was 82 and he was allowed to leave early. He was the fittest horse at the show.
Support
Paul has had fantastic support and sponsorship over the years to assist to get him where he is today. "It has cost me a living fortune" he says frankly.  "I would like to thank Mike Marsden who sponsors me. He is actually involved in racing and owns horses with Paul Matchett and he has been fantastic. He has backed me all the way and not just him, a lot of the horse fraternity have helped me get there.  What they haven't done to raise money to get me places!"
What are their chances?
"He loves cross country. He turns back into a race horse and he is very brave. His dressage is a problem, he gets quite hot but he has unbelievable movement, I mean people are always surprised that he is Thoroughbred because he really can move and he has a really good extended trot. He just battles to keep it altogether and if he has a blow-up, it's not as smooth as it needs to be."
"I'm hoping to give it horns and try my damndest to end in the top 10.  If a medal comes my way I will be the happiest person in the world.  I expect the strongest opposition to come from Germany, Holland and England. Canada has also produced some surprises," he said.
Thoroughbred Fan
Paul believes that the Thoroughbred is a very competitive breed. "I think Thoroughbreds are fantastic and they have come back into fashion again. They are athletic, they are fast and they learn quickly. The problem is finding them big enough and good enough. I don't think you find as many big Thoroughbreds as you used to. For me to find one that suits me and my size is always quite hard. I'm a big Thoroughbred fan, I mean you always have enough juice in the tank with a Thoroughbred, the course is 12.5 minutes and they can run. I think what's nice is to get them before they have raced too much, so that you can make the dressage better."
"I am very fortunate to have such a great horse, I really mean that. You start many horses in your life and you never know how far they will go and when they go this far, you are just lucky that they have the scope. People say, 'oh, but he is a Thoroughbred' – but he just has the deepest jump and lots of power, he is a full package of horse. You couldn't hope for a better horse and it wouldn't matter what breed he was, because he has got it all. I am just very fortunate."
Which just goes to show, you have to go a long way to beat a South African Thoroughbred!
TV Coverage
Because we have a South African competitor in the Eventing discipline, Supersport will be showing full coverage.  Paul's campaign starts on 28 July, so keep an eye on those listings.
 (with grateful thanks to Candiese Marnewick)