It stands to good reason that it is only when the tide goes out that we know who is swimming naked. The technological revolution and the ills of a worldwide economic meltdown have somehow exposed horseracing wearing just an odd pair of socks. 
This little pearl of common sense is credited to Warren Buffett. The American business magnate, investor, and philanthropist, and widely considered the most successful investor of the 20th century, ranks amongst the wealthiest people on earth. And he talks a lot of sense.
So how did it happen that racing is on the very bones of its backside and facing an uncertain future, while a relative spectacle like soccer appears to be flourishing.
Racing is on speed-dial, while soccer talks serious cell-phone numbers. The one creates legends, the other generates myth.
This week's forthcoming Manchester United South African tour is what got me pondering. Why all the bloody fuss about a bunch of red fairies with ball sense and inflated personalities, where racing happens right here on our beautiful doorstep twice a week and offers everything and more?
Just consider that fifty years ago, the two sports were on an even sort of footing when it came to public popularity. They both offer a visual and exciting spectacle. They both pander to egos and a need to be physically and mentally superior. They both demand skill and dish up winners and losers.
So what went wrong?
The great memories of horseracing through the Cape Hunt and Polo Club amateur meetings of the seventies and spending the Saturday afternoons standing alongside the running rail in the Doncaster Road parking area, watching the action as a youngster,  go hand in hand with those exciting Friday evenings at Hartleyvale.
The city virtually came to a standstill in the week of the local derby against the Green Point-based Hellenic and we even watched Germiston Callies and Durban City, and the likes of East London United. If there was a game at Hartleyvale, we were there and the stands were packed.
The heroes that played in those days include legends like Garry France, Vic McKinney, Jingles Perreira, Big Ben Anderson, Wilf De Bruin, Arno Steffenhagen and Ken Scott. I'm penning these names from memory, which just goes to show what an impact they had on a youngster.
Mind you,  I have the jockey heroes of those days in my head too, but one just wonders if anybody beyond the faithful hard-core today really care who Anton Marcus or Gavin Lerena are, and whichever one wins the jockey championship? I doubt it.
It is a rather bizarre irony is it not, that a half-baked soccer team from another hemisphere on an all-expenses paid holiday in Africa can attract 55 000 supporters to the Cape Town Stadium on a Saturday, while down De Waal drive around the mountain, we will be lucky to attract 250 people, that's paid officials and grooms included, to Kenilworth Racecourse for the exciting prospect of the Gr3 Final Fling Stakes?
And to add insult to injury, the Red Devils have hogged the front page headlines of our local rag for the past two days, too and not a mention of the mouthwatering spectacle of our own Cup Final, Super Saturday next week at Greyville.
The soccer team's arrival in SA, includes a first sighting of their new signing from Crewe, Nic Powell. The 18 year old was signed by Manager Alex Ferguson for a cool R77 million recently. Crazy madness. We run the July, an international social and racing event, and the twenty runners chase a share of just R3 million.
And nobody will be asking why England internationals Wayne Rooney, Phil Jones and Ashley Young haven't made the trip to Africa. No sir, the faithful will pay their money and take their chances.
The only way that horseracing hits the headlines is through scandal or sensation. Otherwise it is the forgotten sport.
One of these days Phumelela could well just be a soccer gambling entity and horseracing a forgotten memory.
And for those that still care,horseracing will be a minor thrill beamed from the distant shores of Southwell and Singapore.
Why should it not end up that way?
Shadwell Mile Stakes Fly
The Grade 1 Shadwell Turf Mile, run on 6 October at Lexington , has had its stake increased from $600,000 to $750,000.
This is one of three stakes at the Keeneland meet that will have a higher purse than 2011.
This turf race with an increased purse now joins the Grade 1 Toyota Blue Grass Stakes as the joint richest race to be run at Keeneland.
The Shadwell Turf is the highlight of the "Fallstars Weekend" which will commence on 5th October, 2012 and end on 27th October, 2012.
This should ensure it attracts the top turf horses and adding to the incentive is the fact that the winner of this race will earn an automatic berth in the Breeders' Cup World Championships. Thus termed a "Win and You're In" race.
Out Of Africa
We love to be critical of everything African but there are circuses all over the world.
Take the breakdown of the ambulance at Southwell Racecourse earlier this week. The commentator, who is probably driving a Mr Delivery van by the time this issue of SP hits the streets, was quite critical and sarcastic of the situation hinting that they should possibly check the petrol guage first.
He also reminded viewers of the time that they 'ran out of water.'
At least our commentators think before opening their mouths. It's called not biting the hand that feeds.
 The Language of Love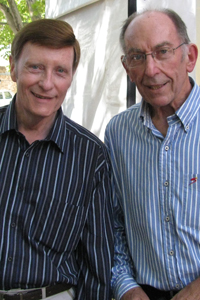 Following our report on the passing of commentator Hennie Pietersen in last weekend's issue (SP 1851), I fielded numerous queries from people who were interested to know more about the man behind the familiar voice.
We spoke to Hennie's daughter, Rieta, who very kindly provided the photograph as well as further personal details.
Hennie went to school at Helpmekaar Seunshoëskool Johannesburg. From a very early age his dream was to become a commentator.
After he matriculated he worked with his father at a storage company. Two years later he went for an interview at the SABC. After three years working as a controller in the news/music room he got his chance as commentator.
Hennie was the first Afrikaans Commentator to broadcast the Durban July for 21 years.
He went to Hilversum in Holland at the World Wide Commentator Station where he worked with amongst others, legendary SABC newsreader, Riaan Cruywagen.
Hennie started Radio Good Hope in 1960.
In 1969 he married Judith Jarvis, a model as well as one of the first Trust Bank beautiful front-line girls made famous by Jan S Marais. Together they worked as PRO's in their personal capacity and had the chance to meet many famous people from all over the world. They never had any children.
Hennie was MC at various social/sports occasions amongst other; Miss South Africa for many years and later as commentator and MC at the J&B Met.
In 1990 he was appointed as PRO at Gilbeys in Stellenbosch.
In 1999 he was named Media Liaison Officer in the Western Cape for Supersport where he worked until he passed away.
Hennie was the architecht of the 'Let's Play ' concept. This is an initiative that supports the growth of youth through the development of sport in South Africa.
He commenced the Let's Play concert in Stellenbosch with Vaughn Bishop and it spilled over quickly into the towns of Malmesbury, Vredenburg, Paarl, Worcester and Hermanus.
Pietersen also wrote various articles for the Western and Southern Cape newspapers.
Rieta said that Hennie Pietersen will be sorely missed by all of his friends and colleagues for being the most loyal, passionate, friendly and warm person who was always there for advice, a hug. Just such a lovable guy, as she puts it.
His passion for the Afrikaans language extended to always using it correctly and never to mix it with English words; his passion for all kinds of sports for horses for people!
Rieta closed by saying: "I and my children and grandchildren lost a precious guy who will live in our hearts for ever."