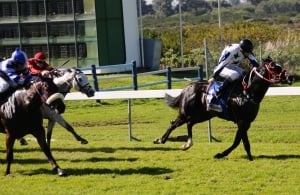 The fight for the national champion jockey title edged ever nearer to an exciting conclusion at Kenilworth this afternoon, with Anton Marcus and challenger Gavin Lerena riding two winners apiece. Spare a thought for the hardworking local lads though,who were left with four races to pick up the scraps.
Full marks to Tellytrack for promoting the selfish and restful interlude of Kenilworth standing alone for a few races. These rare moments are just too few and far between and local couch potato racing enthusiasts were able to wallow in the decadent fix of parades,canter downs and a general good look at every runner between the second and sixth races.
But it puzzles us, that despite the time available and the obvious public interest, that Marcus chose to skip the post-race interview after he had ridden the Snaith's  Silvano filly, Petara, to a smooth win in the third race to get within two wins of Lerena.
The sponsors have put up big money to create hype in the jockey championship title race and the media have certainly played a role too, with Tellytrack offering a win-by-win countdown after every race.. This win brought Marcus closer than he has been for some time, and it is rather odd that the interview went by without him making a show – or even an explanation being provided.
And how do the Cape jockeys feel? With local racing on a liquid diet of hunger strike proportions, and as Justin Snaith alluded, meetings only seemingly happening now and again, it must be a bitter pill for the Cape based riders to accept what has become a regular occurrence in the end of season winter weeks. The glamour boys fly in and grab the cream. We won't see Marcus or Lerena again until the Sizzling Summer Group 1 races. With the protectionist fight moves afoot against outside competition happening elsewhere in the Land, it may be time for the Cape boys to close ranks and look after themselves first. What do they say about charity beginning at home?
Marcus won the first and third races. The opener, a Maiden Juvenile Plate over 1000m produced a welcome winning return for stalwart trainer Dolfie Maeder. Marcus got the son of Windrush to hold on by 0,75 lengths from a fast-finishing Aussie bred first time, Elusive Love.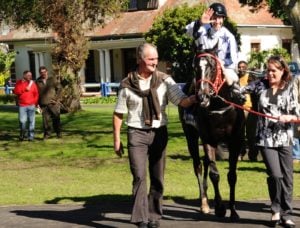 The winner Celestial Wind started 11-10 favourite and part owner Ashleigh Panter, jockey Andrew Fortune's partner, was on hand to lead him in.
Marcus then bounced back in the third with the Snaith's Silvano filly Petara pulling clear easily over the final 400m to win the 1200m Fillies and Mares Maiden Plate by over 5 lengths. It was a weak field, but the good looking chestnut looks promising. A tanned relaxed looking Snaith, just returned from a well deserved Greek holiday, guardedly warning though that she had breathing issues. She apparently failed the vet at the Sales, and thus campaigns in her breeder Maine Chance Farms yellow and black.
Lerena's two winners came in the fifth and the final race.
Darryl Hodgson's Putney Flyer looks a promising stayer in the making, and the son of Miesque's Approval registered an easy second win from ten starts in the Open Handicap over 2400m. He gave Lerena a rather armchair ride as he stayed on to beat the consistent British Banker by 1,25 lengths.
Lerena then closed the day for trainer Eric Sands in the Maiden Plate over 1600m. He got the three year old Right Approach gelding Just Ask to finally win after seven rather in and out runs. He held on at 9-2 to beat the consistent but luckless Moon Shot by 0,75 lengths, with Ramsden's improved The Helsman, staying on for third.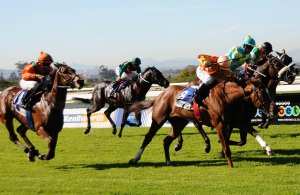 It was actually a good afternoon for stallion Right Approach, who sired two winners, including a one-two in the fourth race. Here Felix Coetzee brought the improving Man Of Japan through to win the Maiden 1600m, holding off another Right Approach in Diplomatic, with Disco Al pipping the odds-on Sanshaawes into fourth. Coetzee rode the winner for Bill Prestage and he sounded quite excited by a horse he described as a 'beautiful mover with a low head carriage, who should be lengths better on the firm going.' This Wilgerbosdrift gelding looks another shrewd buy at R80 000 by Prestage – one of the best value-buy judges in the game. Anybody can spend millions to find them – Prestage seldom goes over R100 000 for his.
Marcus rode the 15-20 disappointment Sanshaawes in this for Milnerton-based Piet Steyn, and the duo capped a forgettable afternoon together, when the 17-10 favourite Shepherds Purse also went missing in the final race. The awful weather would not have assisted their preparation, with the tracks being unplayable – although Prestage uses the same facilities if one thinks of it.
Glen Hatt and Joey Ramsden teamed up to win the second, a Maiden Juvenile Plate for Fillies over 1200m,  with the Count Dubois filly Experience Counts living up to her name.
Her stablemate Princess Salme, making her debut in the Beck silks, came forward at the 500m looking dangerous after Foam Party had made the pace. But Hatt always had Lerena's number and Bernard Kantor's Cheveley Stud bred won convincingly. Princess Salme just tired late, and she should not be longing in departing the maiden ranks on this good showing.
So Lerena leads Marcus 197 – 193. Delpech is a little off the pace on 181.