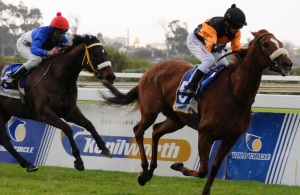 Glen Kotzen kept it in the family with his smart 4yo Cash Register scoring a decisive win in the R138 000 Gr3 Final Fling Stakes run over 1800m at a bitterly cold Kenilworth on Tuesday this week. His Mom-In –Law bred the full sister to July winner Big City Life.
This was the race postponed due to inclement weather on Saturday 21 July and the final feature event of an eventful and memorable 2011/12 season. The past twelve months have been characterised by outstanding performances on the track, a nail-biting jockey title duel as well as a measure of activity in the Boardrooms across the land. But let's focus on the horseracing and the real motivation for why we go racing.
The Kotzens are a well-known family outfit who hail from Woodhill Estate in the magnificent Boland town of Paarl, where they train and breed the winners with regular success. Kathi's mom Judy Wintle has had a marked measure of success with her Goldmark mare, Dollar Crisis.
The two time winner produced her favourite son-in-law's brilliant but sadly ill-fated July winner Big City Life, as well as the smart four-time winner Albarakah. The latter is raced by Judy as his sire Almushtarak did not ultimately have the sales-ring commercial appeal anticipated when she decided on the mating. But sometimes things have a way of working out for the better when forced upon us, and the promising sprinter should win many more.
Cash Register was backed into 33-10 favourite for this midweek feature and happily for punters started tote favourite to record her hat-trick of wins after an uncharacteristic  dull spell.
Kotzen sent out a quartet of runners and he not unexpectedly despatched Mary Hinge to the front to ensure a genuine pace. Respectable Lady lost many lengths at the jump and Brandon Morgenrood, who had shocked punters earlier in the afternoon on 40-1 winner Martial Eagle, wasted no time as he dashed off and carried a comfortable 6 length lead as they went for home.
Mary Hinge drifted out to the middle of the track under pressure as the challenges came from all around and with Andries Steyn's Mystery Dame and Justin Snaith's duo finishing well.
Anton Marcus was hard at work wide out on Piet Steyn's Super Elegant, who sadly had little to come when it counted.
Jockey Grant Van Niekerk, who had been so unlucky to meet Piere Strydom at his best in the Durban July recently, produced the chestnut daughter of Casey Tibbs under a balanced ride with a sustained burst late and she went on to hold all dangers at bay by 2 lengths in a time of 113,58secs.
Cash Register has now won 4 of her 11 races with 4 places for total stakes earned  of R293 935.
She may never reach the heady heights of her full brother, but can pace it with the best on her day and she should continue to earn. And then there is a promising career ahead of her as a very well-related and capable broodmare.
In a seperate duel, Anton Marcus won the SA Champion Jockey title in a tight finish that went right down to the wire. He beat Gavin Lerena 205-204.  We hope the National Horseracing Authority and the racing operators will put their heads together and give some thought to excluding the Zimbabwe winners in the new season!
Result:
Final Fling S. (SAf-G3) (7/31)
Kenilworth, South Africa, July 31, R138.000, 1800m, turf, good, 1.53.58 (CR
1.48.98).
CASH REGISTER (SAF), 60.0, ch f 4, Casey Tibbs (IRE) – Dollar Crisis (SAF)
by Goldmark (SAF). Owner L de Jager, A Georgiou, R W Deacon, G S Kotzen, N
Moodley; breeder J A Wintle (SAF); trainer G S Kotzen; jockey G Van Niekerk
(R91.500)
Mystery Dame (SAF), 60.0, b m 7, Jet Master (SAF) – Dame Kiri (SAF) by
Flaming Rock (IRE)
Alvilda (SAF), 58.5, ch f 3, Jallad – High Sea (SAF) by Fine Edge (GB)
Margins: 2, 1, 1¼
Also ran: Super Elegant (SAF) 58.5, Respectable Lady (SAF) 60.0, Rush For
John (SAF) 58.5, Takeyouroath (SAF) 58.5, Platinum Cat (SAF) 60.0, Approach
Me (SAF) 60.0, Margaret Court (SAF) 60.0, Rosie Tibb (SAF) 60.0, Susanna
(SAF) 60.0, Mary Hinge (SAF) 60.0, Gracie Jones (USA) 60.0, Golden Dawn
(SAF) 58.5, Moon By Night (SAF) 58.5