Wikipedia says that an afterburner, in the aviation sense, is a component frequently added to the jet engines of military aircraft.  Afterburning works by an additional injection of fuel into the jet pipe downstream of the turbine.  They provide an increase in thrust, usually for supersonic flight, takeoff and combat situations and provide those wonderfully exciting fiery images a-la Top Gun, writes Robyn Louw. 
But this is a racing paper, not an aviation one.  I'm talking of course, about Jet Master.
My involvement with Jet Master and his surgery late last year left an indelible impression on me.  He was a fascinating study, it was a ground-breaking surgery and it was an enormous privilege to document it all, but in the process, Jet Master the horse also really crept under my skin.
When he passed, it hit me a lot harder than I'd been prepared for and the weight of the emotion for a horse I'd only had a brief association with, puzzled me.  However, sometimes horses choose us, rather than the other way round and it seems that Jet Master is determined to be part of my life for some time to come.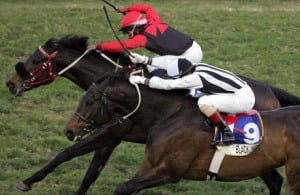 Glued to the box for the Gold Cup meet this weekend, the win by Jet Explorer in the first at Kenilworth prompted me to send a congratulatory SMS to Mr & Mrs Henry Devine.  They not only bred the colt, but are still his registered owners too.  Of course, later in the day, Master Plan won the Ladbrokes Champions Cup, chalking up yet another Gr 1 winner for the late 6-time champion sire and breaking his own stakes record by taking it up to a R16,5 million for the current season.  That is a phenomenal achievement and if I may be so bold, in the run up to our annual industry awards season, one that is well worth remembering and celebrating.
He has left us a phenomenal legacy.  A quick scan through his Gr1 winners is staggering.  Floatyourboat, Pocket Power, River Jetez, Vertical Takeoff, Mythical Flight, Ravishing, JJ The Jet Plane, Past Master, Ebony Flyer, Love Is In the Air, Thunder Dance, Master Plan, Pomodoro – the list continues.  The great stallion might have passed, but it seems his afterburners are only just starting to kick in.
And not only on the track.  I hope you'll allow me a brief anecdote.
I changed livery yards a few months ago and my new yard stands a Jet Master gelding.  He shares the same row as my horses, so I pass his box several times on every visit.  "My" Jet Master has his sire's unmistakable stamp and has inherited much of his fire and personality.  He's pretty smart too.  He's worked out that I'm a soft touch and knows just how to extract my last carrot or an extra pat before I go home.  And I don't grudge it in the slightest.  In a funny sort of way, it makes me feel that Jet Master is still with me and I like saying hello to him every day.
Perhaps I'm being fanciful.  There are quite a few Jet Master's about and one is bound to bump into them from time to time.  But special horses leave a mark on you and I like the notion that Jet Master chose to tag me.  I'm glad that his afterburners will be painting our skies red for many years to come.
Jet Master's record:
Leading Sire for 6 successive years
2012 -  R16 505 901 Record Breaking – Champion Sire
2011 – R12 886 652 Champion Sire
2010 – R14 124 350 Champion Sire
2009 – R10 794 100 Champion Sire
2008 – R14 437 903 Champion Sire
2007 – R12 007 904 Champion Sire
2005 – Equus Outstanding Achievement Award
2004 – Champion Freshman Sire & Leading Sire of 2yo's
Sire of 18 Gr1 winners of 35 Gr1 races with South African earnings exceeding R92 million
Sire of 3x Horse of the Year Pocket Power (9 Gr1 wins – breaks his sires record)
Jet Master 8 Gr1 wins and …………….
2000 – Horse of the Year & Champion Older Sprinter Male
1999 – Horse of the Year & Champion Older Middle Distance Male