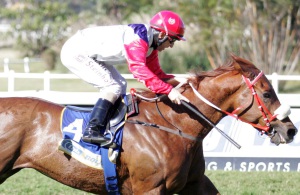 The new SA Racing season kicked off in fine fashion today. Three former jockeys trained the trifecta in the fourth race at Clairwood.  The race was also a milestone for the legendary former champion jockey Garth Puller, who trained his first winner for his own account and made it a wonderful first day on the job with a great double.
Garth Puller beat Michael Roberts with Dennis Bosch in third position in that otherwise rather innocuous lowly rated fourth race handicap. But it was a race that the legend of the turf is unlikely to ever forget though!
The result was also a positive pitch for ex-jockeys, who don't ordinarily make great racehorse trainers, and it was heartening to see Muis Roberts being the first to congratulate Garth – and that from the second box.
Puller was not labelled the 'Head Waiter' by his legion of followers for his fine bar service, but for the fact that he perfected the 'wait and fly' style of winning races- arriving  just when his colleagues had reckoned the cheque was safely cleared and banked.
In fact the health and fitness fundi has never let a drop of alcohol pass his lips in a lifetime and career of watching the scale, coupled with outstanding sporting performances that saw him win every big race in South Africa – and also scale heights in the boxing ring.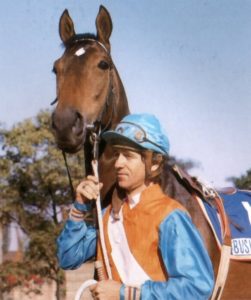 Puller rode his final winner at his very last race meeting on 27 December 2005. That was the year he piloted Alastor to win the J&B Met for trainer Sean Tarry. He has since his retirement been managing his brother Glenn's (also a former jockey) satellite yard at Clairwood in KwaZulu-Natal.
Puller's first winner Foreign Gal, is appropriately owned by his good friend and loyal owner Richard Fitzgerald, who also bred the daughter of Kahal. A one-time winner from her 8 previous starts, she was given the usual perfect ride by SA Champion jockey Anton Marcus. She hit the front about 200m from home to beat a fast-finishing Baronova by xxx.
Marcus exclaimed emotionally in the post-race interviewer that it was an honour to ride Puller's first winner and said in typically down-to-earth fashion that 'I would have been p%ssed off if any other jockey had done it!'
Ironically and for once in his life, Marcus' association with the Joostes was to cost him the second leg of Puller's winning double. Stuart Randolph grabbed the opportunity to ride the Meaker's talented Ice Machine in the sixth race, an MR 93 Handicap, with both hands.
Marcus was contractually committed to ride Auto Pilot and must have grimaced as Randolph coasted clear on a horse on which he had won 3 races previously!
Ice Machine, owned and bred by Roy Meaker,  has now won 4 of 7 starts and looks like he is headed for the tops. He had returned today after a layoff of just over three months following a lung infection. What price he is Puller's first feature race winner?
Anton Marcus started the new season with a bang with a winning double and took an early lead in the 2012/13 jockey title chase.  But it is very early!