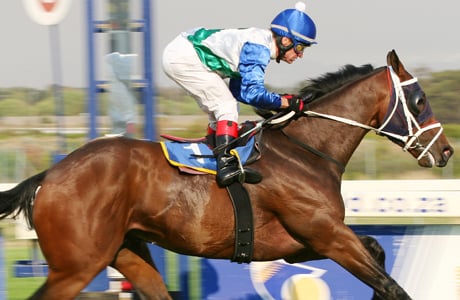 The R90 000 Friendly City Stakes (Non-Black Type) to be run over 1800m at Arlington launches the new season in the Eastern Cape on Friday.  The evergreen Mogok gelding Tomcat looks a tough nut to crack at the weights, but the trip may find him coming up for air late, and it may be wise to consider the Alan Greeff and Gavin Smith three-way couplings.
Gavin Smith was crowned Eastern Cape champion trainer at the close of 2011/12 season earlier this week, and with his yard in such a rich vein of form, it hardly makes sense in ignoring anything that he saddles up. He has recorded a remarkable average of 5 winners per meeting over the past two meetings and he could well carry that form into this programme.
Presidency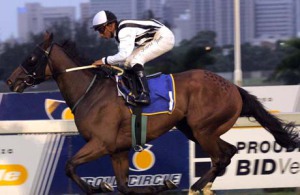 Smith's trio is headed by the consistent Modus Vivendi gelding Makzoos, while the former Joey Ramsden galloper White House is no slouch either. Smith also has a ready-made pacemaker in the Brazillian-bred Zezinho Campeao at his disposal and this gelding , who appears to be in the pink of health at present, is showing signs of his better form.
But it is the remarkable eight year old Tomcat, who catches the eye.This fellow has been around and started his career right here in Port Elizabeth, where he won his second start over the Arlington 1600m when trained by Gavin Smith. Two wins later he was shipped off to Justin Snaith in Cape Town, where he battled to make his mark. But he was quickly back in the winner's enclosure with a terrific win over the legendary Hear The Drums on his first run back in the friendly city. That was just over two years ago.
November 2011 saw Tomcat embarking on a six-race winning streak from 1200m to 1400m. His colours were interestingly lowered when he was pushed to a mile in a Pinnacle Stakes at Arlington. And therein lies the rub. Will he stay 1800m at his first try this far?
Tomcat is trained these days by Steven Janse Van Rensburg who took out his licence on the passing of the legend, 'Oom Nic' Claassen.
Slow To Go
Makzooz has a bad habit of losing ground at the start, but has the talent to overcome this impediment, as shown by his outstandingly consistent record. He last ran on 8 June when finishing 2 lengths off All Ablaze over the course and distance. He could turn the tables on the Greeff horse on that run, and is well drawn with regular jockey Aldo Domeyer down to ride him.
Muzi Yeni partners White House for the first time. This Windrush gelding has won once in 5 PE starts since relocating from Joey Ramsden's satellite yard in KZN. He is well held by All Ablaze on his penultimate course and distance start, and is a horse that takes a hard ride. He was held in high esteem by his former trainer though, and could surprise if running to his best form.
According to the handicapper, Alan Greeff's Lord Badger is, along with Tomcat,  the best horse in the race. His 5 wins from 16 starts tell the story of a consistent capable sort who has bumped the best of his age group in this province. He did not enjoy the stamina test of the East Cape Derby at his last outing and returns after a ten week break. He may need this run, but has the services of top jockey Felix Coetzee, who won on him earlier in his career.
On Fire
Greeff also sends out the Bezrin gelding All Ablaze, who has won 2 of his last 5 starts and is bang in form. His last win was over the course and distance in an MR 100 Handicap was an impressive performance and he beat all of Makzoos, Poulnabrone and White House. All Ablaze beat Makzoos by 2 lengths there receiving 3,5kgs and is now 2kgs closer to him. This will aid Makzoos' cause.
Justin Snaith's erstwhile assistant Tara Laing has started her solo training career with a bang and she sends out the classy Silvano gelding, Parceval. A winner of three of his eight starts, he has no problem with the 1800m, although he may be a touch close in the weights to the top-rated lot to win this. That said, he was described by experienced jockey Chris Taylor as 'the best horse I have ridden in PE' after his maiden victory. He thus could be better than rated.
The rest look very hard-pressed to make an impact. They include the eleven-time winning once capable stayer Thunderflash, who has lost his form. Des McLachlan's Ecole Militaire is an eight year old who has lost his spark, while his younger stablemate Poulnabrone has been disappointing. Cape Trafalgar enjoys further but is nine years old and way past his best.
Sentimental
Tomcat is one of those horses who has captured the public imagination and would be a popular and deserving  winner. The trip of 1800m is of major concern though and if the going comes up sticky it could make it even tougher for him.
Otherwise it may be best to consider the Gavin Smith and Alan Greeff couplings for back-up. Makzoos looks overdue to score again, while All Ablaze is in his prime and fighting fit. Then White House represents some nice long-shot value.
An interesting race in prospect with a tight finish a distinct likelihood.