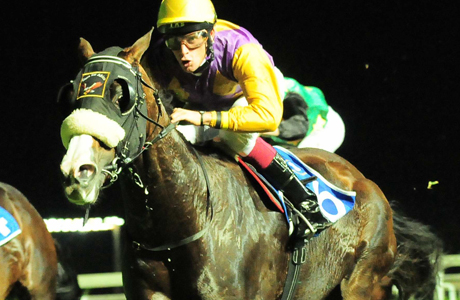 The R135 000 Non Black Type Betting World Sprint at Flamingo Park on Saturday should be over in the blink of an eye. A fourteen-strong field of tried and tested sprinters step out in the 1000m dash and while class is on the side of Lance Wiid's Winking Jack, we rather fancy the look of local hope The Phantom, who is fitted with blinkers again.  
Winking Jack certainly has class on his side and this eight year old makes what is probably a desperate career diversion to the sand late in his life after winning nine races on the turf.
He comes fresh off a fair Gr1 Mercury Sprint fifth behind What A Winter, but has only run once on sand at The Vaal previously, and must be taken on trust. The wide weight range of the race also dictates that he must give some 11,5kgs to the bottom-weights – who are no slow coaches themselves. A tough ask indeed.
Opera Singer
Vernon Rugg and Sherman Brown team up together again with the very speedy The Phantom, who gets blinkers for the first time. He ran a rather disappointing race last time when fading to 9,75 lengths off Snazzy Jazz over the course and distance.
In his defence, he was reported as not striding out that day. Logic probably suggests that headgear is not going to resolve soundness issues, and he won his three previous starts very capably without them. An interesting sort, The Phantom is a son of Arc winner Saumarez who also produced past Gold Cup winner Diamond Quest. He is very fast and able and may show that he is equal to this upgrade.
The year older Right Approach gelding Boston Legal is The Phantom's stablemate and a solid back-up for Pick6 punters. He is very close to The Phantom at the weights and ran a great race when beating him by 8,5 lengths last time. That probably was not The Phantom's run as we have already observed though and he must be considered the stable's second choice.
Paul Peter's 4yo Newton gelding Ruby King has shown serious sand ability at The Vaal and is bang in form as he makes his first trip to Flamingo Park. He ran a great second to the very capable mare Mannequin when running on late last time over 1000m last time but has to give 5,5kgs to The Phantom, which may make the difference late in the race. If Ruby King takes to the surface, he could win it.
Clinton Binda has a great strike rate in Kimberley and is represented by the consistent Opening Night, Goldstream and the lesser light, El Cielo.
Versatile
Opening Night is versatile and has won from 1000m to 1400m on the sand in Kimberley.He will be ridden by SA Champion jockey title runner-up Gavin Lerena and could be held by Snazzy Jazz on their last meeting. He has to concede 6kgs to Snazzy Jazz on Saturday – 1,5kgs more than last time when he was beaten a half length.
Goldstream won his last two starts over this course and distance in good time with blitz tactics and he jumps against the paint with just 52 kgs on his back. That said it was against lesser company being MR66 and MR72 handicaps, but he could hang on if getting lucky.
El Cielo is now 7 years old but is also very fast when in the mood. He has won well on the sand but tired late last time and could run into the money if stripping a fitter horse.
Rested
The tiny Tripartite is another ex -Jooste runner who is now owned and trained by Peter Smith. The son of Mellifont runs on well but may lack the speed required to win on Saturday. He is a half kilo better off with Snazzy Jazz, but should finish behind him again.
Tara Laing's Artic Jet won his last start but has been rested for 5 months since being scratched lame from his Riverside Handicap engagement at The Vaal.
Cliffie Miller sends out the Muhtafal gelding Peace Plan who has relocated from Durban and was slow out on his first Flamingo Park start in mid-June. He cannot afford to hesitate against these speed merchants and would be a surprise winner.
Paul Matchett's Saint Pierre tries his luck with a light weight but has not raised the roof on his previous efforts on the sand up North.
The 8yo Chad Baxter appears to have his best days behind him and should not be a factor.
So a race where a centimetre lost at the jump could count at the end. We feel local hope The Phantom is good enough to hold Ruby King and Opening Night. Just don't blink!