Dual Champion remembered
With the Equus Awards being held, it is a fitting time to look back at the career at one of the most remarkable achievements ever by a broodmare.
Stormsvlei, who remarkably was voted Equus Broodmare of the Year on two occasions (2008 and 2010), produced the winners of four J&B Met's – something no other mare in recent memory has achieved.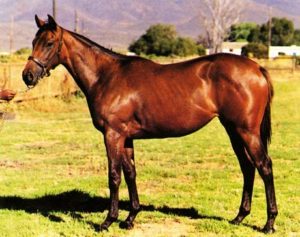 She was one of eight foals in the first crop of her sire, local champion Prince Florimund, and was a half-sister to the G1 winning sprinter, Harry's Echoe. Stormsvlei, whose brilliant daughter River Jetez is set to be covered by top sire Var in her first season at stud, produced, in total, seven winners.
Her most famous offspring, however, was Triple Horse of the Year Pocket Power, winner of four L'Ormarins Queens Plates, and three J&B Mets.
While Pocket Power earned nearly R10 million, his own sister, River Jetez, finished her career with earnings in excess of R16 million – meaning two of Stormsvlei foals earned over R26 million in prize money!
Stormsvlei is pictured here as a yearling. (SA Racehorse – March 1989)
Champion's unlikely pedigree
Champion North American sprinter Amazombie, recent winner of the G1 Bing Crosby Stakes, has an unconventional female line (for a multiple G1 winning champion anyway).  While Amazombie is by a successful sire, Northern Afleet, to say his female line is peppered with weird and wonderful names is an understatement.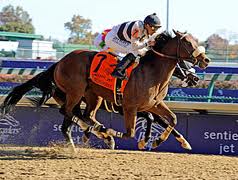 Not one of his first four dams are stakes winners, and three are by all but unheard of sires.
His second dam is by the obscure sire Floriano (a son of Turn And Count), a minor stakes winner – who sired nothing of note during a brief stud career.
Amazombie's third dam is by the Chieftain horse, Delaware Chief – a minor stakes winner who left little impression on the breed, and his fourth dam is a daughter of Guerrero (a stakes winning son of Fighting Don). His fifth dam is by Time Supply – not a name found in many top level thoroughbreds today!
With such an unimposing female line, much of the credit for the champion's ability must go to his sire, the high-class stallion Northern Afleet (Afleet).
Top sires Down Under for the season
Yet another son of Danehill has headed the Australian general sires list in the 2011-2012 season. Fasnet Rock became the third Danehill horse to head the Australian premiership following the likes of Redoute's Choice and Flying Spur.
Fastnet Rock proved the dominant sire in Australia this past season. His stock won over $12 million in prize money – more than $3 million more than runner up, Lonhro (Octagonal). He had no fewer than 16 stakes winners in Australia this past season, headed by such G1 winners as Foxwedge, Atlantic Jewel and Mosheen. Remarkably, Fastnet Rock sired the winners of both the NZ 1000 and 2000 Guineas during the season. The son of Danehill was also the leading sire of 3yos for the past season – being represented by nine individual stakes winning 3yos in 2011-2012.
This exceptional sire has, for the first time, a son going to stud in South Africa. Curved Ball will stand at Bush Hill stud this year.
The Australian thoroughbred in drenched in Northern Dancer blood – and eight of the top ten sires are descendants of the 1964 Kentucky Derby winner.
Australia's champion sire of 2yos was Lonhro, who had headed the general sires list last season. Lonhro's 2yo winners were dominated by triple G1 winner, and Golden Slipper victor Pierro – who earned $2.9 of Lonhro's tally of $3.4 million.
Second on the 2yo list was Snitzel – a son of Redoute's Choice (an increasingly important sire of sires in Australia). Snitzel had 14 juvenile winners who earned in excess of $2.8 million – and four of his 2yos won stakes races.
Danehill domination continued on the 2yo sires list, with six of the top ten being descendants of the great horse.
His grandson, Casino Prince, headed the Australasian first crop sires list, with his 8 winners including the top-class G2 winner All Too Hard (a half-brother to Black Caviar).  Another Danehill grandson, Any Suggestion, was leading first crop sire in New Zealand for the 2011-2012 season.
However, Danehill (champion broodmare sire in Australia for the past six seasons) was knocked off the top of the Australian broodmare sires list by Zabeel, who had a break out year as a maternal grandsire of big race winners.
Zabeel's daughters produced the winners of 316 races during the past season for prize money of over $12.5 million. Best performers from Zabeel mares during the past season included the G1 winners Southern Speed (Caulfield Cup), Atlantic Jewel (All Aged Stakes), Invest (Australasian Oaks), Elderly Paradise (Macau Derby) and Silent Achiever (New Zealand Derby).
Zabeel pulled a grand double during the past 2011-2012, for not only was he top broodmare sire in Australia, but the son of Sir Tristram also took top honours, in the same role, in New Zealand.
In NZ, Zabeel's daughters produced the winners of 115 races and over $2.6 million. Zabeel's maternal granddaughter, Silent Achiever, landed the Derby which helped him to the top of the log.
O'Reilly (Last Tycoon) was champion sire in New Zealand for the second time. He was represented by 64 winners, and although he the Derby winner in Silent Achiever, she earned just $621, 150 of O'Reilly's total $1.9 million. The stallion had seven individual stakes winners during the 2011-2012 season, and finished clear of Thorn Park (Spinning World) on the sires premiership.