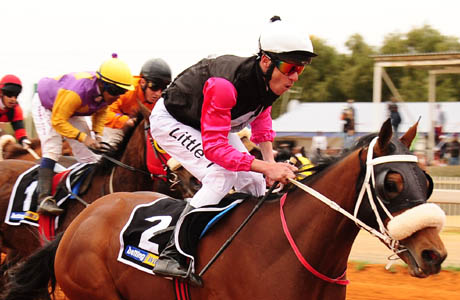 Gauteng trainer Paul Peter produced the Newton gelding Ruby King in fine form for a smooth win in the R135 000 non-black type Betting World Sprint run over 1000m at last Saturday afternoon's Kimberley meeting. Chad Little rode the winner who started at a generous 5-1.
The Gauteng challenge of six horses in the 14 strong speed line-up had always looked a touch overpowering for what the locals could offer for this generously staked sprint, and the visitors landed up scooping the trifecta.
An untidy start saw Winking Jack, Peace Plan and Tiger Tales ruin their prospects as El Cielo and Snazzy Jazz dashed off to lead the charge.
Considered rather contentiously , in some quarters at the least, to be voted Kimberley Horse Of The Year at Friday evening's local racing award celebrations,the weak 9-2 favourite Opening Night had looked dangerous about 300m. But when placed in a firing position by Gavin Lerena his effort fizzled as the challengers came at him from all around.
Chad Little had been nursing Ruby King quietly down the inside and he produced him with a flourish inside the final 200m. Ruby King finished too strongly for the pacy El Cielo who started at 28-1 and was 1,25 lengths adrift. Lance Wiid's Winking Jack ran a terrific race under his 63,5kg impost to hang on for third and complete the Gauteng clean sweep.
The Phantom, who had also looked dangerous at one stage, carried 1kg over his carded weight  and his rider Sherman Brown said that he felt something amiss in running. The gelding was later found to be not striding out on the off-fore after finishing second last. Also on the sick list, Chad Baxter, who had run stone last, was reportedly making  abnormal respiratory noises.
Ruby King, who won in 57,28secs, is undoubtedly something of a sand specialist and has achieved all of his five career wins on the sand. He has also run 8 places from his 24 runs.
This was his first try down in Kimberley and we could well see him making the trip on a more regular basis in future . He has amassed career earnings of R370 650 and looks most unlikely to stop here.
He was bred by Costa da Costa who races him in partnership with trainer Peter.
The winner is out of the one-time winning Goldkeeper mare, Gold Lass and it was a momentous afternoon for Ruby King's sire Newton, who was to celebrate a feature double when Caryl's Law would go on to win the Recall Security Mile just 35 minutes later.