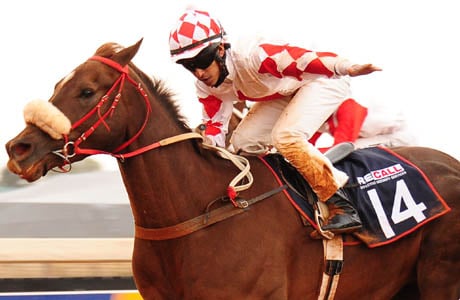 KwaZulu-Natal based trainer Kom Naidoo raided Kimberley from his Vaal satellite yard and walked away with the major spoils in last Saturday's feature event at Flamingo Park. Caryl's Law produced a sustained late dash to win the R200 000 non-black type Recall Security Mile from a game African Vision.
The victory was a resounding thumbs-up to Irish-bred Danehill stallion Newton, who certainly gets them to run a little on the sand and showed his versatility after another product of his first local crop,Ruby King, had won the previous race, a feature sprint.
The afternoon's feature event had attracted a competitive  field of fourteen runners and after The Plunderer and Mahogany had looked dangerous, it was recently turned 21 year old apprentice Nooresh Juglall who produced Caryl's Law to win going away by 0,75 lengths in a time of 100,47 secs. Caryl's Law had been perfectly settled and stationed in midfield by the promising Mauritian-born rider, before pouncing at the right moment. This was Caryl's Law second win on the trot since winning an MR 87 Handicap at the Vaal a fortnight earlier.
African Vision, who was giving the Naidoo horse 5,5kgs ran a gallant race in defeat, while PE visitor and noted turf sprinter Bon 'N Weave showed a pleasing versatile new side to his talents when staying on smartly for third and only 1,50 lengths off the winner. This was a fair effort, particularly if one considers that he had fought his rider early in the race.
The 2-1 favourite The Plunderer has had more than his fair share of chances and ran a disappointing tenth, after being given every chance.
Jockey Muzi Yeni incurred the wrath of the Stipes and was charged for misusing his whip when he had continued to strike his mount, Tic Tac Toe, when the horse was out of contention for a place. Yeni signed an Admission of Guilt and was fined R250.00. A puzzling slap on the wrists?
Full marks to trainer Kom Naidoo for having the initiative to take his horses to where they will pay their way. His career has not exactly been a walk in the park littered with equine stars and the move to open his satellite operation took courage and the correct personnel resources. Naidoo obviously has both on his side.
Caryl's Law was recording his third win and has two place credits from just 12 starts and has had quite a spectacular rise to smalltown fame on the sand after shedding his maiden at the Vaal just over four months ago. He doubled his career earnings to reach the R240 600 mark.
As already noted, the Orangewood Stud product was sired by Newton and is out of the one-time winning Dancing Duel mare, Caryl's Pride.