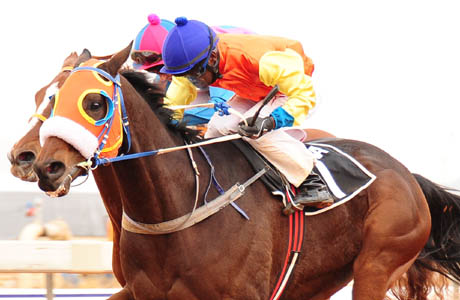 The R100 000 non-black type Diamond Stayers run over the testing Kimberley 2200m on Saturday produced a shock result when the formless 35-1 outsider Sir Lowry stayed on powerfully to hold off the more fancied and very brave Capital Gain to score a narrow win.
Regular Flamingo Park punters will be well accustomed to knockout blows but few would have seen this one coming as Tara Laing produced the gelded son of Windrush in fighting trim to upset the calculations.
Formerly trained by Charles Laird and raced in the green, black and yellow Jooste silks, Sir Lowry had won once from his six Flamingo Park starts and after a combined thirty length deficit at his last two outings, he really did look to have it all to do with topweight in this event.
All the betting interest centred on Clinton Binda's Parade Leader gelding Marching Band who was backed into an even money favourite  of his excellent recent Kimberley performances.  The Sham Steenkamp-trained Alif was nibbled at around 7-2, while Cliffie Miller's lightly raced Opera King gelding Capital Gain was easy to back at 9-2.
With the well supported Alif slow away, Marco Van Rensburg had no hesitation in taking Capital Gain to lead from early on. The relentless galloping white faced chestnut was still going strongly as they turned into the home straight.
S'mango Khumalo ranged up looking dangerous on the eventual winner who went past the Miller horse with 300m to run. At this point Marching Band was being scrubbed at and falling deeper into a hole.
Khumalo looked like he may have made his move too early about 200m out as Van Rensburg got Capital Gain to rally on the rail and he looked momentarily like he may just get his head back in front as the two went for the line.
But Sir Lowry had not done the early donkey work, and this counted in his favour as he stayed on the better to win by 0,25 lengths in a time of 150,48secs. Alif plodded into third 5,25 lengths behind, while Marching Band ran a shocker to stagger into fourth and twelve lengths adrift.
The Highlands Stud bred Sir Lowry has won 5 of his 28 starts with 11 places to his credit.
He has earned a gross R366 300, which puts him marginally ahead of his National Yearling Sale purchase tag of R300 000.
By Windrush, he is out the four-time winning  Enchanted mare, Splendid Gem.
In the final analysis, the Stipes strangely asked no questions about Sir Lowry's amazing turnaround in enthusiasm. And what a pity that the newly crowned Kimberley champion jockey weighed out at a kilo over his carded weight to ride Capital Gain. That may just have cost him the race.