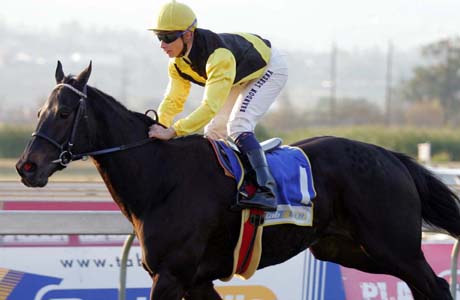 The national focus switches to the Vaal sand track this weekend with the running of the R200 000 Gr3 August Stakes over 1200m. The race serves as a trial for next month's big one, the Emerald Cup, and provides an entertaining variation on the Saturday routine of the past few months.
This race, while only three years old, is an excellent pointer to the richest race on sand, the Gr2 Emerald Cup and history shows that the winners can be taken very seriously. And the gem probably lurks amongst Saturday's field.
Red Mist, who won this race in 2008, when it was not yet categorised as a Gr3 but shortlisted for black type, and went on to run second in the Emerald Cup Consolation of that year. Phunyuka then won the Gr3 August Stakes in 2009 and went on to win the Emerald Cup, while the 2010 winner Storm Crossing went on to run third. Last year's August winner The Mouseketeer went on to complete the Emerald Cup double.
Very Wild
The classy eight-time winner Wild Type has his first try on the surface, and if he brings just a portion of his best turf form, he looks a likely winner.He is fit and bang in form and one gets the feeling that Gavin Van Zyl would not have despatched him blindly without having seen something in his work.Mrs Bridget Oppenheimer's gelding will be ridden by JP Van Der Merwe for the first time.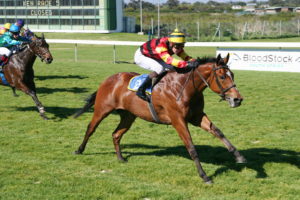 Mike Bass makes a rare appearance down Vereeniging way with the enigmatic but very talented Captain's Secret. Bass has tried every trick in his well- tried book with this fellow who has been campaigned from 1000m to 2000m. He has never won beyond 1400m but that was a smart victory in the Gr3 Cape Classic and he has not win since coming up at the end of October 2010 in a 1000m Conditions race at Kenilworth.
The one thing that Captain's Secret has on his side is an indelible stamp of class, and while he has let the world down he could redeem himself here and set up a date to mine a handsome emerald in a month's time.
All The Moves
Leon Erasmus' Prime Mover benefitted from a 4kg claiming apprentice last time but should battle to turn the tables on Escape Clause here. That said, the 6yo has won his last two with powerhouse efforts from the front and the wily 'bouncer' Sherman Brown gets back aboard. He appears to have the gate-speed to overcome his 11 draw.
Sean Tarry's classy Across The Ice jumps from the pole position draw with a handy galloping weight and ran a smart second in this race last year. His recent form is consistent enough to suggest that he could have a say in matters if putting his best foot forward.
The in-form yard of Alec Laird sends out the smart five-time winner Extra Cover, who has his first try on the sand. He was a runaway winner of his last start in an MR 95 Handicap over 1400m, and goes to post off a seven week rest.
Curtains Drawn
The 2010 Emerald Cup winner Iron Curtain has not earned a cheque in just six runs since then and Robbie Sage's obviously unsound charge has not run since the 2011 Emerald Cup. He is unlikely to come out in peak health or fitness and would be a shock winner.
Stuart Pettigrew sends out a coupling headed by the seasoned sand campaigner Calanish, who gets a pair of blinkers for the first time. The son of Lecture is quite a one paced galloper who may find this on the sharp side, but he will benefit from the head piece and the Riverside Handicap winner will be right amongst the place money.
The Plunderer has fair form over this course and distance, but he flopped badly in the Flamingo Mile in Kimberley three weeks ago, and that race may well have taken the edge off him. He has also been given more chances than he probably warrants.
Anger Manager
Kom Naidoo sends out a coupling of Furious Dancer and Cape Winter.
Piere Strydom puts a leg over Furious Dancer,who last won over 1000m on this surface in January. He seems to prefer the minimum trip, and while his last two turf efforts were both fair runs, he has been campaigned like a horse who is frustrating his connections.
The lightly raced Cape Winter won the Lightning Stakes over 1000m and then followed up with a smart win over this course and distance at his very next outing over 1200m. He beat Boss Cat
He then ran 5,50 lengths behind Calanish in the Riverside Handicap over 1450m when reported not striding out and has not been sighted since. His soundness and fitness must be taken on trust.
Leading Cape owner Hassen Adams has moved his horses all over the country and his Aussie-bred Oratorio colt Soweto Slew has his first run for Weiho Marwing and his maiden bash on this surface.
To say that Soweto Slew has been disappointing is an understatement, and he may also need it having his first run since 6 May when he raced under the Snaith banner. It is difficult getting too excited about this fellow's prospects on a surface that demands optimal fitness.
Dom Zaki's lightly weighted Escape Clause is an interesting runner and enjoys the surface, having recorded two of his three wins on the surface. He showed great pace at his last outing, when beaten 3,50 lengths by Prime Mover to whom he conceded a half kilo. Escape Clause now gets 7,5kgs from Prime Mover, and should have the Erasmus gelding's measure.
The race boils down to taking a position on the class of Wild Type and Captain's Secret, versus the proven sand prowess of the likes of Prime Mover, Escape Clause and Across The Ice.
Captain's Secret will win it if he takes to the sand and Wild Type is no slouch either. An excellent appetiser for the Emerald Cup and the locals won't let the turf raiders off lightly. It should be a great race.