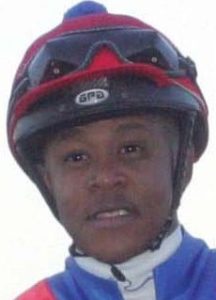 Springbok jockey Muzi Yeni doubled his season tally in the space of a matter of hours at Flamingo Park this afternoon. Yeni rode four of the first five winners on the Kimberley programme to add some respectability to his statistics, as the first month of the new season enters its final days.
He has now ridden eight winners, six of which have been recorded at Flamingo Park.
Winning Form-sponsored Yeni ended up in sixth position on the national log last season with 112 winners, and while those in front of him are some of the best jockeys on planet earth and he was hardly disgraced, there is little doubting that it was by and large a frustrating season for the 26 year old rider.  He had ridden 98 winners in 2009/10 and 133 winners from 1246 rides in 2010/11, his career best.
Discounting  Zimbabwe, Anton Marcus(205),  Anthony Delpech(182),  Gavin Lerena(166),  Piere Strydom(130) and Hong Kong bound Richard Fourie(124) were all comfortably ahead of Yeni, who at one stage was remarkably touted as a possible serious challenger for the title.
Proof that he was chasing the title is found in the fact that he rode in more races than any other jockey in the country. His total rides amounted to an astonishing 1419 – double plus that of the outstanding Marcus and more than 400 extra rides than any of his five colleagues ahead of him. He is on record as suggesting that 'hard work never killed anyone.'
On the flipside of the hard work and the close to R1 million Yeni earned pre-tax in riding fees, is his 8% win strike-rate, which looks ordinary when measured against Marcus' 29% or even the lowly-placed heavyweight Bernard Fayd'herbe's 17%.
Yeni was a member of the Springbok jockey team for the 2010 and 2011 Jockeys' International held at Turffontein and Kenilworth. The first four riders on the previous season's national jockeys' log – Anton Marcus, Anthony Delpech, Muzi Yeni and Felix Coetzee – automatically made the team. The two "wild-card" riders were Weichong Marwing and Piere Strydom, with Sherman Brown the reserve.
Yeni had ridden just four winners when he arrived at Flamingo Park for today's meeting and what an afternoon it turned out to be!
He kicked off by riding  three winners for the Jaap Visser yard in the first, third and fourth races. Thorkildsen(3-1) , Country Rush(19-10) and Ice Drift (5-1) were the Visser winners.  Yeni also rode the  fifth race winner for the Pienaar yard on the 22-10 favourite, Pearl Rush.
Riding winners is all about confidence. Muzi is definitely not lacking on that front and we wish him well as he approaches the long season ahead.