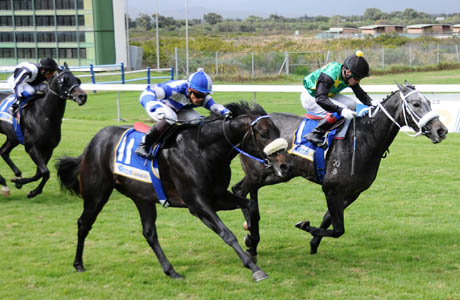 The first colourful blooms and the sightings of whales in the sheltered bays are the tell-tale signs of spring in the Cape. After the arduous months of miserable winter weather and the resultant topsy-turvy form, we look forward with zeal to the better brighter racing days ahead.
Switched from its original schedule of Durbanville, Kenilworth now hosts the compact eight-race programme on Wednesday, and two quality 4yo's bump heads to add lustre and interest to the topliner.
The popular George Harrison song says that 'it's been a long cold lonely winter' and whether you are a Beatles fan or not, it certainly doesn't take a rocket scientist to admit that it has been a tough few months down South here in the not always fairest Cape.
The form books have often served handier purposes as kindling for the soul warming fires during the freezing nights, than for guidance with selecting winners. But with August behind us, we can surely look forward to some better quality racing in the months ahead.
Standards
It is probably a reflection of the current pre-season class trough and the general moderate standard of the programme, that we are referring to a rather ordinary R69 000 MR 90 Divided Handicap as the topliner. But two very smart looking 4yo's from two top stables step out at the Big D to do battle.
And a titanic tussle it should certainly be, in what looks a two horse race.
Joey Ramsden and Justin Snaith have both mastered the art of winning plenty of races and their respective charges General Jubilation and Jet Explorer both go to post with three wins from eight starts to their credit.
Happy Days
General Jubilation has drawn slightly better, but does this aspect even matter in a nine horse field with a solid pace virtually a guarantee? On the flipdie and in his favour, Jet Explorer is proven over the trip, while the Australian-bred General Jubilation steps up in distance.
The grey Ramsden runner's sire, General Nediym, who died from colic in 2009, transferred speed and produced one stakes winner over 1800m – but plenty with speed over shorter distances.
General Jubilation has won twice over 1200m, but his last win over 1400m in an MR 72 Handicap at this track was super impressive. He charged clear down the centre and went on to beat Jamie Lee Jet by five lengths easing up.
That clever judge of a horse, Tellytrack's Stan Elley, did his utmost in the post-race interview that afternoon to coax some sort of elated praise out of trainer Joey Ramsden and Jooste Racing Manager Derek Brugman. But both gentlemen know very well that the handicappers watch Tellytrack every now and again in between their mounds of paperwork, and the emotional gushing stuff only earns unnecessary penalties.
Despite the conservative reaction, General Jubilation was bumped up from a 77 to an 85 for his effort. It seems harsh on paper, but he is probably still ahead of the handicappers and he may just be a horse going through the motions as heads for better things. We think so.
Exciting
Jet Explorer is an exciting son of Jet Master who came into his own in the winter with wins at his last two outings. His last win in a Pinnacle Stakes over 1600m at Kenilworth in yielding going was really quite impressive. He won unextended beating two highly-rated old warriors in Grafton Street and Fabiani.
Admittedly he was receiving six and seven kgs respectively from the second and third-placed horses, but these two old men are no Jamie Lee Jets – both are rated well over 100, even if they have seen better days.  Felix Coetzee will give Jet Explorer every assistance from the saddle and we will soon see just how good the Ramsden grey really is.
The rest look under serious pressure against our top two.
The Piet Steyn stable have hit good form since the Cape weather turned nasty and the Milnerton conditioner sends out the five-time winner League Of Honour who enjoys the services of Bernard Fayd'Herbe. He also has the powerful front-runner Master Barry. The latter is preferred and he jumps from the 1 draw and has the lethal fearless new kid on the block in the 4kg claimer, apprentice Girish Goomamy up.
Master Barry and Spy Glass will ensure a good pace and Coetzee and Hatt will be mindful of the fact that they shouldn't let either get too far away.
Glass Of Class
The 8yo Cape Town has battled to put it all together in his eight runs in the Cape since relocating from KwaZulu-Natal in April, but has not been far enough off the action to be discarded entirely.
Greg Ennion trains the son of Silvano who seems better at Durbanville than Kenilworth but also appears well held by Crown Hill on their last meeting. He probably has a place chance if things go his way.
Bruce Ferreira has been one of those fortunate racehorse owners and has had a lot of success in his familiar orange and yellow silks. He owns the obvious pacemaker- that is  with Master Barry. The Fort Wood gelding Spy Glass is four-time winner who started his career with Mike De Kock in Johannesburg. A short stint in PE was followed by his move to Cape Town – where he has not done badly. Glen Kotzen trains the powerful galloper who has drawn rather awkwardly at 8 from 9, but who will be ridden from up on the pace.
Bass Team
Mike Bass sends out a coupling and Crown Hill looks the stronger of his two.
This 6yo has come a long way since shedding his maiden in a workriders race at Kenilworth and five additional wins later he has certainly paid his way. The son of Doowaley relished the rain and mud on an awful Wednesday at his last outing three weeks ago, when he showed an inordinate amount of uncharacteristic early pace to power home and win an MR 89 Handicap over the Durbanville mile. Racing was abandoned thereafter.
Karl Neisius takes over from Glen Hatt, who  partners General Jubilation. Consistency is not Crown Hill's middle name though and the younger horses  look that much more exciting than him at this stage.
The second of the Bass runners is the staying sort  Another Giant, who though having won over 1800m, would probably prefer another 800m to be at his best.
The only mare in the field is Andries Steyn's Jet Master Last Flight,  who has lost form in her recent outings.  She did, however, run a fair race in an MR 78 Handicap over the course and distance when running a smart 0,40 length second to the fairly promising Oratius,  when giving him 3,5kgs. Oratius has won two of his ten starts.
Last Flight ran twice in August producing two lacklustre efforts against her own sex and appears an unlikely winner here.
Which One?
The race looks a complex contest in two between Jet Explorer and General Jubilation. Both must go into Jackpot and Pick Six calculations, but either could serve as a Place Accumulator banker.
With a good pace ensured and luck in running unlikely to be a serious factor in a small field, it should come down to raw ability. Neither has been put under serious pressure to win yet, so courage and heart may be the balancing consideration. General Jubilation has already overcome adversity and beaten the odds in his short life.
He may have what it takes. But there should be very little in it.