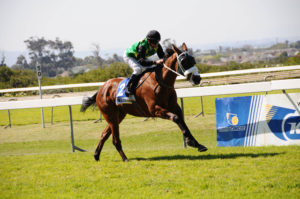 The first genuinely promising day of spring in the Western Cape produced some top-class performances both on and off the track. In fact, for pure entertainment value, the relocated meeting  produced far more than could be ordinarily expected.
Switched to Kenilworth as the Durbanville track was declared unacceptable in parts, the rather mundane looking midweek meeting produced flashes of genius and brilliance.
Trainer Joey Ramsden lifted the Cape Champion Trainer title in 2011/12 and forged ahead on the new season log with a hat-trick of winners on the day, that took his total to ten. Ingrid and Markus Jooste (two with Ramsden and one for Paddy Kruyer) were the day's most successful owners, while jockeys Glen Hatt, Karis Teetan and the inimitable Fortune booted home two winners apiece.
It was also pleasing to see Klawervlei stallion National Emblem back amongst the winners, with a three-timer and on-course presenter Grant Knowles was quick to utilise the stage to punt the merits of a top stallion who has produced ten Gr1 winners.
Ramsden won the second, third and fourth races and appropriately gave Andrew Fortune his comeback ice-breaker courtesy of the Captain Al gelding, The Helsman, who led all the way to win the Maiden Plate over a mile.  It was a well-judged ride by the man with nineteen lives and we look forward to him booting home the winners.
Ramsden confirmed that The Helmsman was going to be euthenased shortly after coming into his yard and had made a remarkable recovery. " He should've been dead – much like we thought Fortune was," exclaimed a full of beans Ramsden.
Ramsden then trained the winner of the third race, Magic Emblem, who races for Peter and Val Fenix and himself. He termed the winner a big, correct horse who was a bargain buy at R15 000 and on his possibles list as an EP Derby candidate at this early stage.  Glen Hatt was more expressive, suggesting the horse was possessed with a 'tit of an action.'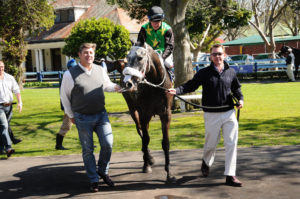 It was the Joey Ramsden team in the winner's enclosure again after the fifth race when the very smart grey Aussie import General Jubilation gave his field a galloping lesson to hold his market rival Jet Explorer to a half length win.
Pacemaker Master Barry led but had his chances ruined with a slipped saddle as Hatt rode a confident race. The winner has now won four from nine starts.
Ramsden attributed much of his success to his treadmill, which had been operating '24 hours per day.'
Fortune rode his second winner of the day in the fifth race on the Riaan Van Reenen trained Barossa Valley, who scored a runaway win in a rather weak MR 77 Handicap.
Paddy Kruyer trained the third National Emblem winner on the day when the 400kg La Patineuse scooted clear under Aldo Domeyer to win the final leg of the jackpot.Her rider felt that she is a candidate for some black type this summer, so she is one for the notebook.
There were a few equine disappointments on the day too.
Barrel 'N Butt ran another moderate race in the second. He finished ten lengths off. Will he ever win a race, one wonders?
Eighth Man ran on well for second place in the third race, but disappointed his backers again at his seventh start. One would have thought he would have won a race by now.
Captain Siderius showed pace but plodded on for third some 1,85 lengths off Magic Emblem in the third. He looks like he will have to bump a weak field to win a race.
The R1,2 million purchase Mystic Jet, relocated recently from Vaughan Marshall to Justin Snaith and ran poorly in the fifth race, finishing 6,25 lengths behind. If he doesn't need further, he may need to try Port Elizabeth.
The Windrush filly Azaniah had everything in her favour in the seventh race, but hit a brick wall about 300m out and ran unplaced 5,80 lengths off.
The quotations were there too.
Ramsden produced the gem of the day, suggesting that Andrew Fortune's comeback was a 'superhuman effort by an alien.'
The always modest Phillipi trainer Riaan Van Reenen, then advised us rather blandly that 'I am one of the best bosses to work for in the Cape.' How does he reach this conclusion,we wonder?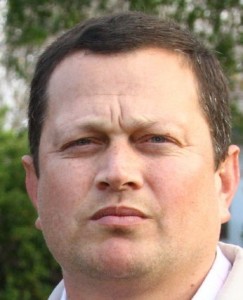 Jockey Andrew Fortune, who rode two winners and then couldn't stop suggesting that he stood there 'graciously', pushed the envelope as he is prone to do, by referring to the phone call from Van Reenen to engage him for the winning ride on Barossa Valley, by saying that 'I wondered why this g****e was phoning me…'. Research has shown that this rather nasty sounding term of questionable  endearment is slang and is sometimes also known as a Dakskroef or Dreinrot . It is apparently a label given to a person of any race, who could be classed as ugly in the eye of the utterer. It was all in good spirit anyway.
Just goes to show that with our chequered history in this country, that we tend to be a little overzealous with our racial stereotyping. Twitter and the sms channels were agog after the Fortune interview. All in vain, as it was harmless!
The master jockey can no doubt teach us plenty yet and we look forward to being further educated as the season progresses.
His presence and confidence makes for great entertainment.