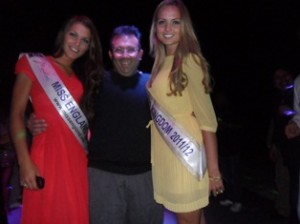 One of South Africa's leading race-callers and most experienced Tellytrack presenters, Nico Kritsiotis, has been admitted to hospital following his contracting a suspected virus.
Kritsiotis, who underwent a kidney transplant in November 2011, and returned to work in February of this year, has been living as near a normal life as possible after the transplant surgery proved a great success.
His wife gave birth to a baby boy earlier this year.
Kritsiotis was the international guest commentator at the Bicentennial celebrations of the Mauritius Turf Club in June and proved a popular hit with the locals.
According to reliable sources he has been placed in strict isolation for a week.
The Sporting Post wishes Nico a speedy recovery.
An update with kind thanks to the africanbettingclan.com as posted by Nico's great friend and colleague, Shaheen Shaw, aka Chainsaw : Nico is a tenacious bugger. I'm proud of how he has fought against all the adversity he has faced. With the great love he has for his young son, Michael, he gets a little sadder and despondent about his health issues than he may have before but I'm sure it also fires up his admirable will to recover. All men have different strengths and weaknesses and Nico's true inner strength is his sheer will to get up, soldier on and never surrender his fighting spirit to his misfortune. I received this from Nico this morning re the well wishes on here, FB, twitter, sms etc –
"Shaheen. The immense and overwhelming support from the punters has lightened up my morning after a tough night. They are legendary soldiers who will all win their wars! Thank you to all of you. I will fight to see you all again soon my brothers."
Get well sunshine. Shot boy.