It's a classic tale of the battle hardened warrior versus the athletic skills and talent of a relative new upstart on the block. That is the choice facing form-studiers at the Vaal on Tuesday where St John Gray's 6yo Where's My Chop faces up to Weiho Marwing's smart-looking 3yo Danesco over the straight 1400m track.
The race falls slap bang into the usual expectations of the midweek muddle puzzle, but much interest is thrown into the pot by the anticipated spicy showdown between Marwing's promising Albert Hall youngster and his elders.
Weiho will surely know better where he stands with Danesco after this seasonal debut in a rather tough school. But it's not a two-horse race either, by any stretch of the imagination.
..
Promising
The youngest contestant in the twelve strong field, Danesco has only run four times and besides a categorical win on debut by 3,50 lengths over the Vaal 1200m,has produced some eyecatching efforts. We can ignore his second start when he travelled down to Scottsville for the Gr1 Gold Medallion. He was slow away and reported not striding out and finished a dismal last and some 32 lengths off Potent Power.
Despite being reported to be lame on the near hind after that abortive trip, he was sent out two weeks later at Turffontein and did not disgrace himself when finishing fourth and 4,50 lengths behind the promising Mogok's Desire over 1160m. He showed good toe there and no side effects from his road trip and post-race unsoundness.
A month later he was back on the N3 and travelled to Greyville where he did not disgrace himself when finishing just 3,25 lengths off War Horse in the Gr1 Golden Horseshoe after running green on the bend.
It is worth noting that he had the subsequent Gr1 Premiers Champion Stakes winner The Hangman some two lengths behind him in that particular race. Taking that outstanding Gr1  effort over 1400m into account, and assuming that the handicapper is roughly on the mark with his rating, then he looks quite well in here if running to a semblance of his best ability.
..
The Chop
But Danesco won't have things all his own way and the ever consistent Announce gelding Where's My Chop comes into the reckoning, with the services of the jockey who last won on him, and whose style suits him down to the ground.
Piere Strydom is the noted master of the late assault and he  won a cracker on St John Gray's gelding when flying up late to win a Pinnacle Stakes over 1200m at the Vaal five runs away. He has done little wrong since-even switching to sand with fair effect – and he ran on well last Saturday when finishing 2,25 lengths off Dennis The Menace when conceding 6kgs.
Where's My Chop has matured lengths from the little horse that shed his maiden in a lowly Workrider's race a few seasons ago, and now an eight-time winner from 34 starts, he should  definitely prefer the extra 200m of Tuesday's race. He has won over 1400m only once previously.
..
Perfection
There are others to consider.
The charismatic perfectionist Mike Azzie sends out the Fort Wood gelding Lancewood, who was injured at his last start when finishing a rather one-paced fifth and 6,50 lengths off Directorate over 1800m. He has recorded his three wins over the mile and may just enjoy this 1400m from his 4 draw if allowed to use his stride.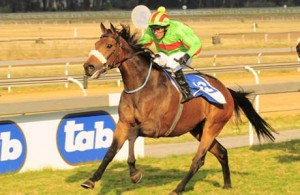 The 8yo Jallad gelding Ryan's A Lion has breathing problems which hinder him from to time , but despite this drawback has managed to bank 9 winning and ten place cheques in a career that has spanned 75 runs. He won his penultimate outing over the course and distance when losing ground at the jump but getting up to beat War Front in an MR 80 Handicap. He has Jet Dot Com well held on that run and maintained the form when stepping up slightly in class with a solid third behind Great Smokey
..
Improved sort
Wallace Tolmay's Celtic King is an interesting and vastly improved runner.
A winner of his last two starts over the Vaal and Turffontein 1400m, his track record prior to that was largely undistinguished. This included a weak maiden win on the sand and a tilt at the Kimberley Classic, in between a few fairly moderate turf runs. The penny appears to have dropped though and his last two wins, while achieved against lowly rated handicap opposition, can hardly be faulted.
He comes in on 52kgs and while it is difficult to imagine him registering a hat-trick of wins, he may burgle a place cheque and deserves trifecta and quartet consideration.
The rest do not inspire a  great deal of confidence.
The former Emerald Cup winner Iron Wood appears to have soundness problems and has lost all semblance of any form.
Jet Dot Com has proven disappointing after showing good promise, but is twice a course and distance winner from his seven victories. His last four runs have shown a downward spiral in his form graph and he would need to up his game to have a chance.
..
Voter's Roll
President Elect is now an 8yo and has registered 8 wins from his 55 starts. He ran a good race when storming through late for second and a length behind Hell Alley over a mile last time. He carried 60kgs that day but this is much stronger  and it is doubtful whether he can maintain that level of effort against better sorts.
Dominic  Zaki's 6yo entire Lecture Tour is something of a course and distance boffin  having recorded three of his four wins here. That said, he has faded badly at his last two outings and may just have his mind on more pleasurable pursuits than racing at this point in his life. He is not entirely without a place prospect.
Abbotsbury is a moderate 6yo gelding who has been on the fringes recently, but will need to improve a good few lengths to make his presence felt.
Formerly with Mike Miller down in KZN, the grey Midnight Cat has managed one win in six starts since arriving in Gauteng.  He does look under pressure here and is probably better over 1200m.
Kapellmeister has only run once this year, when never showing and finishing 16,75 lengths behind the upwardly mobile Meissa last Saturday. He has not won a race in over a year and should not trouble the principals, despite a galloping weight of 49,5kgs.
..
Tactical Affair
This race, run on the outside course of the Vaal 1400m straight, looks likely to develop into a tactical battle and being in the right place at the right time will count most – as it usually does.
With plenty of pace in the race and the field not crowded with passengers, Strydom will have Where's My Chop running on at the leaders when it counts. We note that his trainer considered him good enough to go for the Gr1 Gold Medallion. That's got to count for something but Danesco will have to draw on all of his youthful talent and enthusiasm to withstand the challenge.  If he is as good as the handicapper says he is, then it should be a tough ask for the older horse.
But Strydom's the man with the plan and he could make all the difference, yet again.