"This is what makes racing interesting – horses and people.  These are the only things in racing worth writing about.  The rest is dross." – Les Carlyon
Friday morning dawned bright and sunny.  Despite a few snow caps lingering on the mountains, the warm air and azure sky hinted strongly that summer was on its way.
The Michael Holmes catalogue offered some choice lots and Cape Town airport heaved with an influx of the great and the good of the racing industry.  The Boland is particularly pretty at this time of year.  Driving through the rolling emerald greens of wheat and canary yellows of canola, all set against the deep denim blue of the Cape mountains, one couldn't help thinking how lucky we are to live in such a beautiful part of the world.
We bumped, rattled and rolled down the gravel to Arc en Ciel where a smiling and neatly dressed member of staff waved me to a shady parking spot.  The stable block was already a hive of activity with pre-auction inspections in full swing.  The consignment of racing lots attracted a lot of interest and the Marshall team were strategically placed to field any questions.  It was a treat to appraise Tales of Bravery from close quarters and Twitter really won me over with his beautiful head and kind temperament, but all of them were turned out to perfection and were a real credit to their conditioner.
There was equal activity amongst the broodmare consignment with potential purchasers pulling out and appraising the available lots.  The old matrons always tug at my heartstrings – they no longer fuss or fret about changes in their circumstances, simply getting on with life with equanimity and patiently waiting to see where they'll end up next.  We found local horse whisperer Malan du Toit leaning against a pillar and after shooting the breeze and exchanging some banter about his latest project, made our way over to the marquee as Graham Hawkins and his gavel got to work.
The catering department ensured that everyone was kept fed and watered, while Craig Carey and his team kept everything running smoothly and sale lots were paraded through professionally and efficiently.  There was strong appreciation from the floor and with no reserve on any lots, all the horses found new homes.  As expected the sale toppers came from the latter half of the catalogue.  After some confusion with the auctioneer, Northfields Bloodstock secured Tribal Dance for R1.2milion and the lovely Twitter was knocked down for R1 million to Michel Nairac Bloodstock, who also took home Top Seller for R675k and Tales of Bravery for R620k.
It is always a measure of the hospitality to see how many people stay on after the main event and a good few folk lingered at the tables to chat and catch up.  There's an expression that no hour is wasted that is spent in the saddle and when it comes to horses and horse people, there are few to equal John Slade.  An encounter with the thoughtful force behind Maine Chance Farms is always a joy and it was a real privilege to while away an hour picking his prodigious brain.  He relates that their new incumbent Gitano Hernando is settling in well.  While the Chechen owner may be controversial, the stallion and his pedigree certainly have much to offer our local breeding ranks.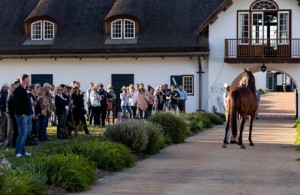 New Stallions
And on the subject of stallions, the latter half of the afternoon was blocked off for a trip to Drakenstein Stud to welcome in new stallions Philanthropist and Pathfork.  An invitation to Drakenstein is highly sought after and for good reason.  Not only is the farm genteel and exquisitely beautiful, but the elegant and gracious Mrs Rupert and her staff have the unwavering ability to make every visitor feel like a prized guest.
The iconic Horse Chestnut was the first out on parade.  This beautiful son of Fort Wood who captivated the hearts and minds of the South African public during his racing campaign is a fitting flagship stallion for Drakenstein.  Still top of the list of South African racing superstars, Horse Chestnut is absolutely glorious as a stud stallion.  His groom Sedrick Oerson is obviously proud of his imposing charge and the big horse is a privilege to experience in the flesh.
Next out was the exquisite mahogany bay stallion Pathfork.  I've been following the horse's journey via John Freeman's Facebook page and the horse certainly makes good on all the hype.  He is beautifully made and seems to have a temperament to match and this beautifully made son of Distorted Humor is a real coup for Highlands.  John Freeman has been honing his skills as a bloodstock manager for many years and was clearly thrilled with the latest additions to his portfolio, delightedly telling us that this has been one of the most exciting and fulfilling years of his career to date.  I loved the accompanying DVD narrated by Jimmy Lithgow (recently returned to our airwaves after his hospital stint) and cannot wait to see what this impeccably bred stallion produces in the breeding barn.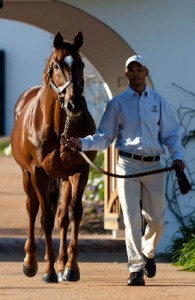 A big chestnut son of Kris S, Philanthropist has not quite settled into his surroundings just yet, but was very eye-catching on parade.  He is a tall and imposing individual who stands over a lot of ground and he has an enormous amount of presence.  He has already sired a champion in his first crop in Canada and his bloodlines offer a lot of elements that have a proven success rate on the South African broodmare band and race tracks.  It will be interesting to see him again once he has fully let down and recovered from his long journey, but he seems a very shrewd acquisition to the Drakenstein stable.
Last but not least, the evening was appropriately rounded off by Trippi, who has exploded so emphatically and successfully on the South African racing landscape.  While he may not be as tall as his new neighbour, his superb conformation and strong proportions explain why he has been such a success on our shores.
Again, it was a measure of the wonderful hospitality that guests lingered on the grass long after the stallions were back in their stables tucking into their well-deserved evening feed.
Sue Kalmanson and the Varsfontein Team were in mischievous mood and we caught up on news of Sue's fun initiative of a syndicate of lady owners who are new and enthusiastic additions to the ownership ranks.  Sue is perennially cheerful and energetic and I am sure that the ladies are going to inject lots of fun and enthusiasm to our tracks.
Amanda de Vos is also hatching a new initiative and fulfilling a lifelong dream of opening a bookshop.  With her grit and determination I have no doubt that it will be a great success.
Brian Finch, part of the highly successful team behind the Cape juvenile sensation, King of Pain, shared news on how his breeding season is progressing as well as hopes and aspirations for his team of current runners.
We got into a highly animated and entertaining chat with Beaumont Stud's Anton Sheppard and his lovely wife.  I loved the story of him picking Variety Club as a superstar right from the moment he was born and Anton hinted that he may have another exciting prospect in the current foal crop.
Apologies for only touching on a few folks – I wish I had time and space to give everyone a mention, because despite our differences and the ups and downs of an undeniably tough game, we count among our ranks some of the toughest, bravest and most resourceful and resilient people around.  We far too seldom take the time out just to look around and appreciate ourselves, so I just wanted to take the opportunity to say that there is nothing quite like a day in all your extraordinary company.
Ah yes, horses and people.  That's what makes racing interesting !