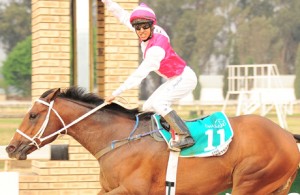 With excitement building to Africa's richest race on the sand, the R600 000 Gr2 Emerald Cup to be run at the Vaal on 22 September, punters and racing enthusiasts may want to diarise to tune into Dstv channel 232 on Wednesday 12 September at 19h30.
The draw ceremony will be broadcast live at that time.
The final field will be announced around 12 noon on Wednesday.
With all of the provinces represented, including recent Recall Flamingo Mile winner Caryl's Law, the race has captured the imagination of the racing public at a national level.
Entries with weights:
LINK MAN (M F De Kock) 60.5
MR TOBIN (S G Tarry) 60.5
PRIME MOVER (L J Erasmus) 58.0
MEADOW MAGIC (M F De Kock) 57.5
JET JAMBOREE (D Zaki) 57.0
BOB 'N WEAVE (B/D Steenkamp_Sham) 56.5
IN A RUSH (J Ramsden) 56.5
CAPTAIN'S SECRET (M W Bass) 56.0
RIGHT BEAUTY (M F De Kock) 56.0
THE MOUSEKETEER (S G Tarry) 56.0
ACROSS THE ICE (S G Tarry) 55.5
FOLLOW THE PIPER (S G Tarry) 55.5
CALANISH (S T Pettigrew) 55.0
EASTERN COBBLER (R R Magner) 55.0
ASTRO NEWS (B O Wiid) 54.0
KISS AGAIN (M W Bass) 54.0
BEACON FLARE (W H Marwing) 53.0
WINTER'S SONG (P A Peter) 53.0
BUY AND SELL (S G Tarry) 52.5
OPENING NIGHT (C Binda) 52.5
APPROACHABLE (G V Woodruff) 51.5
PYLON (M G Azzie) 51.5
CAPE WINTER (K Naidoo) 51.0
ALWAYS AL (S G Tarry) 50.0
CARYL'S LAW (K Naidoo) 50.0
BE ASSURED (K Naidoo) 47.5
WAR HORSE (C Spies) 46.5
NAPOLEON DYNAMITE (K Naidoo) 45.0