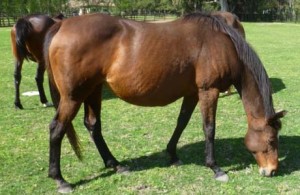 Met winner at home
Former Equus Champion and Met winner, Imperious Sue, is now 20. The daughter of champion sire and broodmare sire extraordinaire Northern Guest has enjoyed plenty of success at stud – despite being mated to some rather poor sires. To date, Imperious Sue has had five winners, two stakes winners and one G1 winner (Woolavington Stakes victress Imperious Star). She also has the distinction of being the only mare to breed a G1 winner to the cover of Navarone!
A very relaxed mare, who is a great mother, Imperious Sue is in foal to champion sire Western Winter. Her G1 winning daughter, Imperious Star, is based with her dam at Nutfield Stud. She was recently covered by last year's champion first season sire, Trippi – which looks a great mating.
SA mares in the USA
Team Valor bought colts out of a pair of top-class South African mares at the recent Keeneland September Yearling Sale.
One is a son of leading sire Medaglia D'Oro (El Prado) out of champion Ipi Tombe (Manshood), whilst the other is a son of the late, great Dynaformer (Roberto) out of Irridescence (Caesour).
Irridescence's promising 3yo son, Exothermic, unfortunately has been out of action due to bucked shins, but he will make his return at the Keeneland racetrack sometime in October. A son of Empire Maker, Exothermic has won both of his starts to date, and was, originally, nominated for the US Triple Crown – which unfortunately he missed.
Another top-class South African bred mare, Secret Heart (Fort Wood), has the distinction of being the first South African mare to breed a Breeders Cup winner (she is the dam of G2 Breeders Cup Turf Juvenile winner Pluck, who stands his first season at stud this year).
The blue blooded Secret Heart, herself placed in the G1 Cape Fillies Guineas and G1 Paddock Stakes, is also the dam of the winning Three Hearts.  The latter, by the very promising Sunday Silence sire Hat Trick, broke her maiden at Maryland over 1700m, at just her third outing, and hopefully she can progress further from here.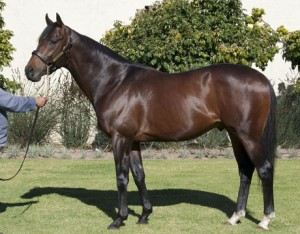 The Dream lives on!
Champion sprinter Oasis Dream is busy establishing himself as one of the world's most successful, and popular, stallions. The sire of this year's Irish 2000 Guineas winner, Power, Oasis Dream has sired 60 stakes winners from his first five crops (2yos not included) and he has produced 31 stakes horses in 2012 alone!  He has also proven an extremely commercial horse – with his yearlings fetching up to 700,000 guineas. Oasis Dream already has a number of sought after sons at stud in the UK – most notably G1 winners Arcano (Prix Morny) and Aqlaam (Prix du Moulin). The latter will be represented by his first yearlings in 2012.
The champion has two sons standing at stud in South Africa this season. Main Aim, now standing at the Southford Stud in the Karoo, began his stud career this season, and has already had mares confirmed in foal. A top-class performer himself, the well bred Main Aim ran second in the G1 July Cup – a race won by Oasis Dream himself.
Another son of Oasis Dream, Querari, began his stud career last season. He already has his first foals on the ground, and they have attracted rave reviews. A G1 winner himself, Querari represents a great blend of blazing speed and classic stamina. Like 2011 Kentucky Derby winner Animal Kingdom, Querari is out of a mare by German champion Acatenango. He is standing at Maine Chance Farms, and has really let down into an attractive stallion.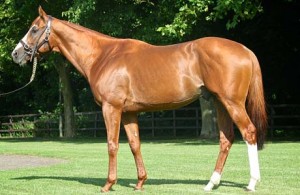 Exciting sire prospect for KZN
Middlefield Stud are proud to announce that outstanding racehorse Byword will be standing at their farm from next season. A service fee will be set next year, but shares are being sold in the horse.
Byword was a top-class racehorse, who achieved a Timeform Rating of 126. He won or placed in ten races, and defeated 18 G1 winners. He scored his biggest win in the G1 Prince of Wales Stakes, a race won in recent times by such superstars as Dubai Millennium, Fantastic Light, Manduro and So You Think.
When Byword won the G1 Prince of Wales he defeated four time G1 winner Twice Over, as well as the likes of G1 winners Presvis (Dubai Duty Free), Shalanaya (Prix de'l Opera) and Debussy (Arlington Million).
After the race Byword's trainer, champion Andre Fabre, said of the colt," I knew he had the ability. He is a very good horse."
Fabre is in a good position to judge, as he has been champion trainer in France 19 years in a row, and trained numerous champions – including Peintre Celebre himself.
Other G1 winners beaten by Byword include Cirrus Des Aigles (Dubai Sheema Classic), Dick Turpin (Prix Jean Prat), Cavalryman (Grand Prix de Paris) and Cutlass Bay (Prix Ganay).
In total, Byword won no fewer than six stakes races during his racing career, and he also ran the triple Breeders Cup winner Goldikova to half a length in the Prix d'Isaphan and ran third to the brilliant Rip Van Winkle in the G1 Juddmonte International.
He earned just under 700,000 pounds during his career – the equivalent of over R9 million!
Byword is by the great champion Peintre Celebre, a brilliant winner of the 1997 Prix de'l Arc de Triomphe. To date, Peintre Celebre has sired over 50 stakes winners, 12 of whom have won G1 races. His progeny include the likes of Pride, Vallee Enchantee, Castledale, Belle Et Celebre, Dai Jin and Pearl of Love.
Like world leading sire More Than Ready, Byword is out of a daughter of champion 2yo Woodman.  He is out of the wonderful broodmare Binche, who is also the dam of multiple G1 winning filly Proviso.
This is a prolific stakes producing family, which has produced numerous G1 winners, as well as the successful South African sire, Peacetime.
Rob Pickering is thrilled by his new acquisition, saying, " He was a magnificent racehorse, beating 18 G1 winners. He is a racy individual, with a lot of quality. We were very lucky to obtain him, and, if not for Twice Over (who also belongs to Juddmonte), Byword would definitely not be coming to Africa."
Byword looks a terrific addition to the South African stallion band, and offers both racing ability and pedigree.
Replays – what, where?
It is extremely annoying not to be able to watch South Africa replays at a user friendly time. There is really little point in showing replays – if there are only shown after midnight! Few people, understandably, want to sit up for hours on end, hoping to catch one race, watching hours of the best of all weather racing from England.
I also fail to see the point of Tellytrack broadcasting the same show (First Call) twice in two hours, which effectively limits the time for replays even more.  It is hard to believe that more people would rather watch the same betting programme twice, on the same morning, rather than catch up on replays which were only available to night owls the previous evening!
Surely the powers that be could at least arrange for  actual replay times to be displayed somewhere on Tellytrack, rather than just saying replays will follow the various magazine programmes/poker tournament or whatever else happens to be filling the screen?