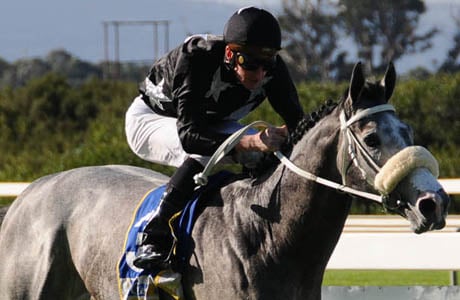 The first rays of the Cape's sizzling summer sun are set to warm racegoer's hearts this weekend with the running of the Gr3 R200 000 Matchem Stakes over 1400m at Durbanville on Sunday. A high quality field of ten go to post in what looks set to be an intriguing contest.
While the Cape Summer Season only officially launches on 10 November, the local racing authority and the new race sponsor will no doubt be thrilled at the manner in which the Cape owners and trainers have come to the party in support of this longstanding feature race.
The main event is 'powered' by Cape-based Kuda Insurance, and by all accounts racegoers may be looking for insurance and cover during the afternoon with a tough ten-race programme in prospect.
Sizzling
The alternative attractions of braaivleis and jumping castles aside, nothing quite draws people to the races like warm sunshine and hot horses – and Sunday looks like it could provide some blue-chip racing.
It is probably not ideal that a race of this nature is run at a track where luck in running all too often plays a more dominant role than it ideally should, but the chief protagonists have on the whole drawn relatively well and every one of the ten riders engaged know every blade of grass at the country course. So let's not dream up excuses in advance for beaten horses and marginal jockeyship.
Champion trainer Joey Ramsden won this race last year with his subsequent Horse Of The Year, Variety Club, and he looks set for a field day, with a powerful three way coupling in the feature, and twelve runners on the afternoon.
Ramsden galloped Variety Club with King Of Pain and In A Rush at this track on Thursday last week, and by all  accounts he was pleased with the performance of both of the latter two. And so he should have been – they are both outstanding racehorses, albeit from very different backgrounds.
There are observers to the training gallop that thought King Of Pain looked somewhat stretched  alongside his two older established galloping companions, but let's face it, he is still a baby and the Cape Champion Juvenile colt of last season has proven to be terrific value for his R80 000 sale price tag.
Sing Along
For those old enough to recognise it, he is quite creatively named after an eighties hit-song by Sting. King Of Pain races for combined SA and Mauritius interests and is a winner of 4 of his 5 races, including the Langerman and Winter Juvenile Stakes at his last two outings.
Hopefully the 1000m blow-out and sharpener last week got rid of the cob-webs and brought him along after a 113 day absence. Realistically, if the handicapper has his sums right, then King Of Pain looks very well weighted from a good draw on 53,5kgs here.  Stable jockey Glen Hatt rides him.
It is now common general knowledge that In A Rush was crowned Champion Juvenile of the Eastern Cape, and is one of the very few to have claimed the scalp of the brilliant Variety Club.
Sunday Violence
Now  a winner of 6 of his 12 races, he would be a huge factor here on any given Sunday with a favourable draw in the hands of the master, Andrew Fortune.
But it has been quite a trying recent period in the gelding's career. Having departed the Gavin Smith yard on the windy shores of Port Elizabeth close on a year ago, In A Rush came to Cape Town in a forgettable assault on the Selangor Cup. Besides being bumped, he cast a shoe and experienced breathing issues before running 17,85 lengths off Variety Club. That was November 2011.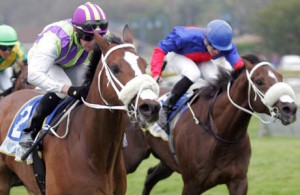 In A Rush disappeared off our radar screens for eight months as his medical issues were addressed and he popped up at Joey Ramsden's Clairwood satellite base.
He returned a vastly different horse and showed some of the ability that made him an exciting youngster, when racing on July Day. He  ran a top-class race in the Thekwini Stakes when beaten just 1,75 lengths by the classy Depardieu. In the Windrush gelding's defence, he was also drawn badly over the Greyville 1200m and was not given a vintage ride by Fayd'Herbe.
He then came out to win an MR100 Handicap over the mile at Scottsville in scintillating fashion before embarking on a road-trip that went pear-shaped.
He travelled from Durban to Vereeniging for Africa's richest sand-race. But the weather gods decided he was destined for the Cape summer season and turf and he was withdrawn after the sand race was delayed six days. There are the Rush supporters and even some purists that will be saying that the hail-storm was a blessing and it is a bonus that we can now enjoy his very competitive presence here.
Happiness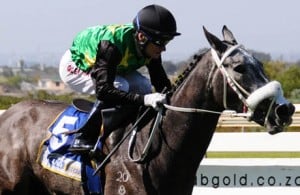 The second of the Ramsden greys is the Australian-bred gelding General Jubilation, who faces his first genuine test of ability. The Jooste owned 4yo has done little wrong, winning 4 of his last 6 starts and has sadly drawn widest of all at 10.
Despite appearing outclassed at first glance, he appears to be a horse that has continued to meet every challenge set him and continues to half surprise his connections. He will be cherry-ripe on Sunday after a good win six weeks back at Kenilworth, and the 1400m presents what is probably his ideal trip. He could upset calculations.
The Dean Kannemeyer Racing machine now kicks into top gear after a mid-year hiatus and the multiple Group-winning training specialist sends two classy colts to post.
The dual Cape Classic and Byerley Turk winner Depardieu won his last start on July Day, when getting up late to win the Thekwini Stakes. He has had a 99 day rest and may just need the outing. He comes in as the highest rated horse in the race, and we all know the story about the best horse winning WFA races.
Depardieu ran a great race in this event last year when running on strongly behind Variety Club for third. He is not well drawn here at 9, but Karl Neisius will no doubt be instructed to give him a kind ride and a chance, and he could be running at them late in the race.
The Kannemeyer second-stringer is the three-time winning 4yo Dynasty colt Taipan, who runs fresh off a smart second on Super Saturday at Greyville in the Listed Darley Arabian.
While placed at Maiden level over 1200m, Taipan has shown a preference for further and he should be found wanting against the pacier sorts. This race strikes one as a likely starting point for his 2013 J&B Met campaign.
Past Winner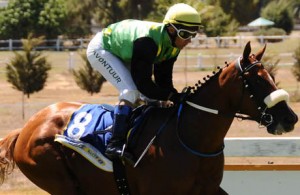 Vaughan Marshall won the Matchem in 2010 with the Kahal gelding Tales Of Bravery, also for the Dos Santos family in 1999 with current-day sire Captain Al.
He sends out a coupling, headed by Cape Nursery winner The West Is Wide.
The Western Winter colt has pulled the pole position draw and ran a cracker when staying on for second 1,25 lengths off the very highly-rated Capetown Noir three weeks ago. That run would have brought him along nicely and he now faces the acid test to determine whether he can carry his juvenile ability into his 3yo season.
While this is a wfa contest, The West Is Wide runs off an MR of 92, but he somehow looks well ahead of the handicapper still. So punters should not be put off by the official assessment.
The Alado gelding Northern Conquest looked a promising 2yo in the making before losing his form after a fair third in the Gr3 Byerley Turk at Scottsville in mid-April. He has not run for three months and besides fitness concerns, he will have to lift his game dramatically to have a say here.
Go Deputy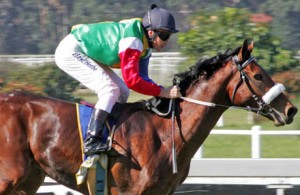 The Snaith attack is headed by the lightly raced 4yo colt  Changingoftheguard.
The son of current talking Lammerskraal sire Go Deputy returned to racing a month ago after running unplaced in the Investec Cape Derby on J&B Met day. A winner of the Listed Racing Association Stakes, the colt has always looked to have plenty of scope and like the Go Deputy progeny are showing, they get better with age.
Changingoftheguard will be ridden by Felix Coetzee from a 4 draw and appears to be the value dark horse in a tough race.
Pop Star
The second of the Snaith challenger's is President Of Pop,a son of 1999 Matchem winner Captain Al and the 4yo gelding comes off a 191 day rest after a game second to subsequent PE Horse Of The Year, Lord Badger, in the East Cape Guineas at Fairview.
Greg Ennion's smart Kahal gelding Shimmer And Shine had a pipe-opener over the Durbanville 1300m two weeks ago, when finishing 4,25 lengths off end-to-end winner Madame Rooney in a Graduation Plate. If Shimmer And Shine were to run to his best ever career effort when a scintillating 2,25 length second to War Horse in the Gr1 Golden Horseshoe over 1400m on July day, he would have an undeniable winning chance.
Class & Fitness
The 2012 Matchem boasts one of the best quality fields in many a season. But fitness is a big concern in cases where runners with bigger fish to fry will be racing
It is a race that has tended to favour the 3yo's and we are siding with Ramsden's smart King Of Pain to hold off the attentions of his older stablemate In A Rush. Depardieu and Changingoftheguard, together with General Jubilation may be best of the rest and would not be winning completely out of turn.
Then Vaughan Marshall knows what it takes to win this race and he has a rails draw with a fit Cape Nursery winner in The West Is Wide. An intriguing race indeed.