In the current local climate of pessimism and doom and gloom, I was interested to read that the United Kingdom and Ireland's most watched dedicated racing channel recently forecast record growth in 2012.
Is it sales talk or genuine optimism and belief in what they do?
At The Races was launched in June 2004 and is a joint venture between BSkyB, Arena Leisure plc, Ascot Racecourse, Northern Racing, Plumpton and Ripon Racecourses.
With the local distraction with petty politics and competition commission side-shows, maybe we can learn something here?
CEO Matthew Imi recently said:  "We seek, across all our key platforms, to offer a first class service at no extra cost to the customer. This strategy works as we've been able to monetise successfully the considerable audiences we deliver as a consequence. However, the exciting thing for ATR is that we are still very much a growth business and once certain initiatives we are planning for are put in place we believe we'll achieve further financial upside not just for our shareholders and racecourse partners but also for our key commercial partners."
At The Races broadcasts 24 hours a day and is currently available to over 13 million multi-channel homes across the UK and Ireland through Sky, Virgin Media and UPC. The channel regularly reaches over 2 million individuals monthly in UK and Ireland households with Irish viewing adding 20% to UK audiences. Attheraces.com attracted an average audience of 1.66 million monthly unique users during the three months from June to August 2012, with users spending on average over 25 minutes on the site each visit.
It serves on average over 3.5 million video streams each month with instant race replays available free of charge(yes, free!)  on attheraces.com. and is distributed into 5,800 commercial premises by Sky.
Outside the UK and Ireland, At The Races distributes its content into over 30 countries by means of GBI Racing, its joint venture operation with Racing UK.
Phumelela Media Executive Ken Rutherford has often hinted at alternative channels and it is significant that ATR sees major growth in racing audiences receiving broadband and mobile services as a growth point.
They anticipate another record year in 2012 with media rights payments to racecourses set to see corresponding growth. This follows on from its recently reported full year results in 2011 which also set new records for the company. Revenues, media rights payments and operating profit are all forecast to see double digit percentage growth in 2012, continuing the momentum the company has already achieved across these areas in recent years.
Imi closed by saying : "Despite a still fragile economic climate At The Races is forecast to have a record year in 2012. We are projecting that two of our key financial indicators – revenues and operating profit – will be up year on year by between 15% and 20%. Media rights payments to racecourses will reflect this growth in our business.
"This has been achieved not through our international joint venture, GBI Racing, which is tracking on budget this year, but largely through our outperformance in the domestic market. Our channel and online audience delivery are at their highest ever levels, our broadband and mobile bet and watch services are now widely distributed and our affiliate based business is delivering returns on an increasing basis."
Fairview Festival
Phumelela are satisfied that the major renovation work for the upgrading of facilities at Fairview Race Course, will be completed prior to the big Festival of Racing in two weeks time.
The first race meeting back there is scheduled for Friday, 26 October.  Contractors have started work on the new polytrack, which is anticipated to be completed by the middle of next year.
The Festival of Racing kicks off at Fairview Race Course on the Friday with an eight race programme, featuring the R125 000 Listed Racing Association Stakes. The RA is offering two maiden bonus races, where RA members will receive an additional R15 000 per race.
A total of 39 nominations have been received so far which includes horses trained by top Cape conditioners, Joey Ramsden, Justin Snaith and Mike Bass.  Punters will recall that this race has produced many top winners over the years including Paris Perfect, Bold Silvano, Big City Life with Lizards Desire, having run a short head second. It seems like a good departure point for a shot at Dubai!
A buffet luncheon will be available in the HB Christian Room at a cost of R160 per person.
After the last race, Gino Fabbri, well known Port Elizabeth personality, comedian and performer, will in association with Donna Africa, entertain guests at a cocktail party.
The East Cape Horse Care Unit, who is the charity benefiting from the race day, will be auctioning a number of racing and other memorabilia as well as items from the SA Gold Coin Exchange. The runners in the Algoa Cup, run on Sunday, will also be auctioned for charity.
Saturday afternoon is earmarked for a fun golf afternoon at Kragga Kamma Golf Course where all Racing Association members and guests are invited to hit a few balls for fun. A prize giving will be held afterwards. Booking is essential.
On Sunday, 28 October, a nine race programme is scheduled including the feature race of the day, the R350 000 Gr3 Betting World Algoa Cup run over 2000m. A total of 43 nominations has been received so far, including a strong representation from out of town raiders.
This is the biggest race day of the year at Fairview and the Racing Association is once again offering three bonus maiden races on the day.
A luncheon will be served in the HB Christian Room at a cost of R250 per person, while the Hear the Drums Room will offer light meals with full bar and tote facilities to the public. A beer tent with live music will be in operation, selling selected beers at R5. A number of food stalls will be offering various light meals for sale. A children's entertainment area will also be operating, offering pony rides and lots of other entertainment.
Bookings for Friday lunches, Saturday golf and Sunday lunches can be done by contacting Karin Le Roux on Telephone 041-372 1859, mobile 079 8855 260 or via e-mail on karinl@phumelela.com.
Jockey TV
Something South African horseracing may want to consider is an offering on the lines of the UK's new online television show (www.jockeytv.net). Described as a behind the scenes look at the life of a jockey, the show is bound to be followed with interest. With our colourful characters and the public's fascination, it would be a big hit here I am quite sure.
Presented by Sky freelancer Hanna Kirkpatrick the first edition is up and running.
Jockey tv – will travel around the UK visiting, racecourses, yards, Polo matches, Eventing meets and all equine sporting events.
They say that they will seek to capture the essence of what being involved in equine sport is all about. Not just race-riding for jockeys, or riding for eventers, but also finding out what make these 'intrepid folk tick.'
The show will also attempt to learn about their other passions and talents outside of their chosen sport. They will also offer a weekly filmed I-Player Online tv portal, with contributions from the likes of top Australian jockey, Clare Lindop, and the many talented UK based jockeys.
There'll also be fashion elements, artistic contributions from Newmarket equine artist, Jaquie Jones and apparently much more.
Turner Round!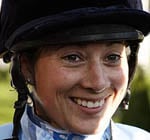 Champion 28yo UK based female jockey Hayley Turner, was interviewed recently on the www.telegraph.co.uk on her 'perfect weekend.' It is interesting to hear a jockey giving such frank straightforward answers. A sweetener….
In short…….
Herbal tea or stiff drink? A glass of wine
Your favourite item of clothing? I don't treasure any of my riding clothes as they're always covered in mud and sweat, but I have a faithful dress that I always come back to
Who is your inspiration? Ryan Moore is my favourite jockey. He never gets it wrong
Best piece of advice? Learn from your mistakes and be self-critical
Your weakness? People say I'm obsessed by my iPhone and I have really bad taste in men
What irritates you most? Comments about my weight
Your perfect weekend away? Recently I got suspended (my first whip offence since new rules were introduced) and went to St Tropez, which was incredible
Your last supper? A can of Red Bull and a bag of sweets