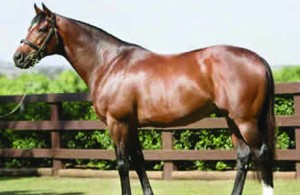 The recent Tattersalls October Yearling Sale was yet another triumph for Galileo, currently the world's number one sire. A yearling colt by the great sire fetched 2.5 million guineas, the third highest price for a yearling ever sold in Europe, and Galileo sired seven of the top ten yearlings.  He was sire of both the sales' top priced colt and filly (a sister to Oaks winner Was who fetched 1.5 million guineas).
One of the buyers at the Tattersalls Sale, described the horse as "better than his own sire (Sadler's Wells)." This is a tremendous compliment to Galileo, but is it true? Sadler's Wells headed the UK general sires list 14 times, and has been a great sire of sires, and broodmare sire. Sadler's Wells twice produced the 1-2-3-4 finish in Group One races – something barely heard of.  He also sired the first three home in the 2001 Epsom Oaks, a feat only achieved by the greatest of stallions.
Galileo is without question a great stallion, and is showing promise as a tremendous sire of sires. However, it is early days yet to concede that he is a better stallion than his sire, Sadler's Wells.
Statistically, Galileo ranks behind his sire at this stage of his stud career. At the time of writing, Galileo is producing 9% stakes winners to foals – while his sire's percentage at the end of his career stood at just over 13%. Sadler's Wells had an AEI of 3.06, while his son's Average Earnings Index is currently 2.67.
Galileo has sired 8 crops (of racing age) which have produced a total of 30 G1 winners to date. Of his 30 G1 winners,  17 are colts, with his 13 G1 winning fillies including this year's Investec Oaks winner Was, and South African champions Igugu and Mahbooba.
All in all, Galileo's first 8 crops have produced a total of 121 stakes winners.
At the same stage in his career, Sadler's Wells' first eight crops have produced 26 winners at the highest level, which puts him just behind his dual Derby winning son. Like his greatest sire son, Sadler's Wells has been a prolific sire of top-class colts and fillies alike.
It is still early days for Galileo as a sire of sires, and broodmare sire. Nonetheless, he has made a bright start to both aspects of his stud career.
His first four sons to retire to stud have all sired group winners from their first crops to race, and Galileo's champion son, New Approach, produced a record breaking, three stakes winners at Royal Ascot this year – from his first crop of 2yos. This is made all the more impressive when taking into account the fact that the majority of Galileo's very best sons, ie Frankel, Rip Van Winkle, Cape Blanco, are yet to have yearlings.
During his stellar stud career, Sadler's Wells amassed 38 official sires championships (including AEI stats) in the UK and France. To date, Galileo has won seven titles, and is heading for his third consecutive British/Irish sires championship.
In total, Sadler's Wells left behind a staggering 80 G1 winners. He has sired champion sires Fort Wood, El Prado, Galileo and Montjeu and his grandsons are founding dynasties of their own. Another son, Poliglote, is the sire of the 2012 Arc de Triomphe winner, Solemia.
To date, his daughters have produced over 300 stakes winners. At this point, Galileo's oldest daughters are just nine years old, but they have already produced the likes of La Collina (G1 Phoenix Stakes), Letir Mor (G3 Round Tower S), and Saamidd (G2 Champagne Stakes). This is an immensely promising beginning, and Galileo shows every sign of becoming one of the world's great broodmare sires.
Galileo's son, Frankel, is a better racehorse than anything Sadler's Wells sired – but he is a better horse than almost any other stallion has produced either.
Commercially speaking, both Sadler's Wells and Galileo have dominated their respective sales rings. Sadler's Wells sold a colt for 3.4 million guineas in 2000, and his G1 winning daughter, Playful Act, sold as a broodmare for $10.5 million back in 2007 (which was a new world record for a broodmare).
Galileo has dominated the last two Tattersalls October Yearling Sales (book one) – widely acknowledged as one of the world's elite yearling sales. In 2012, ten yearlings by the great sire made 500,000 guineas plus.
A year, Galileo accounted for four of the top six lots at the same sale. In 2011, a Galileo filly fetched 1.7 million euros at the Arqana Sale, and a Galileo colt topped the 2012 Goffs Orby Sale, when fetching 800,000 euros.
Clearly Galileo is a truly great stallion, and while he is yet to accomplish what Sadler's Wells did during his phenomenal, and dominant, stud career, Galileo could well end up at least the equal to, if not the superior of, his legendary sire.
However, he is not there yet, and people should not forget what a tremendous legacy that Sadler's Wells left behind at stud.
On a separate note, it is interesting to note the great success that Galileo is enjoying with Roberto line mares. Not only is his champion Igugu out of an Intikhab (Red Ransom) mare, Galileo's G1 winning siblings, Great Heavens and Nathaniel, are out of a Silver Hawk mare.
The G3 winning juvenile, Magical Dream, like Igugu, is out of an Intikhab mare.