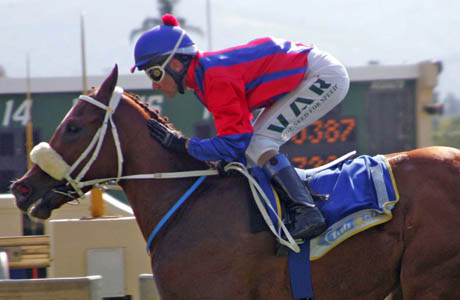 Trainer Justin Snaith sets out to maintain his vice-like grip on the silverware of the R150 000 Gr3 Diana Stakes run over 1400m at Durbanville on Saturday. Snaith has trained the past three winners of this early season WFA feature and sends out a three-way coupling headed by the Team Valor International-owned Comtesse Dubois.
The yard is bang in form and the young horseman turned up the heat at Durbanville last Sunday, winning the Gr3 Matchem Stakes as well as three minor races. That after nonchalantly arriving at the country course prior to the first race as fresh as the proverbial daisy after completing the 21km Gun Run a matter of a few hours earlier. Such is the envious exuberance and endless energy of youth!
While Snaith's colleague Vaughan Marshall would avoid a clash with his counterpart in matters of half-marathons on the unforgiving Cape tarred roads, he will doubtless be very happy to take him on at Durbanville on the turf.
Top-Class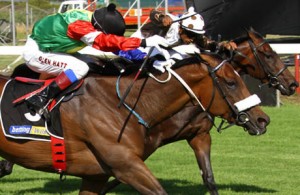 Marshall sends out the top-class Valdivia, who looks the lady most likely to spoil another potentially beautiful day at Durbanville for the Snaith team. Their three –way coupling is a powerful one though, and a minimum requirement for any self-respecting aspirant for a Pick 6 payout.
Comtesse Dubois, Ocean's Swift and the 3yo Earth's Orbit form the attack and while the former is preferred, the last mentioned are both daughters of Captain Al – a stallion that returns to the battlefield of one of his remarkable victories.
It was in 2010 that he became the first sire to produce the top four finishers in a Group race in South Africa. Four Captain Al's filled the top four berths in the 2010 Diana Stakes, with Townsend beating Play Nice, Possible Dream and Tick Tock. In terms of pure numbers, that cannot happen again this year, as Captain Al and Western Winter are the only two producers with just two progeny each in the race.
The milestone man Felix Coetzee rides the classy Comtesse Dubois from the best draw. The daughter of Count Dubois has won 4 of her 12 career starts and these silks were worn by last year's victress, the smashing Ebony Flyer. Comtesse Dubois has never won, or even run for that matter, over further than 1200m, but knows this track having registered 50% of her wins here.
She won the Listed Lasserfaire Stakes in great style in January and was rested after a super effort when fifth and only 3 lengths behind her stablemate Ebony Flyer in the Gr1 SA Fillies Sprint. She ran a below par race in the Champagne Stakes two months ago when tiring into fourth place, but was obviously in need of the run.
Comtesse Dubois is out of the former Bernard Kantor-owned Rakeen mare Katherine, who won up to 1600m, so this trip should be well within her scope.
Her dual ability to settle as well as pace it up front, gives her rider plenty of options too and considering her rails draw, we just hope that the Durbanville track management go easier on the angle of that bend, that had the jockeys doing military style left-turns on Sunday.
Gaining Ground
Ocean's Swift is a lovely Captain Al filly who has won 4 of 15, and showed her well-being when staying on strongly at Durbanville over 1300m at her last start for a narrowly beaten second place.
She could have the measure of her stablemate Earth's Orbit, who got 8,5kgs from her there and only beat her 0,75 lengths. There is 2kgs less in it on Saturday, and Ocean's Swift may enjoy the extra 100m. She did record her most impressive win ever over 1600m at Fairview when winning the Breeders Guineas by 7,25 lengths.
Ocean's Swift has never been pushed beyond the sprints too often, and the 1400m may be her game now that she is older and stronger.
Earth's Orbit is the other Captain Al filly in the race. She has won 2 of 5, and won her last start under a paperweight. There was nothing wrong with that effort on paper, but this should prove a trifle tougher – although dare we dismiss a Captain Al?
Var
This race has eluded Vaughan Marshall this century, but the Milnerton trainer must fancy his chances of getting on to the roll of honour with the very smart Var filly, Valdivia.
Valdivia is the highest rated of the four 3yo's and looks a major contender for Sizzling Summer Season honours. A winner of her first three starts by a combined 16 lengths, she ran an absolute cracker in the Gr1 Alan Robertson finishing two lengths off her highly vaunted champion stablemate All Is Secret, after being switched for a run late in the race.
Valdivia returned to action on 24 September, and obviously needed the run when running a 5 lengths fourth to Earth's Orbit – to whom she was conceding 8kgs. They meet at level weights here. Enough said!
Valdivia was also slow away in that return run and she was bumped and cramped for galloping room in running. We know that happens all too often at Durbanville, but she will strip a far fitter horse here and looks a likely winner in our book if running to her best baby form.
Fair enough, it is a minor worry that Valdivia's jockey-trainer combination ended Sunday's Durbanville meeting on an awful confidence shaking note when the filly River Tigris clipped heels and fell heavily in the ninth race. Byleveld took a nasty fall, but was back on his feet shortly after. The same cannot be said for River Tigris sadly. And earlier in the afternoon, their Matchem hopeful The West Is Wide hurt himself after putting a leg over the stalls and was withdrawn.
GK Elite
Glen Kotzen is another man who has a good record in this race, having trained Forest Ivory to win in 2000 and again in 2001, while his top racemare Badger's Gift won it in 2004.
Kotzen sends out a capable 4yo coupling of Blouberg Beach and Beloved Betty.
Beloved Betty has been tipped in these pages more often than we care to remember, and paid her way without actually winning during the KZN Champions Season. She recorded good places in the Umzimkhulu, the Fillies Guineas, the Woolavington and the Oaks, and her general formline, even while only a two-time winner, indicates there may be plenty to come yet.
She has not run since Super Saturday, but staying type fillies can often up their game when running fresh. She is partnered by Grant Van Niekerk from a favourable draw.
The Dynasty filly Blouberg Beach had a rather low-key KZN campaign, avoiding the big features. She had five starts, of which she won the KZN 1200 and went second twice and also ran fourth. We probably have yet to see the best of Blouberg Beach and while she is yet another who may need the run after a 118 day rest, she could fight for quartet money.
Poker Face
Joey Ramsden played a rare second fiddle to Snaith last weekend and had the disappointment of seeing his smart 3yo King Of Pain getting narrowly beaten in the Matchem. The man who won this in 2002 with the diminutive Slinky Malinky and the high-class Starlit (2005), sends out the lightly-raced Trip Poker for Gaynor Rupert.
Trip Poker has only her fourth career start since being rested after an excellent effort in the Irridescence Stakes over 1500m when finishing a 2,25 length third to the brilliant Hammie's Hooker. Trip Poker shed her maiden in good fashion over 1400m at prohibitive odds and obviously handles the trip.
A few points concern us though. Firstly she was scratched coughing from her 6th October engagement where she would have seen the track and trip, and Joey may have eased off her since. Her fitness after a 139 day rest is thus in question. We saw how dearly inexperience can cost top horses too, after her brilliant stablemate King Of Pain went down the unluckiest of losers in last weekend's feature.
Weather Report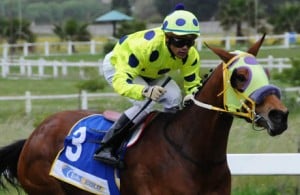 Brett Crawford's Paddock Stakes winner Thunder Dance returns to action after a 140 day rest after the Champions Season.
The daughter of Jet Master had a rather disappointing KZN winter campaign with soundness issues plaguing her and two blank efforts all she had to show for her efforts. While the obviously capable and classy filly in the race, Thunder Dance jumps from a 15 draw and may need a run or two before pacing it with her fitter rivals.
Mike Bass' Champagne Stakes winner Northern Heritage will be out to emulate the feat of her former stable companion Sun Classique who won this race in 2006. That said she has a long way to go to be even mentioned in the same company as that brilliant racer!
Northern Heritage is a lightly raced 4 time winner who has all of Comtesse Dubois, Ocean's Swift and Jean's Pride cold on their Champagne Stakes clash. Against Northern Heritage is the fact that she may be better over the sprints and flopped at her only bash at this trip. Madame Rooney beat her by 7,10 lengths there when receiving 4kgs, and they meet on level weights here. That brings them closer, but we know that Carl Burger's filly stays the trip.
Trainer Carl Burger has in fact injected a new found sense of confidence into Morne Winnaar's race riding and the pair team up with the Windrush 4yo, Madame Rooney.
This strong front-running sort has the gate speed to overcome the liability of her 14 draw and won a strong Graduation Plate against males  over the Durbanville 1300m at her last outing. She gave the highly considered Silvano's Jet 2kgs and a length beating, with the more than able Lord Fort Wood running third. The latter ran a good race for second on Sunday at Durbanville.
Madame Rooney is Gr1 placed and is capable of giving this lot a fright with a bold display from the front.
All Stations
The veteran conditioner Alan Higgins trained the shock 2007 Diana Stakes winner Joshlin and he is represented here by the Right Approach 3yo, Victory Express.
A winner of her last two starts-both down the Kenilworth 1200m – this little girl has done little wrong in her five career starts to date. She is the lowest rated runner in the race, and thus may struggle – but could be better than that. She steps up in ground for the first time beyond the sprints.
Top KwaZulu-Natal based rider Sean Cormack travels down to the Cape to partner former Zimbabwe star filly Control Freak, who has had her colours lowered since continuing her career south of the Limpopo. She started out in brilliant fashion winning her first 8 races on the trot, mostly with contemptuous ease.
It has not been easy for her in this country, although she did register a fair third in the Camelia, a half length behind the top-class Welwitschia. That means that she has not run since Champions Day, and her fitness must be suspect. Coupled with a nasty 12 draw, she looks a place prospect at best.
The gallant 4yo daughter of Western Winter Jean's Pride ran a smart second behind the very promising La Patineuse over this course and distance last Saturday. Mike Stewart's filly will pitch up fit and while appearing slightly outclassed at this level, may be worth a quartet kicker role for the ambitious braver punters.
Piet Steyn's Victress Stakes winner Super Elegant obviously has soundness issues and despite a 2 draw looks very unlikely here. She has patently lost her best form of last summer.
Decision Time
The Diana Stakes is a weight-for-age contest, which in theory, as we well know, favours the better horses. But the unforgiving nature of the Durbanville track, that awful tight hair-pin bend included, together with extreme luck from the barrier draw, makes it something of a lottery – as we saw in the Matchem.
Throw in the unknown ingredient of match fitness in certain cases, and the brew just gets spicier.
History speaks for itself and shows that Justin Snaith has the knack of producing the Diana winners. Coupled that with the shrewd backroom guidance of owner Barry Irwin, and we  keep coming back to Comtesse Dubois. But if Vaughan Marshall's Valdivia is half as good as they said she was and she showed as a juvenile last season, then that Snaith simplicity theory goes out of the window.
It is thus a close call. Valdivia could just edge out Comtesse Dubois, with the likes of Madame Rooney and Trip Poker fighting over the minor spoils.
But this is a brand new day, and an upset result cannot be ruled out.