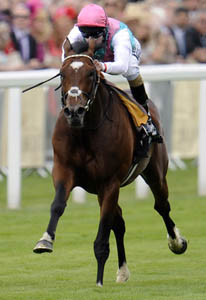 Saturday's G1 Qipco Champion Stakes was the last race for unbeaten champion Frankel (Galileo – Kind). He retires to Juddmonte Farms for 2013, where he will no doubt cover some of the best and best bred mares in the world. Frankel has been estimated to be worth in the vicinity of 120 million pounds.
Frankel, the winner of all 14 of his starts, joins just a handful of great champions to retire unbeaten. He joins the likes of:
Ribot: 16 wins from 16 starts
Ormonde: 16 wins from 16 starts
Nearco: 14 wins from 14 starts
Personal Ensign: 13 wins from 13 starts
Colin: 15 wins from 15 starts
Kincsem: 54 wins from 54 starts
Bahram: 9 wins from 9 starts
St Simon: 10 wins from 10 starts
Eclipse: 18 wins from 18 starts
Pharis: 3 wins from 3 starts
Lammtarra: 4 wins from 4 starts
Zarkava: 7 wins from 7 starts
There have also been a number of unbeaten 2yos to retire, without contesting a race a three, such as Raise A Native, Fasliyev and Fuji Kiseki.
So how have the other unbeaten champions fared at stud? Raise A Native, who won all four of his starts before breaking down, is one of the most influential sires in the stud book today. His son, Mr Prospector, foundered one of the most dominant male lines in the world, while other leading sires of Raise A Native include Alydar, Majestic Prince and Exclusive Native.
Eclipse and St Simon dominated the sires list of their day – St Simon was champion sire no fewer than nine times, while Eclipse sired 3 Epsom Derby winners.
Ribot – champion sire 3 times in the UK, founder of a dynasty
Nearco – multiple champion sire, founder of the strongest male line active in the world
Personal Ensign – broodmare of the year in 1996, dam of 3 G1 winners
Colin -  sired 11 stakes winners from 83 foals, male line of champion US sire Broad Brush
Kincsem- produced 3 classic winners in Hungary and Germany
Bahram – sire of champion sire Big Game
Lammtarra – failed at stud, retired
Pharis – champion sire in France
Ormonde – sire of leading sire Orme
The challenge of maintaining an unbeaten record is underlined by the number of great champions to lose once. This list includes Native Dancer, Man O' War, Sea Bird, Brigadier Gerard and Isinglass – and Frankel's unbeaten status is a tremendous tribute to his trainer, Sir Henry Cecil.
While it is hard to see Frankel fail at stud, with his looks, pedigree and phenomenal race record, he does have a few obstacles to overcome at stud.
It is hard, if not impossible to see how a horse, who received an all time high rating from Timeform earlier in the year, can sire a horse with ability equal to, much less superior to, his own.  As the son of a great sire (Galileo), himself by one of the all time great sires (Sadler's Wells), Frankel has plenty of expectation to live up to at stud. There have been numerous champions, who disappointed at stud, but it is hard to see Frankel joining that club. Galileo is a great sire, whose sons are proving both popular and successful. His champion son, Cape Blanco, was the most popular sire in North America during the past year, when he covered 220 mares.
Frankel's star studded, three year career enjoyed many highlights. Here were, arguably, the top five moments of his remarkable career.
1. The 2000 Guineas of 2011
Frankel blitzed his rivals, leading all the way to win the 2000 Guineas by the second largest margin in history (he won by six lengths). The form of the Guineas stood up fairly well, with four of the beaten runners going on to win pattern races. Amongst the beaten were subsequent Irish 2000 Guineas winner Roderic O'Connor – like Frankel, a son of Galileo out of a Danehill mare.
2. The Queen Anne Stakes
The colt put up arguably the greatest performance ever seen at Royal Ascot, when destroying a world class field by 11 lengths. His class was underlined when the well beaten runner up, Excelebration, subsequently won two G1 races.
3. The Juddmonte International
Frankel made his first start over more than one mile in a race sponsored by his owner-breeder. The extra distance proved no problem to the champion, who destroyed his opposition to win by seventh lengths. Back in third place was dual Coronation Cup winner St Nicholas Abbey, while the fourth home, Twice Over, had himself won no fewer than four G1 races.
4. The 2010 Royal Lodge Stakes
He stamped himself as something truly special with his ten length romp in this Ascot showpiece race. Winning by ten, Frankel left the likes of Klammer (Horris Hill Stakes) and Treasure Beach (Irish Derby) struggling in his wake. It is remarkable to think that Frankel beat an Epsom Derby runner up and Irish Derby winner by nearly 11 lengths.
5. The 2011 Sussex Stakes
Frankel was expected to face a severe test in last year's Sussex Stakes, having to take on the outstanding miler Canford Cliffs (a horse with a Timeform Rating of 133). However, the race proved another feather in the cap of the champion, who won by five lengths. His winning margin in the 2011 Sussex was equalled previously only by Brigadier Gerard and Kris.
The form of those tossed aside so arrogantly by Frankel is also incredibly strong. In an ordinary year, Excelebration would be hailed as a world champion miler. Frankel defeated the best horses of his generation, and beat them with contempt, doing so in the style achieved only by the very greatest of horses.
Timeform of 2011 says it best, when it sums up Frankel in the following words:" a phenomenon. The exemplary Frankel…"