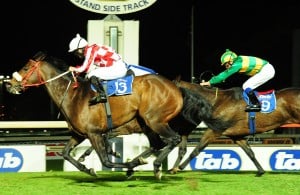 Night time is the fright time. That may have been the call after punters were sent reeling by the 35-1 outsider Enchanted Kingdom who scored a stunning victory in the R165 000 Gr3 Yellowwood Handicap run at Turffontein on Tuesday.
Paul Peter's Kahal mare came back to her best under Chase Maujean who rode a confident finish to get to the free-striding Without Malice.
The second meeting of the hugely popular Highveld night racing season was going according to plan until the upper-cut that sent exotic punters sprawling. Just goes to show that the general expert consensus in the build-up. that the exotic bets would deliver small payouts, can be very wrong at times.
And despite the spills, the Yellowwood Handicap produced the thrills and proved to be a race of firsts.
It was a first stakes win for the 5yo mare Enchanted Kingdom and thus some valued black-type and was also a first Group winner for the hardworking Chase Maujean – whose career has taken off since departing KwaZulu-Natal for the more dynamic environment of Gauteng and the Vaal.
Mike De Kock's Berry Blaze and the very consistent Errico Verdonese-trained Flight Zone vied for favouritism but neither was to show in a race that turned the formbook and reputations on their heads.
It was in fact an uncharacteristically below-par evening for De Kock, who also sent out the well-fancied and promising Tayba in a Fillies and Mares Pinnacle Stakes earlier. A change of tactics which saw the very fast daughter of Western Winter being dropped out, proved disastrous for punters who bankered her in the exotics and she could only manage a weak fourth.
The race changed complexion dramatically late, but the initial stages were quite predictable and static.
Not unexpectedly, Fanie Chambers overcame his wide draw to take up the lead on George Scott's Without Malice, who led Magic Smoke and Atlantic Oak all the way around. At this point Berry Blaze, Go Indigo and the outsider Varlet were way out of their ground.
Turning into the home straight Without Malice continued to lead from Magic Smoke with Up Front improving nicely. Chambers knew it was then or never as he stepped on the gas at the 300m marker and shot her clear, with Up Front plugging away on the rail and Maujean gathering Enchanted Kingdom for her effort down the middle.
In a rousing finish, it was only in the final 30m that Enchanted Kingdom caught the gallant Without Malice, with JP Van Der Merwe riding hard to keep Up Front at it for third. The longshot Varlet, who delivered R10-60 the tote place,  had made up many lengths from the rear and stayed on well for fourth cheque to boost a quartet dividend that was mostly carried over.
Enchanted Kingdom won by a head in time of 110,14 secs. Beyond her jockey and connections, anybody who said they fancied her, may well be telling stories! She paid R56 a tote win and R7-50 the place.
The Stipes Report indicates that trainer Paul Peter was questioned regarding Enchanted Kingdom's improved performance.  It says that he explained to the Board that this mare was better suited to the longer distance of this race.
It says nothing about the tongue-tie, the medical issues or the vastly improved work alluded to by the trainer and the jockey in the post-race interview. Which is rather puzzling  and may warrant further investigation.
Without Malice ran a cracker to be narrowly beaten, and there are few more game horses around than her. This was her 28th outing and she could yet add to her 7 win tally, before the paddocks beckon.
The disappointment list was long, and in order of finishing they are:
The Fillies Guineas winner Go Indigo finished 8.50 lengths behind in eighth position. In her defence, she was poorly drawn, but she needs to up her game if she is to contest the feature events in the months ahead. In her defence, she was reported coughing
The consistent Jet Master mare Flight Zone finished 11 lengths behind in ninth position. Her form as she came through the divisions had been impeccably consistent. But she failed at her first tilt at the big time. She may be worth another chance.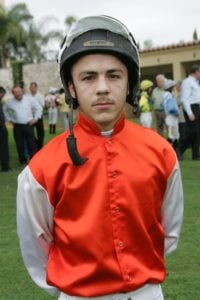 The very well-bred Mike De Kock mare Berry Blaze finished 16 lengths behind in ninth position. It may just be fact that she is not as good as everybody seems to think she is. Very disappointing indeed.
Tyrone Zackey's Katy's Lane finished 22 lengths behind in fourteenth place. She appeared up with the best of her 3yo year but, like Go Indigo, appears to have trained off.
The Gerald Rosenberg winner Hawker Hunter finished 28 lengths off and stone last, but was reported not striding out.
Enchanted Kingdom was bred at Bellwood Stud by Kahal out of the once- winning Dancing Champ mare Aerial Dancer. She cost R95 000 at the National Two Year Old Sale and has earned  R309 900 in the course of her 5 wins and 5 places from just 19 starts.
Enchanted Kingdom started her career in flashing style winning her first two outings and then going second in a handicap. She then stepped straight into Gr3 company in the 2011 Flamboyant Stakes and did not disgrace herself with a sixth place behind the winner Precedent.
Trainer Paul Peter explained afterwards that Enchanted Kingdom had been rated a Group winning filly early on, and but for her fetlock chips and related issues, would have been there already. He was highly complimentary of his veterinary team.
If her medical problems have been resolved, she may yet pay to follow this season.
Result:
Yellowwood Hcp (SAf-G3) (10/23)
Turffontein, South Africa, October 23, R165.000, 1800m, turf, good, 1.50.14 (CR 1.48.92).
 ENCHANTED KINGDOM (SAF), 52.0, b m 5, Kahal (GB) – Aerial Dancer (SAF) by Dancing Champ (USA). Owner GT & J Peter; breeder Bellwood Stud; trainer PA Peter; jockey C Maujean (R103.125)
Without Malice (SAF), 60.5, b m 5, Jet Master (SAF) – Al Nibari (SAF) by Al Mufti (USA)
Up Front (SAF), 53.5, b f 4, Count Dubois (GB) – Whispering Academy (AUS) by Royal Academy (USA)
Margins: lng nk, ¾, 2¾
Also ran: Varlet (SAF) 52.5, Himalayan Hill (SAF) 54.0, Cyclone Michelle (SAF) 52.0, Alessandria (SAF) 52.0, Go Indigo (SAF) 58.0, Flight Zone (SAF) 52.0, Markofdistinction (SAF) 52.0, Berry Blaze (IRE) 60.0, Final Score (SAF) 52.0, Atlantic Oak (GB) 59.0, Katy's Lane (SAF) 58.0, Magic Smoke (SAF) 53.5, Hawker Hunter (SAF) 60.5