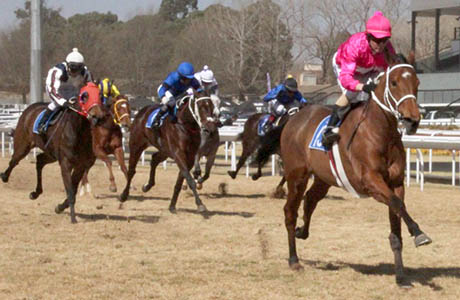 "The main reason anybody buys a horse … is to race it." – Barry Irwin
There are no two ways about it – Mick Goss, the face and the force behind the mighty Summerhill Stud – has the gift of the gab.  It is a rare and wonderful talent and one that all who've had the privilege of his company cannot fail to admire and appreciate.  To top it all, Mick writes beautifully and passionately and as the master of Summerhill, there is a lot to write about.  But occasionally, there is also a time for silence and to let your handiwork do the talking for you.
 Ready to Run Gallops
I was fortunate enough to find myself at Summerhill late last year, when the Ready to Run draft were prepping for their gallops.  It had been a rather last minute trip and we arrived at Summerhill after dark.  This is one of my favourite things as you truly get that 'brave new world' feeling when you wake up and look out of your window in the morning light.  Of course, guests are afforded the luxury of a leisurely start to the day while hidden hands slave industriously to ensure everything is perfect.  And so it was that by the time we headed to the track, the horses had already assembled and were graciously ready and waiting.  I remember details sketched – a special colt here, or a favourite filly there and Mick said there had been a full moon, which he took to be an auspicious sign.  Then they were off, trotting away over the rise.  Our small party fell silent, content to watch appreciatively as each candidate came breezing past – the only sound the galloping hooves and the occasional cry as a lone fish eagle declared his picks.  The last horse breezed past and we were all momentarily lost in thought, mentally sifting, comparing and processing what we'd seen.
 Popular Concept
To borrow a few words from the master, the Ready To Run gallops are designed to help you "judge your fancy by its gallop, and since this game is about running, not walking, that has to give you a meaningful leg up."  With current economic conditions dictating that anxious buyers are keener than ever to see a return on their investment, the Ready To Run concept has found broad appeal.  In the run-up to the sale, the telephone cables into and out of Summerhill have been humming as the hit rate on their website reached fever pitch.  It will, as always, be a boutique sale.  This year's catalogue boasts impressive international bloodlines as well as individuals from debut crops of Admire Main and AP Arrow.  As Mick says "the veracity lies in the spread in prices" which has ensured that there really is a horse for everyone.  And of course to seal the deal, champions have readily emerged from all corners of the catalogue.
I caught up with Tarryn Liebenberg, a long-standing Summerhill stalwart, who has been producing Ready To Run candidates since 2001.  She thoroughly enjoys the sale and says that once the horses have been broken in "they pretty much do the rest themselves!".  Despite playing down her responsibilities, Tarryn says their horses are not super prepared in the manner of some of the big international Ready To Runs and she thinks our market appreciates that.  The horses are still turned out in groups during the day to play and build bone density and muscle mass the way nature intended and they aren't brought into the stables for the finishing touches until right before the sales.  Things have obviously evolved over the years and they aim to improve year on year, although she admits it's getting pretty difficult these days!  The grooms also enjoy the hands on aspect with individual opinions and expertise sought after by canny trainers and prospective buyers.  Mick repeatedly states the value of investing in his staff and nowhere does it pay off more handsomely than here.  What Summerhill puts into its staff, the staff put into their horses.  They are proud of what they produce and when they pass those lead reins over after the hammer falls, they do so with warm hands.
 Sale Convert
A convert to the Ready To Run concept is Vaal trainer, Louis Goosen.  He made his first foray to the Ready To Run sale in 2009.  Louis has firm ideas on what he likes and equally firm ideas on what he's prepared to pay for it.  Of that draft he says he noted lot no 114 (the little filly with the big heart and even bigger stride, who was eventually knocked down to Mr Andre MacDonald), but that year only 1 horse satisfied all his criteria – lot no 9, Waywest Goddess, who went under the hammer for R65k.  She would go on to become Champion 2YO filly of her year and collect a string of high profile wins before retiring to stud.
Louis returned in 2010 for Tony's Tipple (also a winner) and in 2011 he firmly pinned his colours to the mast by taking home 5 lots.  Of the five, four have already earned win cheques, with the last of Louis' picks due to debut shortly.
 Special interest
But there is a particular horse I am interested in – a daughter of Stronghold out of Haifaa.  She was lot no 65, knocked down for an un-Goosen-like R330k.  Louis says he'd received a call from long-standing client Steve Reid the day before the sale asking whether he'd found anything 'special'.  "Yes", said Louis, "A half-sister to Extra Zero, by Stronghold, but it won't come cheap".  "What do you reckon?" asked Steve.  "Around R300k".  A brief silence and then "Count me in for half".
Louis said having that assurance gave him the confidence.  The bidding went up to R300k.  Louis nodded and took the bidding to R310.  Another hand went up and made it R320.  Crunch time.  Louis was about to bow out, but sitting nearby Michael Azzie saw the anguish on his face and said "That's your filly, Louis.  Don't lose her for R10k".  He put up his hand again and the filly was knocked down to Louis Goosen for R330k.
Operators have found out to their cost that Mr Reid can be vocal about his opinions.  While it gets him into hot water when he chooses to be critical, the flip side of the coin means that he is equally vocal when he is enthused.  After nearly being lost to racing, Negev has renewed Steve's love affair with the game and it has given me a great deal of personal satisfaction to watch his enthusiasm return.
Steve is keen to say that he is also a fan of the Ready To Run.  A 2003 purchase called Nondweni brought home the 2004 East Cape Nursery and ran a cracking second in the WC Fillies Nursery that same year, so he says "It's been a good sale for me too."
 People and horses
And here I get to add another lovely anecdote.  One of the partners Louis put together in Negev is another long-standing stable supporter, Claude Comaroff (partner in Waywest Goddess, Variometer, Rooi Nooi).  Steve describes Claude as "the most positive man I've ever met" and credits him as being "the single biggest reason for enjoying my racing again. He made me look past the ineptitude and the petty politics and focus on the horse again."
I ask whether that is the reason Negev runs in Mr Comaroff's colours and just love the answer.  "I have never forgotten the late Dr Danie Craven, South Africa's most famous and revered rugby coach, being quoted as saying, 'Having a Jewish player on the team is the good luck I dream of!'  Claude also has to be one of the luckiest owners I have met.  Now coupled to this is the fact that Claude is Jewish.  Under those circumstances, how could I not offer Claude the honour of letting this filly race in his colours?  It seems my decision has already proven to be lucky with our own racing Jewish talisman!"
If any further justification were needed, Sean Tarry was the underbidder on both Nondweni and Negev.  Some things, as they say, are just written in the stars !
Although the filly was bought specifically as a Ready To Run Cup prospect, she has fulfilled her promise and so much more.  Although Louis cautions that the 1400m will be at the very sharp end of her range, he feels that class will show and says the only thing that can beat her on Saturday will be experience.  So don't say you weren't warned !!
 Are You Ready?
The organisers have gone all out to turn Ready to Run into a festival week.  The final field will be announced live on Tellytrack from 12 o'clock on Tuesday, there is a cocktail party at Emperors Palace on Thursday evening (7 for 7:30pm) and the first leg of the sale kicks off on Friday.  The race day itself promises to be a royally entertaining event.  Sharing a card with the Emperors Palace Charity Mile ensures a raft of support and this year society and mainstream press pages have been buzzing about the attendance of Her Serene Highness Princess Charlene of Monaco and His Majesty King Letsie III of Lesotho and his charming wife Queen Masenate.  If royalty is not quite your thing, there are a host of celebrities to add a sparkle to the day.
The restricted entry requirements may mean the race has no graded or listed status, but there is ample compensation.  The cool R2,5 million cheque positions the Ready To Run Cup firmly alongside the J&B Met (and just a few decimals behind the Vodacom Durban July) at the top of the country's stakes log and with the exquisite trophy, it has the prestige to match.
I was contemplating all the above on my drive home on Monday when I caught sight of a large full moon rising over the mountains and remembered Mick's comment – an auspicious sign.
In his Star of the Week interview, Louis Goosen was asked – What is it about racing that makes you passionate about the game?  I loved his answer.  "The equine athlete, in full cry, at full stretch, giving you his or her very best."
With racing enthusiasts recently being treated to the likes of Zenyatta, Sea The Stars, Black Caviar and of course the mighty Frankel, it is good to be reminded that the prospect of a really good horse is truly what keeps the racing dream alive.  It's incredible to see the rewards for those brave enough to reach for the stars.