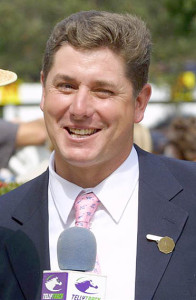 It has been an extremely busy weekend – sadly without any winners. It was one of those weekends where nothing ran dreadfully but a few left me scratching my head. It was definitely a day of deep soul searching.
The weekend got off to a good start by going up for the day to Mick Goss's ready to run gallops. Well over a hundred horses were worked along on the Summerhill turf. Since the inauguration of these gallops, everyone seems to have latched on to how to get these horses breezing in a really smart manner.
To start picking the ones that went exceptionally well from the ones that didn't is no mean feat. At least 90% galloped and moved well and showed themselves to the best of their ability over the few 100m's they were asked to stretch.
Whilst I did not have a chance to view the horses (and I am sure they came in many shapes and sizes) the one thing that really stood out was the quality of the work riders and their ability to get the best out of these horses. Mick and his team need to be applauded for their high quality of horsemen. In fact, I do not think this excellent horsemanship is restricted just to Summerhill.
I look at my own team of horsemen and work riders and it never ceases to give me the most amazing pride in the high quality of rider that we have. They really are some of the most stylish "jockeys" around and would not look out of place anywhere in the world.
I would go so far as to say that when I am lucky enough to go to Newmarket and watch the gallops and I see them going up Warren Hill, amongst others, I think back to my own staff and think how much more accomplished they really are.
I would find it extremely difficult to train horses the way they are ridden over there. I far prefer my guys on top to get the job done and I am sure it is a feeling that Mike de Kock would also share.
Along with the Summerveld gallops, we were also privileged to attend the 21st birthday party of Vidrik and Lerisse Thurling's daughter, Derry Ann, on Sunday night. It was held at Kenilworth with family and friends and it really was a great occasion. I felt privileged to be invited. Fee and I were there until the death because we really did not want to go home. It was such a good bash and the music and laughter did not stop all night long. Well done to Vidrik and Lerisse and a very happy birthday to Derry-Ann.
The week is now upon us and along with it comes Monday's perils of lame horses, acceptances and absenteeism. But it is great to be back in the swing and I am looking forward to putting my head down and finally getting things going for our Cape Season coming up. It is time to start sorting the wheat from the chaff and see where we are really heading.
In the opposite direction, Europe looks to be coming to a close. There was some fabulous racing over the weekend at Newmarket. Next weekend's Champions Day really looks to be something to get extremely excited about. I hope the weather holds off and we get to see a) the best of soft falling rain or b) just Soft Falling Rain running as no one wants to see the best horses in Europe running on bottomless ground. It is no good for anyone.
I did not have a chance to mention Arc day and last weekend's Arc de Triomphe winner. I cannot remember when last I saw a performance like that. We all talk about the mighty Frankel but he ran over half a mile less and the performance of Treve, the winner, was a performance we haven't seen in a very long time. Coming from a wide draw, getting absolutely no cover, travelling maybe a bit too well and then sprinting clear in the end against a high class field was a real joy to behold. I must have watched the race now about ten times and each time after viewing it, I am in even more awe. What a really special performance. I cannot wait to see her back in training next year.
The Newmarket sales have ended and even with the problems in America, horseracing has again managed to buck worldwide trends. Where it stops is anybody's guess.