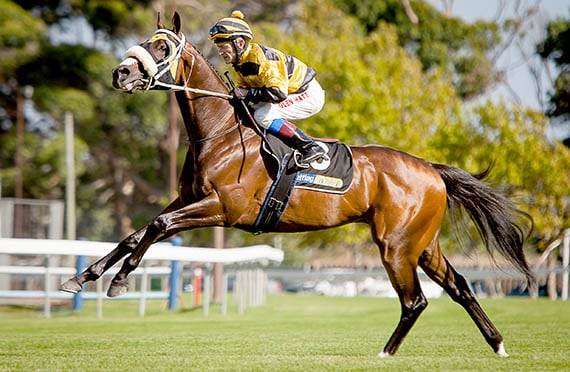 Glen Hatt is one of the Cape, if not South Africa's longest serving and possibly least celebrated jockeys. A real workhorse, he is always seen out at morning gallops and more often than not rides a full card each race day. Always smiling and ready with a quip and a chirp or two, Glen is one of racing's true blue gentlemen. He's a consummate professional and routinely brings home winners with such a minimum of fuss that it's rather a shock to realise that he has over 3 decades in the saddle.
Glen is quoted as saying that the best advice he'd ever got was from Cape conditioner Atholl Fisher who told him "son, there is nothing better than straight talk". After a long and decorated association with Good Hope Racing, Glen has joined the bang in-form Crawford Racing Team and made a flying start to the 2013/14 season, so I thought I'd put the straight-talking jockey to the test and caught up with him for a quick chat.
How to stalk a jockey
Jockeys can be a a little like one of the forest warriors in the recent film "Epic". These dimunitive heroes rush about their lives and our race courses at warp speed, so one mostly gets to know them bit by bit – patching together snatched parade ring conversations, snippets of TV interviews and a few smiles and shouted exchanges as they whizz by at morning gallops. One of my favourite times to chat to jockeys is between strings at morning gallops and it was on one such misty Milnerton morning that I stood captivated by the story of how Glen Hatt chose his career path.
About Glen
Glen is a Capetonian born and bred and grew up in Fish Hoek. He was a gifted athlete who received WP colours for gymnastics and he was completing Std 9 when a chance ride on a friend's farm hack suddenly put the idea into his head that he wanted to be a jockey.
Applications were duly lodged and with his naturally small frame and light weight, he didn't have to make much effort to meet the stipulated criteria. He passed both interviews without any fuss and when a placement was offered, it felt like the natural order of things.
He was still congratulating himself, when he passed a young lad sitting slumped outside in tears – his application had been turned down. Glen says that moment left a huge impression on him and it hit home with absolute clarity how privileged he was to have made the cut. He was indentured to the Jockey Academy in 1980.
Refreshingly candid about his early training, Glen jokes "I knew absolutely squat about horse racing and how it worked. When horseracing came on TV at home I used to switch over. When I got to the academy I had to learn all about pace and weight – I thought if you were light that was just your weight. It's funny how it all worked out. But becoming a jockey is something I never ever regret. I've had such enjoyment and satisfaction over the years that I couldn't have wished for anything else. And one of the best aspects is having an outdoors life. I'm an active kind of guy – I couldn't see myself sitting in an office all day long."
Early Career
His first winner was a horse called Ombarium, which he rode for Vaughan Marshall at Scottsville. He served his apprenticeship in Cape Town, first under Bobby Schutt and latterly under Alan Higgins and qualified in 1985. It was clearly a vintage year as he counts Robbie Fradd and Piere Strydom as contemporaries. He was kit boy to Kevin Shea and cites Felix Coetzee as a major career inspiration. "I did his kit a few times and I've always admired and aspired to his determination. His dedication and commitment are phenomenal. He was a role model that I tried to follow."
When I comment that out of the morning exercise riders, the senior jockeys are the ones you see most frequently, he says "It's a work ethic that you get used to and you just get on with it. I think it's different these days, you know." He relates an amusing story about a ride where he hadn't got a gap he'd wanted and ended up losing the race.
Back in the parade ring he explained to the annoyed trainer that he'd been obstructed by a fellow jockey and the trainer duly bawled out the other rider. The other jockey then collared Glen when they both got back to the change rooms. "Geez he tore a strip off me! But he was right and I learnt. That's how it was back then. You used to respect your older riders. These days, if you try and give advice to the youngsters, they think you're trying to do them in."
"Look, I've always aspired to do well in my career. I might have liked to gain more recognision, and I could perhaps have been more ambitious, but at the same time I've been very happy about how things have gone in my career. I've probably missed a few opportunities, and perhaps if I'd been steered a little more as a youngster, who knows what might have happened, but I've been riding for 32 years now. It's amazing how fast it's gone, but I'm very happy with what I've achieved."
Career Highs
It's not a short list either. Glen has ridden with distinction in Australia and Mauritius in particular, where he has won every single Group race on the Island. He was the Mauritian champion jockey for three consecutive seasons and also remains their winning-most foreign jockey.
On home soil, Glen has been KZN Champion Jockey once whilst riding for Michael Airey back in 1996, Cape Champion Jockey twice, his trophy cabinet boasts three SA Fillies Sprint trophies (two aboard Marie Galante in 1992 and 1993 and again on Enchantress in 2003), three Gold Cups (Milleverof in 1997, Colonial Girl in 2000 and Major Bluff in 2004), three Queen's Plates (on the great filly Wainui in 1989 and then twice on Winter Solstice in 2005 and 2006), two Met sashes (Bunter Barlow in 2001 and River Jetez in 2010), two Fillies Guineas trophies and the list goes on. He has swung his leg over most of the great gallopers of his era and a particularly special moment was clocking a win on board a filly called Olimpica for Geoff Woodruff. The Argentian-bred was part-owned by Lester Piggott who happened to be at Durbanville that day to lead them in.
Glen is a tough customer in a tight finish as witnessed aboard Mujaarib in last year's Charity Mile at Turffontein where he ground down Whiteline Fever to win by a short head. He was in similar vein on Super Saturday aboard Kochka, when they exacted revenge on Forest Indigo in the Premier's Champion Stakes. The one that sticks most clearly in my mind, was his ride aboard 20-1 shot Shades of Indigo (everyone loves a grey) in the 2011 Merchants. They literally appeared out of nowhere to pip the field to the post.
With such a list of great horses, it must be hard to choose a favourite, but I ask anyway. "There are so many horses that all have special places in my heart. Wainui for the late Guy Rixon was the first filly in about 40 years to win the Queen's Plate and she's obviously very special. Winter Solstice was just unbelievable, he was so gutsy and he was one that I stuck with throughout his career. A jockey needs those horses to really build a reputation. Of course recently Variety Club, who I rode early on – he's just an out and out champion – and horses like King of Pain and Geoff Woodruff's Do You Remember who ran 3rd in the July."
Career Move
After such a long and successful association with the Good Hope Racing team, Glen has recently accepted an engagement as stable jockey to Brett Crawford. I ask how it's going.
"I'm racking up the miles on my car I can tell you! But no, it's good. I'll be honest, I think I'd reached a stage where racing was becoming something I was doing to earn a living. I was still riding to win, one always rides to win, but I'd lost some of the fun out of it, you know? Brett approached me and after riding for a big yard for so long, it was scary to let it go and try something new. I think it's a confidence thing and a bit about having belief in yourself.
"But as they say, change is always good. I took the plunge and it's a fresh start and I'm really reaping the rewards now and enjoying my racing." One can hear the renewed energy and enthusiasm in his voice. "Brett's a gentleman and we work nicely together. I bring a bit of experience and can really discuss each ride and I think he appreciates that. Well, it seems to be working anyway! The stable is flying. He's got a lovely batch of horses and some great owners and it's really going well."
Riding High
Since the start of the new season, Glen's ridden a little shy of 100 runners for 19 wins and 33 places. Durbanville has proved particularly rich pickings and he clocked up 4 wins at the country course on 12 October. A quick look at his stats shows that the hard-working jock frequently saddles 6 or 7 runners per card. As I love telling anyone who will listen, I once completed (read: barely survived) a 1600m trip around the Kenilworth track and was laid out for days! How does he do it? "It's exactly as people say. Racing is 95% the horse, so it's easy when you're riding the good ones. Then all you have to do is try not to make too many mistakes and just steer them over the line. It's trying to get those battling maidens home that takes it out of you. That's when you really feel those aches and pains when you get home. When you've had a good day and a good card, you can go back and do it all over again."
Outside of racing, Glen says his family and daughters Jorja and Madison take up most of his spare time. "I'm a bit of a homebody really and like spending time with my kids. I've had offers from Johburg, etc, but it's just not my thing. I'm a Cape Town boy. I spent 4-5 years in Durban and that was great, but Cape Town's more my town.
"I enjoy my quiet time – watching a bit of TV and relaxing, but I don't like sitting still for long. You've got to keep the mind active, you know? I play golf once a week just to have a bit of a break from racing and do a bit of fishing, but we don't get out and about that much. With our game you can't really be away too much and I'd rather be home riding the winners!"
Doing a Runner
Glen will also be lining up for the jockeys' charity dash this Saturday. "At first I thought 'Better to stay out of it. I don't want these lighties beating me! But then I thought 'Give it a go'. It'll be fun and it's for a good cause, you know what I mean?"
- Robyn Louw