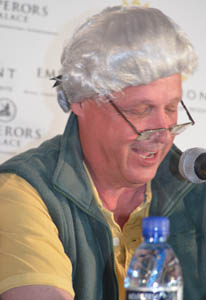 The contentious six-point rise in the merit ratings is set to be changed, and possibly even reversed.
The national board of the National Horseracing Authority were scheduled to discuss the matter when it met this week.
Ratings were raised on August 1 to meet the requirements for Graded races within the Asian Racing Federation.
This has met with widespread criticism and bloodstock agent Jehan Malherbe, in a letter to the Sporting Post, pointed out that South African horses were being raised to a level in excess of their ability on the international stage.
Trainer Louis Goosen, also in the Sporting Post, described the change as "a mess-up" and accused the NHA of "failing to do the job."
The handicappers were put in an impossible position when it was decided to exempt three-year-olds from the rating rise but not those who had raced against older horses at two.
In other words they had to publish handicaps knowing that some of the weights were wrong.
NHA press release (Thursday, October 24)
The National Board of The National Horseracing Authority today considered complaints made against the 6 point merit rating increase instituted on 1 August 2013.
Mindful of criticism that the increase may have had the unintended consequence of disadvantaging certain categories of horses, including the international ratings of South African horses, the Board determined to appoint the following to fully consider all issues pertinent to this matter including the merit and detail of the complaints, the extent of any disadvantage, and to appropriately assess whether any error of research, rationality, process or communication was made.
In order to fully inform itself of all facts and consequences, the Review Board hereby invites written submissions by 8 November 2013 or oral representations to be heard at the NHA offices at Turffontein on 11 November 2013. Appointments for oral representation can be made through the office of the Chief Executive.
The Review Board will comprise Robin Bruss, Patrick Davis, Graeme Hawkins and David McGillivray.
www.goldcircle.co.za (Michael Clower)