Jockeyship and race riding are two of our favourite battering rams and what better placed target for the post losing-bet anguish syndrome than an overpaid and spoilt jockey? We admire them one day and despise them the next,  but the veiled admiration seldom wanes. And one has to search long and far for a lover of the sport of kings who has not personally harboured a public or secret ambition to live the dream of a surreal life of glamour in the saddle.  
It has unbelievably been close on four months since the climax of the fascinating duel between eventual SA  champion jockey Anton Marcus and his nearest adversary, Anthony Delpech. Their  tussle reached a crescendo in early July and captured the imagination of the racing public, dominating the media pages on an almost daily basis. Things eventually fizzled to no contest in Marcus' favour in the final week of the season and since then we have been subjected to them publicly declaring their friendship and even watching  Delpech present Marcus' trophy at the Equus Awards, held in August.
That warm and fuzzy display of genuine sportsmanship and camaraderie hardly stirs or excites us racing types. We'd far rather see a sharp needle and real entertainment such as that provided a few years ago by the now retired Mark Khan and the brilliant Piere Strydom. These two top jocks  fought out a tight finish of a feature race at Greyville,  with the one whacking the other on the back in the shadow of the winning post. It really doesn't matter who did what. But it had us on the edge of our seats and taking sides and debating virtues over a cold Castle for months on end.
The tussle for the champion jockey title has taken on a tittilating new dimension this season with Klawervlei Stud putting up a winner-take-all R250 000 cash incentive for the man whose name tops the log as the sun sets on 31 July 2012. That, we assume, tax-free carrot is not to be sneezed at, even by the exclusive club of our six-figure annual income professionals. And  the title chase by at least the top ten has never been as hotly contested as it has been this season. The jockeys' direct incomes are also no secret with the stakes earned and other relative statistics published by the National Horseracing Authority. Our current log leader is grossing in the region of R130 000 per month before tax and other incentives or sponsorships. That may sound like a helluva lot of money in a country where a large majority of the population exist on a couple of rand a day, but it pales into significance when measured against the Woods, Vettels or Nadals of this world.
It is probably a lot safer playing a round of golf at Flushing Meadows or smacking the furry green spheres in the hallowed environs of Wimbledon too. The dangers of race -riding go without saying. While even the slowest horses are fast unpredictable animals, acts of God and pure accidents can happen anywhere. Is it then not ironic indeed that the latest crash victim, Gunter Wrogemann,  emerged from the Vaal on 22 November with a cracked skull-cap. That is, thankfully,  a piece of equipment and not a body part. So the story ends happily. But the contributory cause appears to be a dicey track surface. Not another one, you are probably thinking, after the Flamingo Park track debacle of Monday 21 November! Working in these conditions, these boys deserve every cent of their riding fee and commissions.
They all have good days and bad days too. The brilliant Piere Strydom was as masterful in the saddle in the Vaal sixth race on Sunday as the talented Gavin Lerena was ordinary in the fourth.  Strydom  had labelled the 8-10 favourite Badger Lake as 'unbeatable' in the MR88 Handicap over 1800m but he came out of the stalls firing. The blonde jockey had his mount Echohawk 14 lengths clear after the field had gone 600m and was still 14 lengths clear with 500m to run. The Captain Al gelding was eventually geared down with 50m to run and still won by a mile. Donovan Mansour who rode the second placed Royal Arrow quipped that he  had won the 'second race' within a race, as it were. It was a genius example of dictating matters and the other seven jockeys must feel like clowns when watching the replay.
Conversely Gavin Lerena would not have endeared himself to the general punting public when he rode the well-backed 7-20 favourite Enchanted Guest in the fourth race at the same meeting. Trained by Steve Kenny, the Hinton Wells colt came into the Maiden Plate over 1700m off two promising opening runs, and looked to have the measure of his field.  After breaking softly from his wide draw, the chestnut was always racing towards the rear and never made an impression when plodding into fourth. To compound issues, Lerena apparently also dropped his whip at the 300m marker. Co-owner Brett Maselle is on record as stating that the jockey had 'ignored riding instructions.'
Down in the Cape, the veteran Karl Neisius rode his first winner at Kenilworth  almost 38 years ago. And yet he still has every second punter telling him where he should be positioning his mounts and riding more animated finishes. Neisius was at his brilliant best at Kenilworth on Saturday when riding Jet Into The Wind to a start to finish win that had the five-strong crowd shouting for more. He once said that hitting a horse does not make it run faster – and he remains the cool cucumber for the big occasion. MJ Byleveld enjoys one of the most desirable jockey sponsorships in this country courtesy of Avontuur Estate. Yet the young Blue Bull fanatic appears to be enduring a dip in confidence after a few freak injuries in the saddle. Last Wednesday at Kenilworth he rode the Vaughan Marshall colt Tribal Dance in the fourth race and had race commentator Jehan Malherbe asking 'what he was thinking.' Frustration with the clever slow pace set by the wily Neisius had Byleveld rushing around his field on the turn to speed things up – and subsequently falling in a hole. Was it petulance or was he forced to take the action he did? Byleveld happily landed up in the winner's enclosure in the final race at Kenilworth on Saturday – appropriately courtesy of an up and coming filly called Miss October- a daughter of Avontuur stallion Var.
And then there are the urban legends about this supposedly entitled unique breed of little sportsmen. They apparently all drive like lunatics in their high-powered flashy vehicles. Jockeys are also meant to be mankind's gift to women. Then they  are as tight-fisted as hell and one will never find them buying a round of drinks either. Do we believe all this nonsense?
The next time you feel inclined to blame your jockey, ask yourself if you could have forsaken that burger and chips yesterday and your bacon 'n eggs this morning. And then think of the last time you sat with somebody's hopes and dreams on the back of a real live horse- at 60 km per hour. It can't be as easy and as glam as it looks. Let's give them a break.
‹ Previous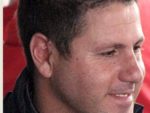 Appie's Double Delight