This is one for those who don't think I can – and anyone can train winners. That was the tongue-in-cheek dig by colourful KwaZulu-Natal trainer James Goodman after he had saddled the winner of the fourth race at Scottsville on Valentine's Day.
And the day of love was a memorable one for the larger than life cigar puffing Goodman, unlike his fellow horseman Dennis Bosch who saw two of his most promising sprinters go west in two different provinces within five hours of each other.This can be a tough old game.
James Goodman is something of a prodigal schizophrenic in the South African horseracing hierarchy. And there are many who believe that he is far more polished as a co-host of the Winning Ways show on Tellytrack and find his Monday evening hour a more rewarding pastime on average than bankering his horses in the exotics.
But Take The Hint's minor Maiden Plate victory on Tuesday obviously gave Goodman great personal pleasure and he quickly added in the post-race interview that he would train more winners if he 'just got the horses.' He also commented with a broad smile that former co-owner and his Tellytrack colleague Grant Knowles had earlier 'bailed' from the Klawervlei-bred gelding.
One can hardly blame Knowles for getting out though. The rather ordinarily bred son of Requiem had not, much like his sire, set the world alight. And had earned R18 600 prior to having his eighth start on Tuesday. Admittedly it was his first tilt at the 2400m trip which probably suits him best but he beat a rather ordinary bunch of midweek plodders with the assistance of SA Champion Jockey Anton Marcus in the saddle. His future prospects are interesting – but what do they normally say – 'they always have a chance if they stay..?'
A man that slept less happily on Tuesday evening was trainer Dennis Bosch who had to endure a dual disappointment on the day.  His handsome grey sprinter Occhi Di Lupo started a hot order 11-10 favourite in the ironically named Happy Valentines Day MR 93 Handicap over 1000m and was labeled by Marcus as his 'best ride'.
But after showing none of his customary pace, he was beaten out of the places much to the chagrin of exotic punters. The Stipes Report tells us little more than the fact that he will be examined by a Veterinary Surgeon. That helps his backers a helluva lot.
The son of Dupont was going for his fifth successive win over the minimum cut and maybe he just simply isn't the world-beater he has been made out to be. He has been lumped with a merit rating that jumped from 79 to 90 over his last three runs. The handicapper is there to stop half decent horses and he looks to have succeeded again with this fellow.
As if Bosch's day could have gotten any worse, his Bernstein gelding Storm Vanidoso traveled to Gauteng for the Gr3 Tommy Hotspur run over 1000m under lights at Turffontein. Looking for his fourth consecutive win, the five year old started a weak 4-1 favourite and was just not up to it – finishing closer to last and some seven lengths off impressive winner Deliver The Power.
The Stipes Report tells us that Storm Vanidoso was coughing. We thought only owners and punters do that.
So the happy and ugly face of training horses on Valentine's Day. The wheel turns and everybody gets a go. Bosch will bounce back –  and let's send Goodman some more decent horses.
‹ Previous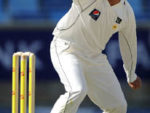 Historic Moments in Pakistan Cricket