Black Caviar VS Zenyatta
Black Caviar (Bel Esprit) and Zenyatta (Street Cry) are two of the greatest, and best loved, mares the racing world has ever known. Both champion females won their first 19 starts, and both defeated some of the best males of their generation. Both mares were named Horse of the Year, in their respective countries. Both champions were so popular they had their own websites. (Zenyatta's remains online even after her retirement). Pedigree wise, Zenyatta definitely has the edge, as a daughter of world leading sire Street Cry and a half-sister to multiple G1 winner Balance. By contrast, Black Caviar is a daughter of useful, but not top-class, Aussie sire Bel Esprit out of an unraced mare . Her half-brother, All Too Hard, made a winning debut on Saturday in the Listed Talinder Stakes.
But who has achieved more in their first 19 straight wins?
Zenyatta
Her 19 winning streak included 13 individual G1 victories
Zenyatta amassed prize money in excess of $7.3 million
She is the first female to win the prestigious Breeders Cup Classic, and the sole horse (of either sex) to win a pair of different Breeders Cup races.
Her sole G1 victory against colts came in the Breeders Cup Classic of 2008.
She won the G1 Vanity Handicap for three years in a row
She also won the G1 Lady's Secret Stakes for three years
Ran in three Breeders Cup races, winning two and finishing a short head second in the other
Her greatest winning margin came in the 2008 Apple Blossom Handicap, which she won by 4.5 lengths
Her wins came at three different racetracks – Santa Anita, Hollywood, Del Mar
She won from age 3 to 6, and won from 1300-2000m.
She set three stakes or track records.
The most weight she carried to victory was 129 lbs, which she won under twice.
She is the all time leading female earner in North American racing history
During her 20 race career, Zenyatta defeated 23 champions/ G1 winners of both sexes
She conquered three US classic winning males in her career: Summer Bird (Birdstone), Lookin At Lucky (Smart Strike) and Mine That Bird (Birdstone)
Zenyatta's highest international rating (according to the International Federation) was 128 in 2009.
She was rated 125 in 2008 and 2010
Voted US Horse of the Year. In total, Zenyatta won no fewer than four Eclipse Awards – and was named Champion Older Female for three consecutive years!
Zenyatta won nine G1 races in a row.
Black Caviar
Her 19 wins have included 9 G1 races so far
Of her 19 wins, 18 have come in stakes races
Thus far, Black Caviar has earned over $5 million in prize money, and has not finished yet!
Second highest rated horse currently in training with an International Rating of 132 lbs for the 2011 racing year.
Her rating of 132 places the superstar above such champions (according to the ratings) as Danedream (Prix de'l Arc de Triomphe), Workforce (Epsom Derby), Goldikova (3 Breeders Cup Miles), etc.
Voted Australian Horse of the Year in 2010
Began her racing career at two, when she won two races
She has beaten 23 individual G1 winners during her career
Her victims have ranged from Golden Slipper winners (Crystal Lily, Phelan Ready) to Melbourne Cup victors (Efficient).
Black Caviar has also defeated former G1 King's Stand Stakes winner Scenic Blast, as well as Star Witness (2nd in the 2011 King's Stand Stakes)
She has won the prestigious G1 Lightning Stakes twice – a race won formerly by Australian legends Todman (Star Kingdom), Schillaci (Salieri) and Mahogany (Last Tycoon).
Black Caviar lumped 128 lbs to beat colts in an historic G1 Newmarket Handicap win – it was the second highest amount ever carried to victory by a mare in the Newmarket. (Pendant carried more back in 1906).
In her last 16 starts, Black Caviar has been sent out as the prohibitive, odds-on favourite. At her most recent start, she was a 10-1 ON shot.
Both mares were exceptional, and both have provoked almost unheard of emotions in racing enthusiasts. We are lucky to have been able to watch both phenomenons at their peak, and it is hard to imagine that international racing will go through another period where remarkable fillies dominate the world of horse racing.
.
Sing hits the right note
If ever a sire was bred to do well in South Africa, it was Singspiel (In The Wings – Glorious Song). A grandson of Sadler's Wells (sire of champion sire Fort Wood and broodmare sire of champion SA filly Bad Girl Runs), Singspiel is a half-brother to Rakeen – sire of the ill-fated South African champion sire, Jet Master.
While not represented by the numbers that some international sires have been in this country, Singspiel has done remarkably well in this country. Saturday saw him garner a double when first timer Global Strike won, and then his stable mate, Atlantic Oak  took home the feature race, the non-black type Allez France Handicap. From just six runners, Singspiel has had three feature race winners, including the game front runner Polzeath, and last season's G1 winning juvenile, Potala Palace.
In other words, over 50% of Singspiel's South African runners have won at least one feature race.  His five winners from six starters mean he is operating at a staggering 83% winners to foals in South Africa.
Listed below are Singspiel's South African runners and their best career performance.
Polzeath: Listed East Coast Handicap.
Gin Song: placed
Candy Singer: G3 Jubilee Handicap
Atlantic Oak: Feature race winner, albeit not black type
Global Strike: 1 start: 1 win
Potala Palace: G1 Premier's Champion Stakes
His debut winning son, Global Strike, has a lovely, if rather stout pedigree. He is the first foal of former Equus Champion racemare Almah (bred by Dr Marianne Thomson), who also raced successful in Britain. A daughter of Al Mufti, Almah has had four foals, with the 3yo Global Strike her oldest and first to race. A tough, stayer herself, Almah is now in foal to champion sire Hussonet.
Remarkably, Almah won from 1400 in South Africa to 3800 in Britain (where she won three times over hurdles).

‹ Previous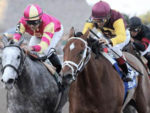 US G3 Win For Trippi Filly